San Sebastian is undoubtedly the capital of Europe when it comes to food!
It's a foodie's heaven with a unique pintxo culture, some of the freshest seafood around and the famous siderias (cider houses).
Famously, there are also 19 Michelin stars within a 25km radius of the city. There's no place in Europe with a higher concentration of Michelin stars, meaning Donostia is home to some of the world's best chefs!
But, you could argue that the Basque Country cuisine isn't exactly famous for its breakfast.
The good thing is, over the last few years as the brunch trend has swept other major cities in Europe, more locations are constantly popping up in the city where you can grab a decent brekkie.
🥘 Discover the best food San Sebastian has to offer on a Guided Food Tour
Things to know about breakfast in San Sebastian
Before we dive into the list of the best breakfast spots in San Sebastian, it's worth knowing a couple of things about your first meal of the day in the city.
1. Pastry lovers paradise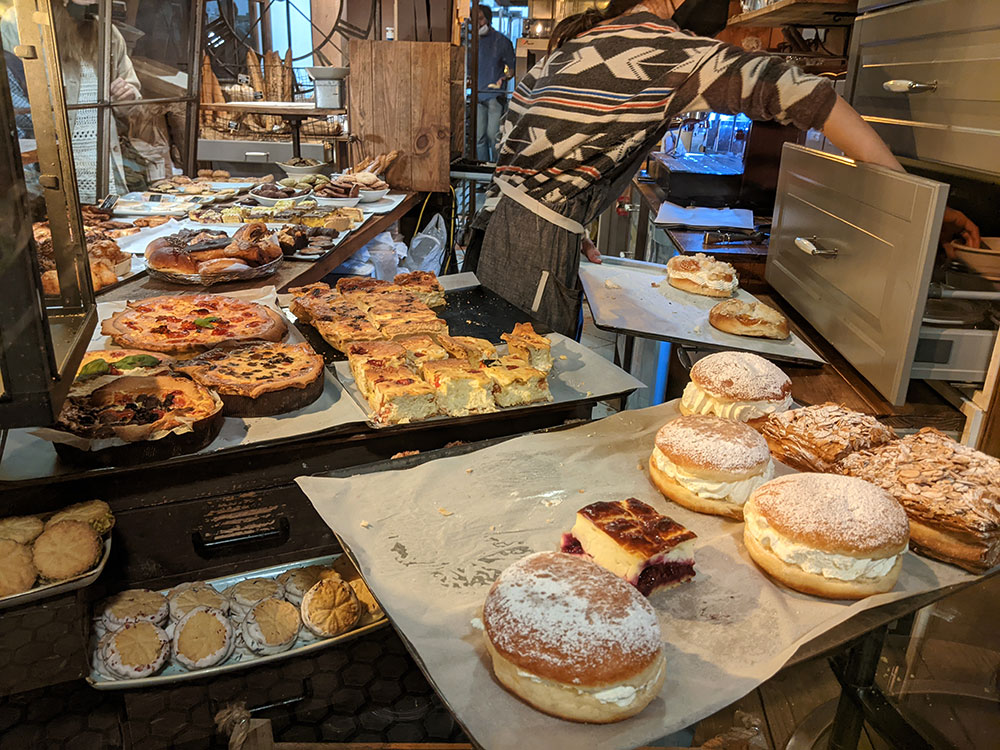 Being just 20km from the french border, it's no surprise that the french pastries have made their way to the Basque city.
Pretty much wherever you're staying in the city, you're bound to have a number of pastelerías (pastry shops) nearby.
Some of them with seating areas make it into our list below, but there are plenty of other options in the city. Given the level of competition, a poor pastelería wouldn't survive, so you can usually count on them being good!
On a nice Sunday morning, after an early run or gym session, one of my favourite treats is to grab a croissant and a coffee from Loaf and enjoy my breakfast watching the surfers at La Zurriola beach.
2. A city with a hundred cafes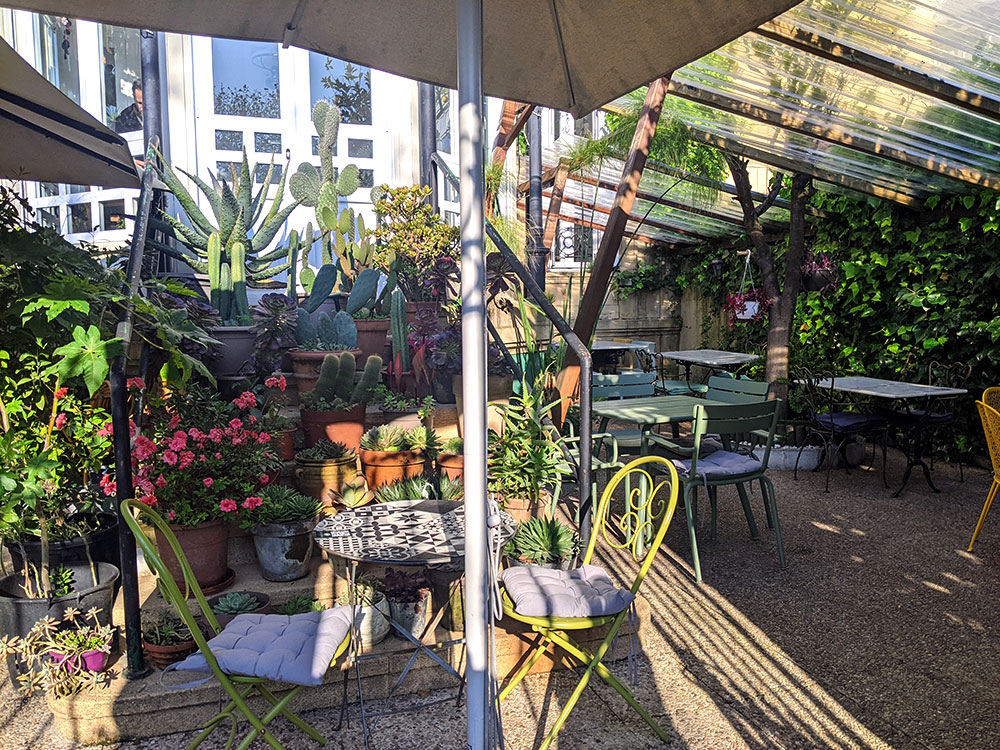 Amongst the pastry shops, there are also hundreds of cafeterias (cafes) in Donosti. Usually they will serve the breakfast basics which include:
Tostadas (baguette toast) with marmalade, butter, oil, tomato or jamón.
Tortilla (spanish omelette) – one of my favourite breakfasts!
Pastries
If you're in a rush, they are usually a good cheap and quick breakfast that will set you up for your day.
3. Good coffee is available everywhere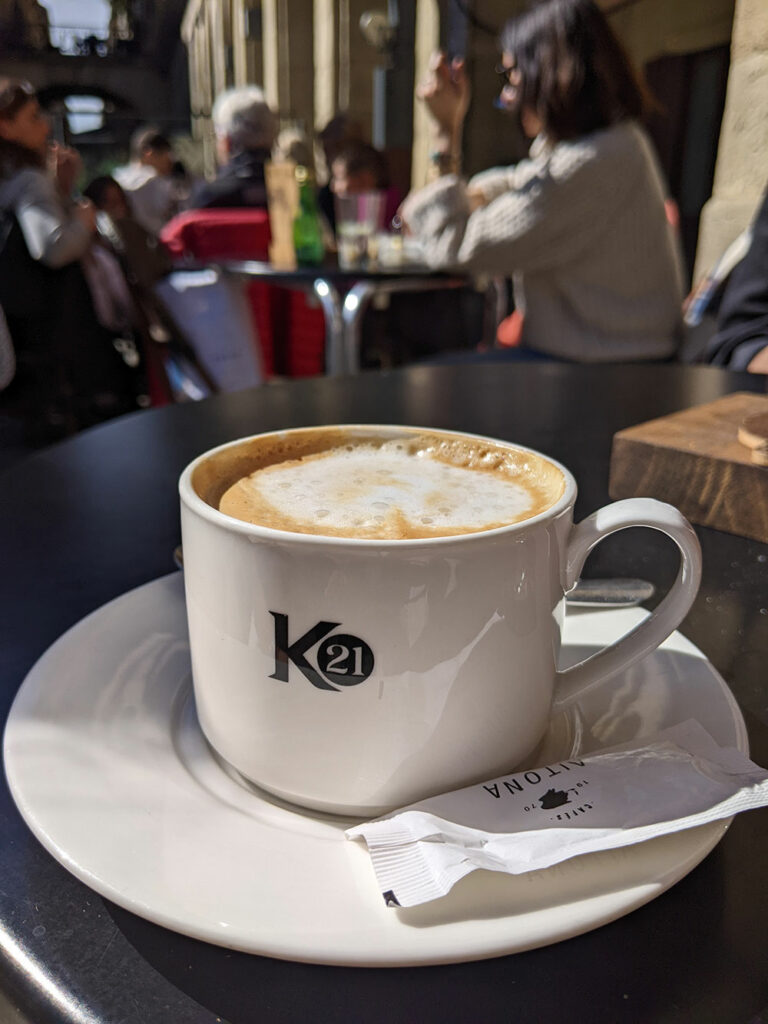 Whilst there is a McDonalds and a Starbucks in San Sebastian, going to either should be a crime in my opinion. There are so many great independent local places to grab a coffee or bite to eat.
And good coffee is available in most pastelerías, cafes and bars. The best thing is it'll only set you back between €1.50 and €2.
The coffee favoured by the Spanish is probably described best as a small latte. You're not going to get your huge half-litre Starbucks in the coffee shops here.
And it's worth bearing in mind that the Basque country is fairly traditional. You're probably not going to get offered 10 different milk types. It'll usually be cow's milk or cow's milk.
If you can't drink cow's milk, then your best bet is to try one of the more modern pastelerías which generally have more options. Check out our guide to the best coffee shops in San Sebastian for more info.
The best breakfast spots in San Sebastian
OK, so now you know a little bit of what to expect when going for breakfast in San Sebastian, let's run through the top places to go!
You can also check out the locations of each on our interactive map of San Sebastian.
1. Old Town Coffee
📌 Reyes Catolicos Kalea, 6, 20006
Situated on Reyes Catolicos (behind the Buen Pastor Cathedral) is this epic spot for breakfast. It has both indoor seating and a decent size terrance area.
Opened in 2015 by a group of young friends, Old Town Coffee is one of the newer places in San Sebastian. It's a little more modern than some of the other traditional places and they cater for different types of special diets including vegan options.
They have a variety of different options on the menu, from sourdough toast with avocado to healthier fruit yoghurt options.
They are particularly famous for their coffee which they roast themselves.
2. Pastelería Oiartzun
📌 Ijentea Kalea, 2, Bajo, 20003
Pasterlería Oiartzun is a pastry shop situated on the Boulevard on the fringes of the Old Town.
It's a good spot on a nice day as there's a decent size outdoor seating area, and it's just a few minutes walk from La Concha beach.
The pastelería has been around for a number of years and serves up artisan pastries filled with chocolate, cream and much more!
They are famous for their tasty treats. The bomba de crema (cream filled doughnut) has to be my favourite.
3. Kafe Botanika
📌 Gernikako Arbola Pasealekua, 8, 20006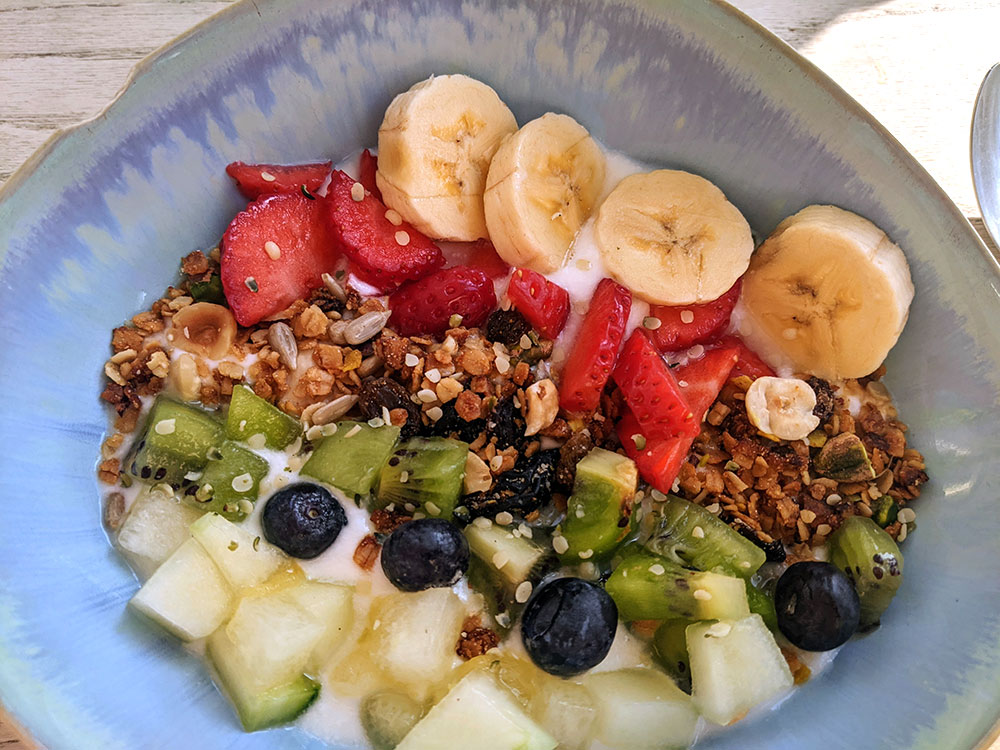 Kafe Botanika is one of our favourite places to eat in San Sebastian. It also features in our list of favourite restaurants in the city.
It's set on the banks of the River Urumea, and has a beautiful terrace garden filled with plants and flowers. It's a mini hidden oasis and the perfect setting on a sunny morning!
There's plenty on offer here for breakfast or brunch with the menu built around healthy, ecological food. One of my favourites is the fruit yoghurt breakfast which was to die for!
4. Alabama Café
📌 San Frantzisko Kalea, 45, 20002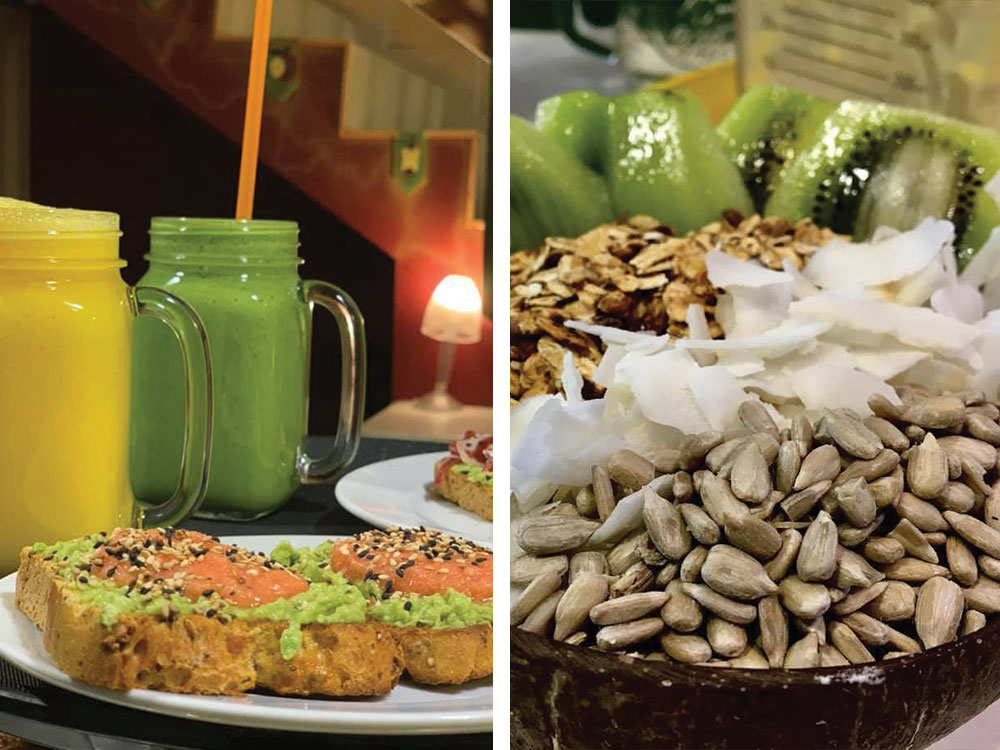 We continue the theme of healthy food but into the Gros district for another top breakfast choice in Alabama Café.
The cafe has a slogan of "A healthy lifestyle is tastier" which comes through in their breakfast menu. They serve up organic food, anything from tostadas with various toppings, through to smoothies, crepes and super fruit bowls.
It's a cute little place, in a great location (close to Zurriola beach) with both indoor and outdoor seating.
5. Santa Lucía Churrería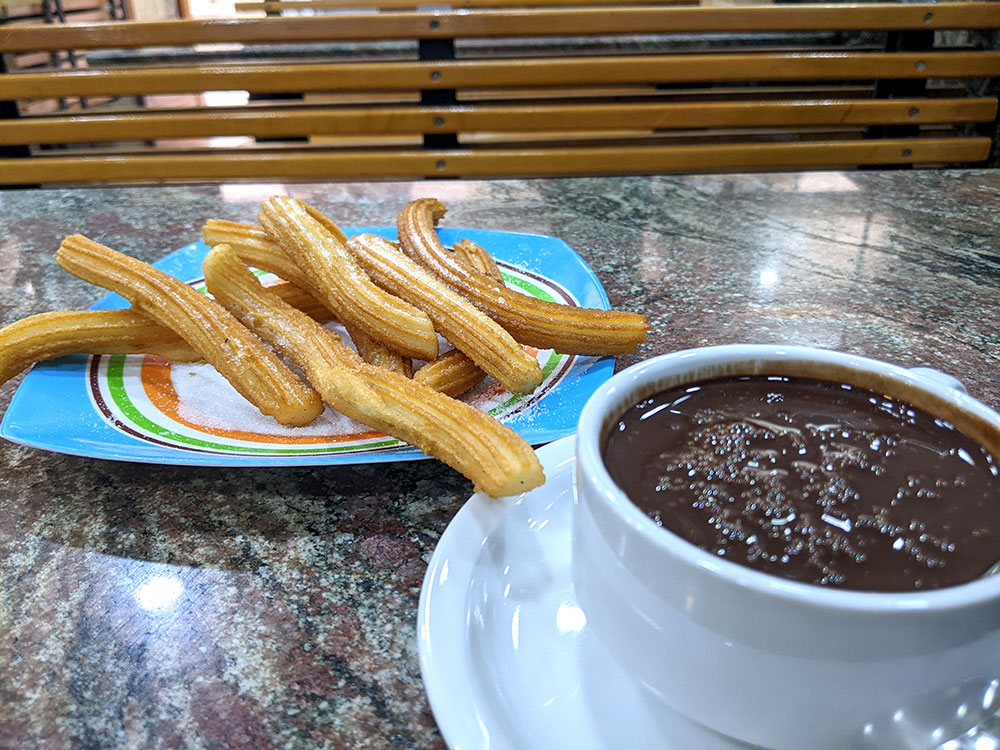 For those looking for something a little more naughty, then Santa Lucía Churrería is the place to go.
Located in the Parte Vieja (Old Town) on Calle Puerto, the diner has been serving up a whole host of chocolatey treats since 1956!
The main reason most people come here is for their famous churros with chocolate, but they do have a range of other breakfasts from waffles to tostadas and pastries.
The interior is traditional (and a little outdated), so if you prefer a good option is to get the churros to take away and eat in the nearby port or Monte Urgull.
6. Cortazar
📌 Hondarribia Kalea, 20, 20005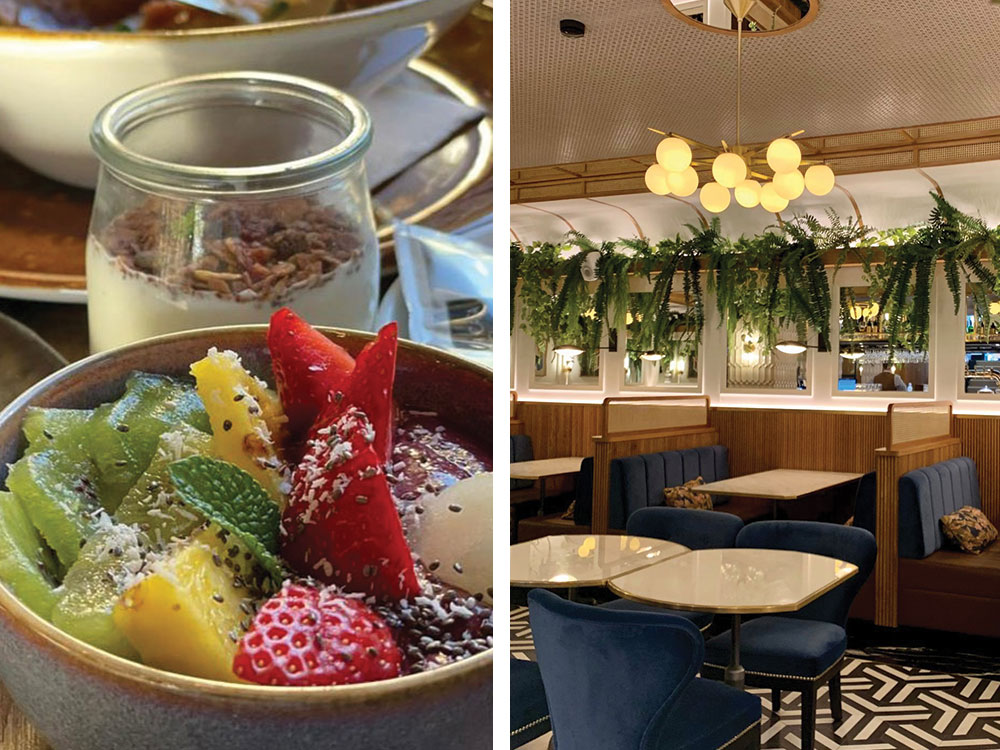 Cortazar is a new spot that has recently opened up in the centre of Donostia, but it's already gaining fame as one of the best places for brunch in the city.
Be aware if you want to try this place as they only serve breakfast from 10:00 – 13:00 on the weekends and on bank holidays.
But if you do make the effort, it'll be worth it. They offer the regular basics from tostadas, fruit bowls and pastries through to slightly larger breakfasts such as eggs benedict.
If you can't choose what to have, then you can opt for the full calorie brunch which includes coffee, fruit juice, pastries, eggs benedict and yoghurt with homemade granola.
7. Casa Otaegui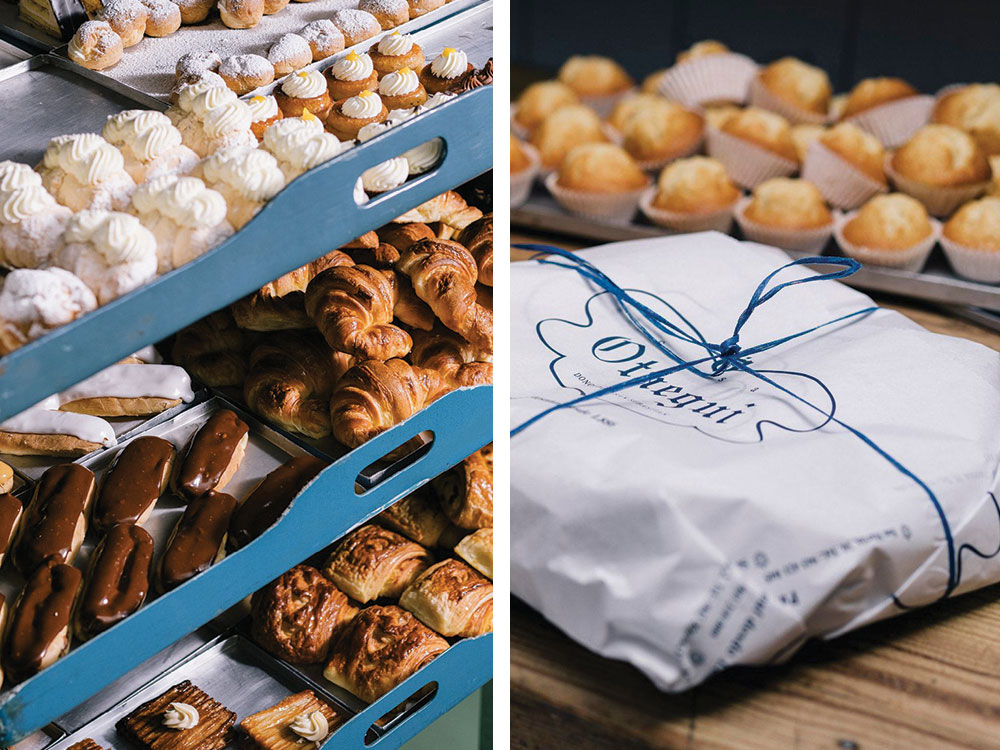 Casa Otaegui bakery has been making confectionary and artisan sweets since 1886. The bakery in the Parte Vieja is almost a landmark as the oldest pastelería in the city.
Situated on Narrika Kalea, thousands of people throughout history have found it almost impossible to walk past without marvelling at the delicious sweets in the window.
Today, the barkery operates three stores in the city in the Parte Vieja, Centro (on Calle San Martín with indoor seating and covered terrace) and in Antiguo.
Their most famous recipe is the Panchineta (or Pantxineta), a traditional Basque desert dating back over 80 years. It's a desert fit for Royals as Casa Otaegui was an official supplier to the Royal Spanish Household at the beginning of the 20th century.
8. Más Qué Café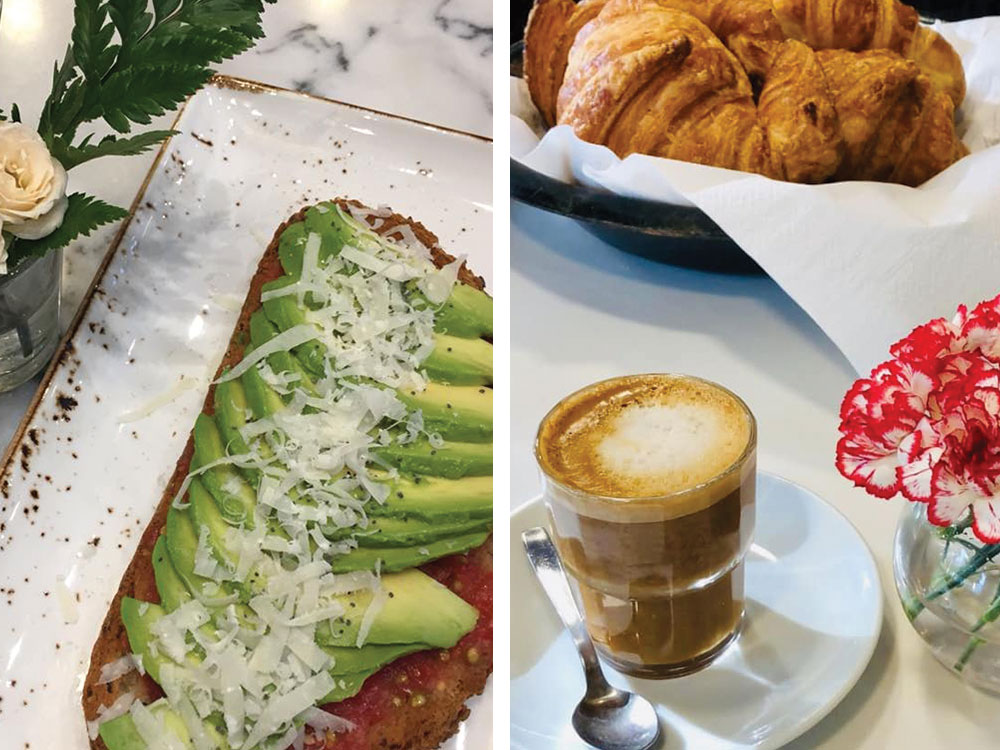 Located on the corner of La Avenida and Paseo de los Fueros Más Qué Café is a cafe that serves up a whole host of options for breakfast.
Coffee, infusion tea, fruit juices, tostadas, granola yoghurt and artisan pastries. There's pretty much anything you could want to start your day.
As well as a small terrace area, the cafe has a number of tables inside. It's open from 07:30 in the week and 08:30 on Saturday (closed on Sunday) so it's the perfect place for the easy risers. Conveniently it's located fairly close to the main bus and train station if you have a connection to catch too!