Without a doubt, San Sebastian is a foodie's heaven!
The city has a worldwide fame for the quality of food. From the Michelin Star restaurants, to the siderias (cider houses) and the pintxo culture, there's a lot to be admired on a trip to San Sebastian.
However, it's fair to say that the Basque Country is a little more traditional when it comes to food. Most of the food San Sebastian is famous for contains meat, fish or dairy products. Not great if you're a vegan!
However, there is a growing number of vegan and vegetarian restaurants opening up in the city each year.
In this article we'll run through the top vegan restaurants, plus some of our favourites that offer vegan and vegetarian options.
🥘 Discover the best food San Sebastian has to offer on a Guided Food Tour
The best vegan (and veggie) restaurants in San Sebastian
We'll kick off with a list of some of the best restaurants that serve predominantly plant-based and lacto-ovo vegetarian dishes.
1. Mapa Verde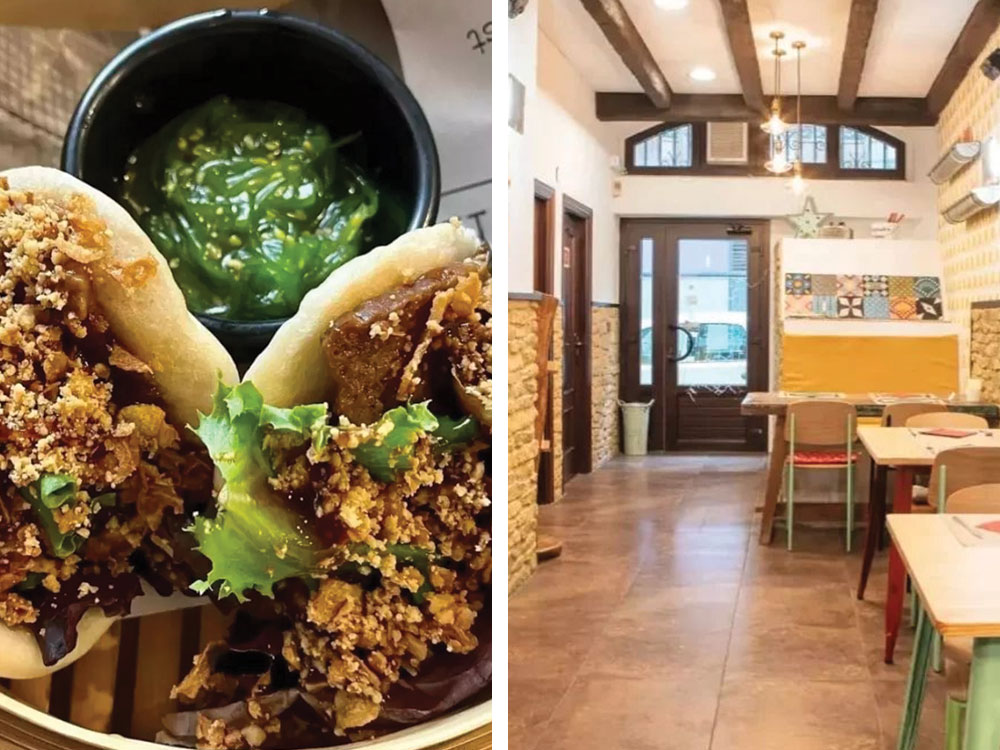 We start with one of only a couple of restaurants in the city that serve up a full vegan menu, Mapa Verde.
This small restaurant in the heart of the Gros district has a philosophy of healthy, balanced and environmentally conscious food which is 100% free of cruelty to animals.
The menu features a number of sharing platters, from yac nachos with guacamole to chickpea pancakes with broccoli and hummus. But there's also an Eastern twist with Bao buns, Thai soup and their Buddah bowls.
Don't go too overboard though!
It's worth sticking around for dessert to try the famous tiramisu. The recipe has been handed down by the owners of the first vegan restaurant in San Sebastian (unfortunately now closed).
2. OhBaba
📌 Ramón María Lili Pasealekua, 2, 20002
Another place with a 100% vegan menu, OhBaba opened its doors to Donostia in 2020.
The menu here is based on whole plant-based foods that are homemade with natural, organic ingredients. They are then crafted into delicious dishes, from their tasty cakes, to breakfast and lunch toasts.
The owners also have a strong philosophy on reducing waste and look to use local suppliers who practice the same ethos. This even goes to the takeaway boxes, coffee cups and glass bottles used in the store.
Oh Baba isn't a place for a meal at night, but it is a perfect spot for a bit of breakfast or lunch. It's also one of our favourite spots for coffee in San Sebastian.
3. Fresh Green
📌 C. Jose Miguel Barandiaran, 22, bajo, 20013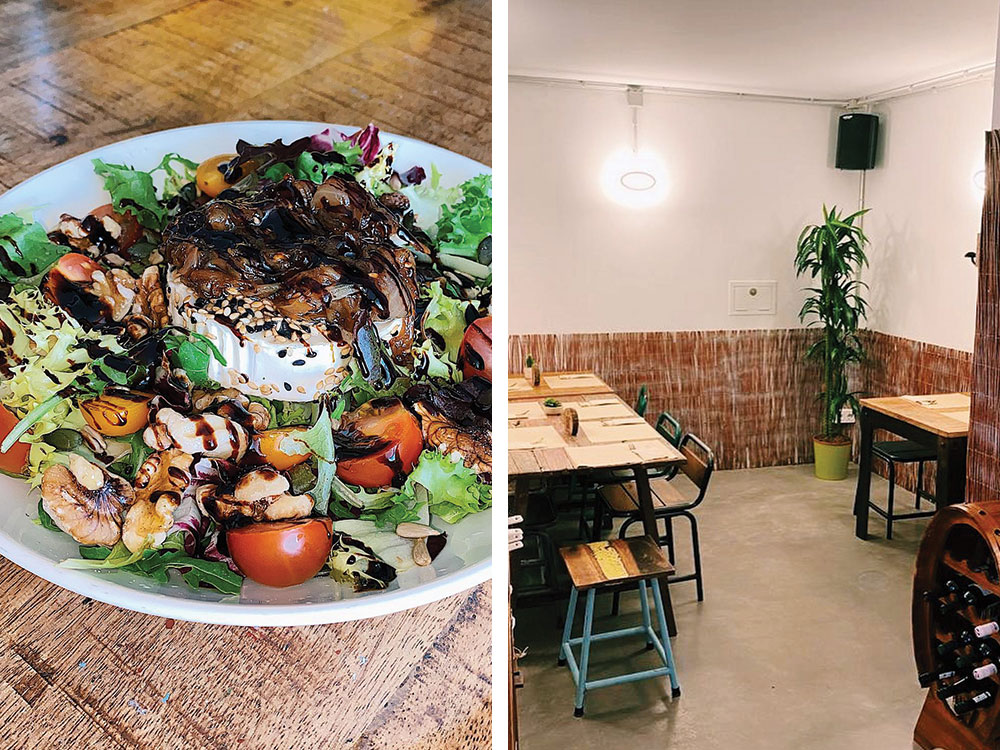 Hidden in the corner of Gros in the area of Sagues, you'll find Fresh Green.
In reality, they are in a privileged position at the end of the Zurriola beach with a large terrace area (that's a bit of a sun trap!).
It's a vegetarian and vegan restaurant, with a healthy and varied menu designed to cater for both. There are a few more exotic options here with South American influence to some of the dishes.
They serve brunch from around 10am through to more substantial meals in the evening. It's a great spot on a nice summer afternoon!
4. KM.0
📌 Mandasko Dukearen Pasealekua, 49, 20012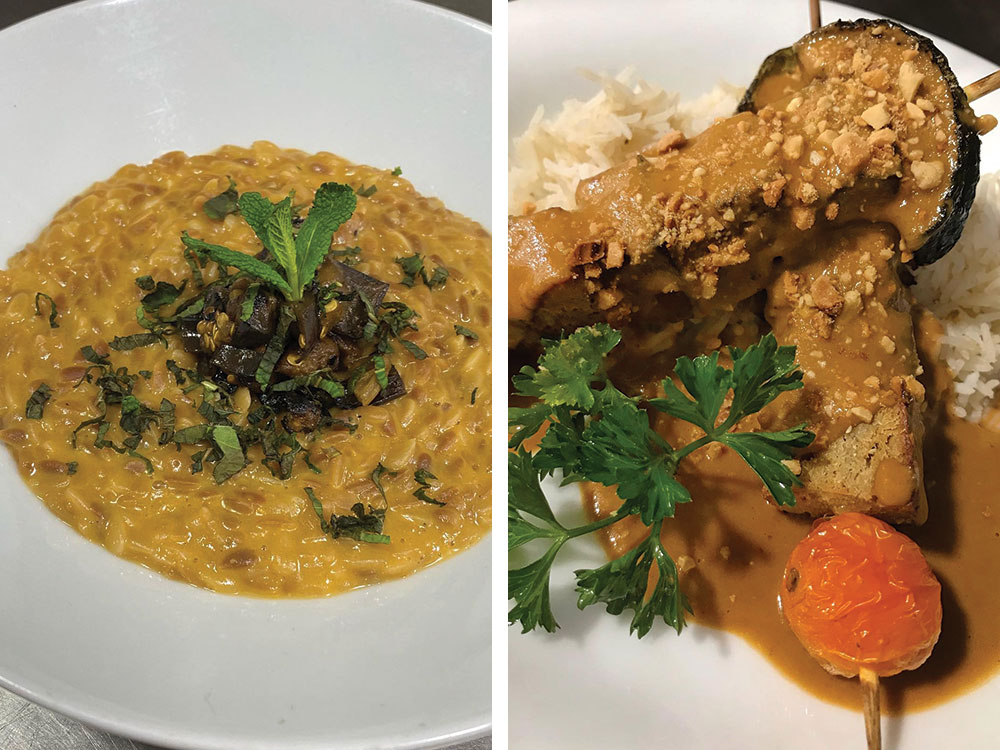 Another vegan, vegetarian restaurant, KM.0 has gained a reputation as one of the best spots for healthy, balanced food in San Sebastian.
Located in Egia, they aim to use fresh, seasonal local produce in all of their dishes which contributes to a healthier body.
As well as their a la carte menu, they also offer a series of excellent value two-course and three-course special menus, as well as a well priced dish of the day.
5. Ocho
📌 Javier Barkaiztegi Kalea, 13, 20010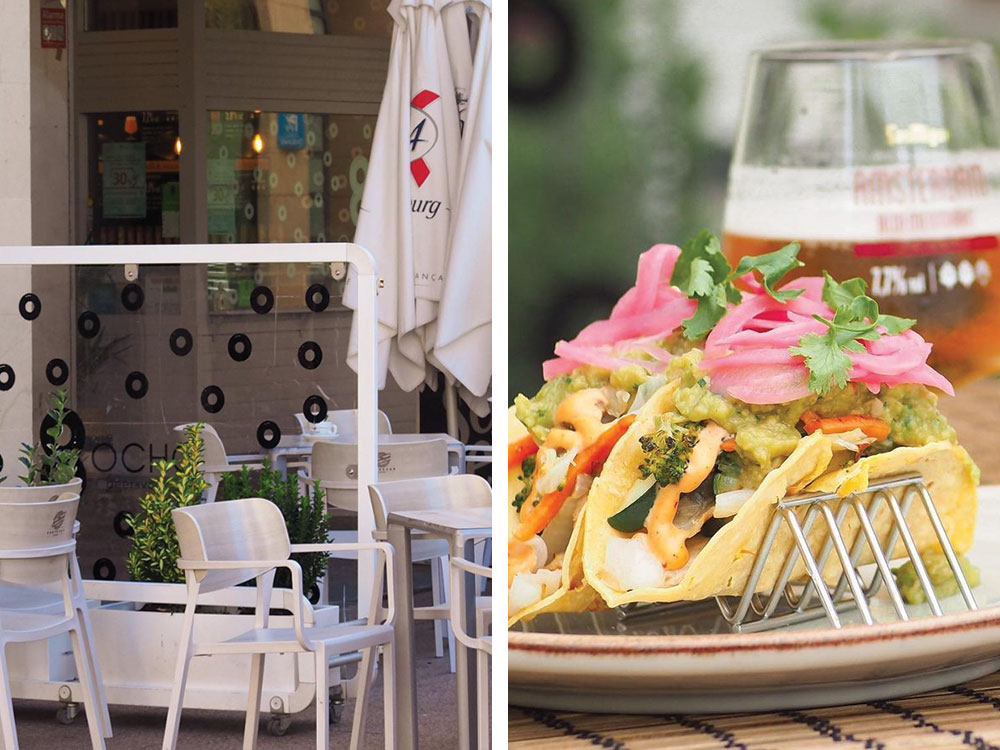 Ocho is a brewery with a couple of locations in San Sebastian, one in Antiguo and another more central (in Amara).
The brewery offers a number of different types of beers, but they also serve up a mainly lacto-ovo vegetarian menu with vegan options. From pintxos on the bar to their main dishes menu, there are plenty of options here.
6. Orburu
📌 Calle Matia 5 bajo, Callejon Cruz Roja, Antiguo, 20008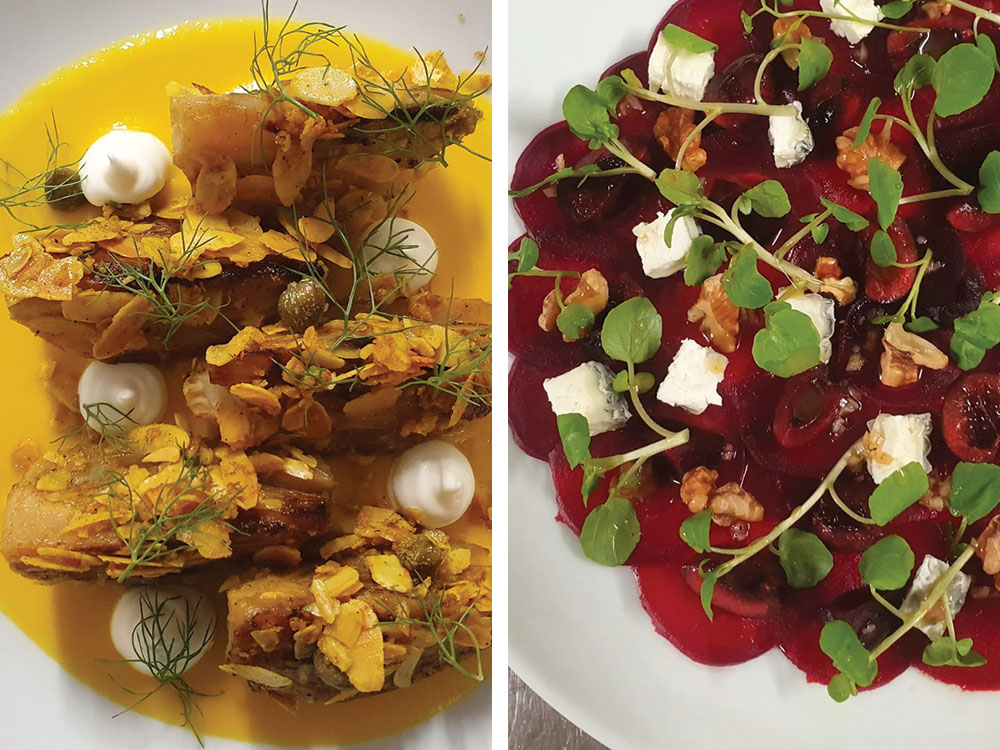 Located in the Antiguo district, Orburu is a taverna with a menu based on vegetables with an exotic twist.
The owner Eneko López brings his years of experience living abroad to deliver an internationally inspired way of cooking. It's mainly vegetarian dishes that are on offer, but around 50% of the menu is also suitable for vegans.
They also have a nice quiet terrace area outside on Calle Matia.
7. Garraxi
Garraxi was one of the first vegetarian restaurants to open in San Sebastian in the barrio (district) of Egia.
They offer a wide ranging menu from pizzas, bocadillos, rice dishes and salads using only the best fresh, local produce.
Alongside one of the most varied menus, it's probably one of the best value vegetarian / vegan options in the city. For that reason it can get busy, so it's worth booking in advance, especially on a weekend!
8. Maiatza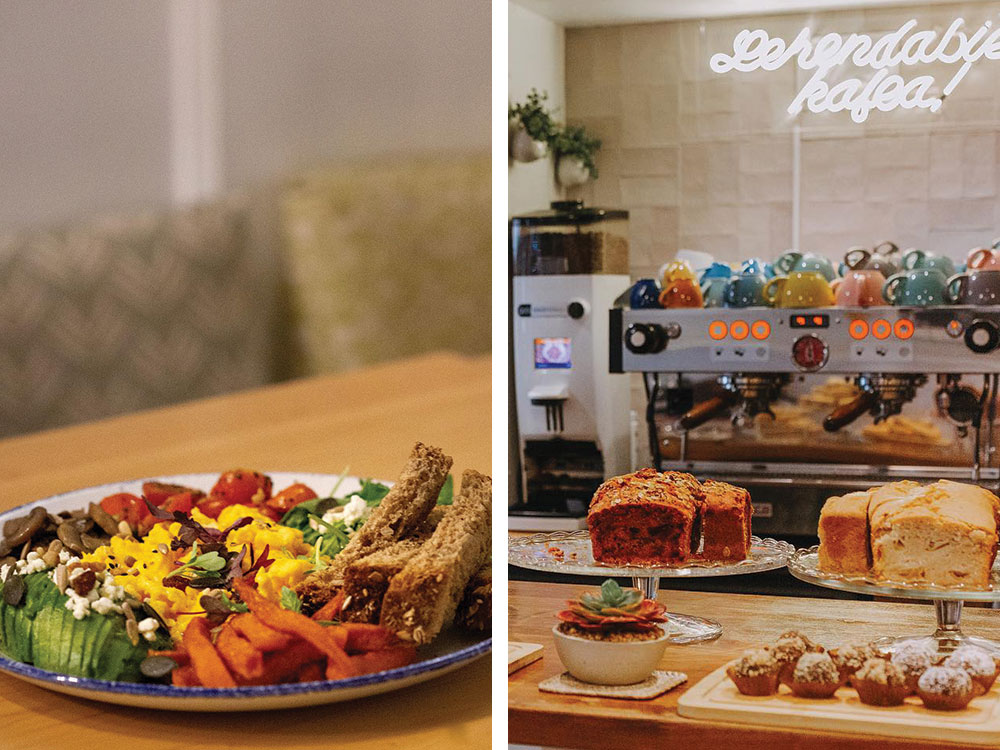 Maiatza is a great spot in the Old Town for vegans and vegetarians no matter what time of day.
Their delicious menu makes this not only a great place for breakfast (they serve brunch all day!), but lunch, early dinner or even an afternoon treat to a cake and coffee.
Their vegan cakes are some of the best in the city and well worth a try!
Restaurants with vegan and vegetarian options
If your partner or companion in San Sebastian is a carnivore, you may want to visit a restaurant that will meet both your needs.
Below we've compiled a list of some of our favourite restaurants that serve up meat dishes with plenty of vegan and veggie options too.
1. Tedone Jatetxea
📌 Al lado, Calle Corta, Mirakruz Kalea, 10, 20001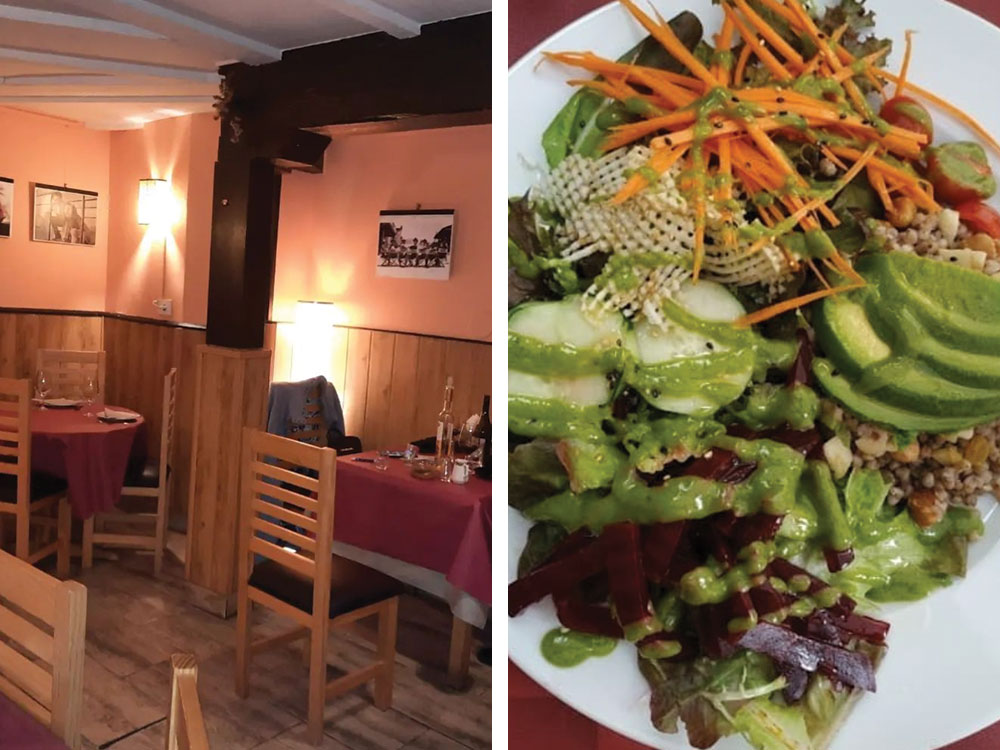 Whilst Tedone doesn't offer a strictly vegetarian or vegan menu, the restaurant is committed to delicious ecological, organic and whole grain food.
They serve up a seasonal menu that changes with the fresh produce available. The result is stunning healthy, nutritious food that is good for you.
Located on the fringe of Gros and Egia, the interior is cosy, accompanied by a small terrace area where you can enjoy a meal outdoors.
2. Kafe Botanika
📌 Gernikako Arbola Pasealekua, 8, 20006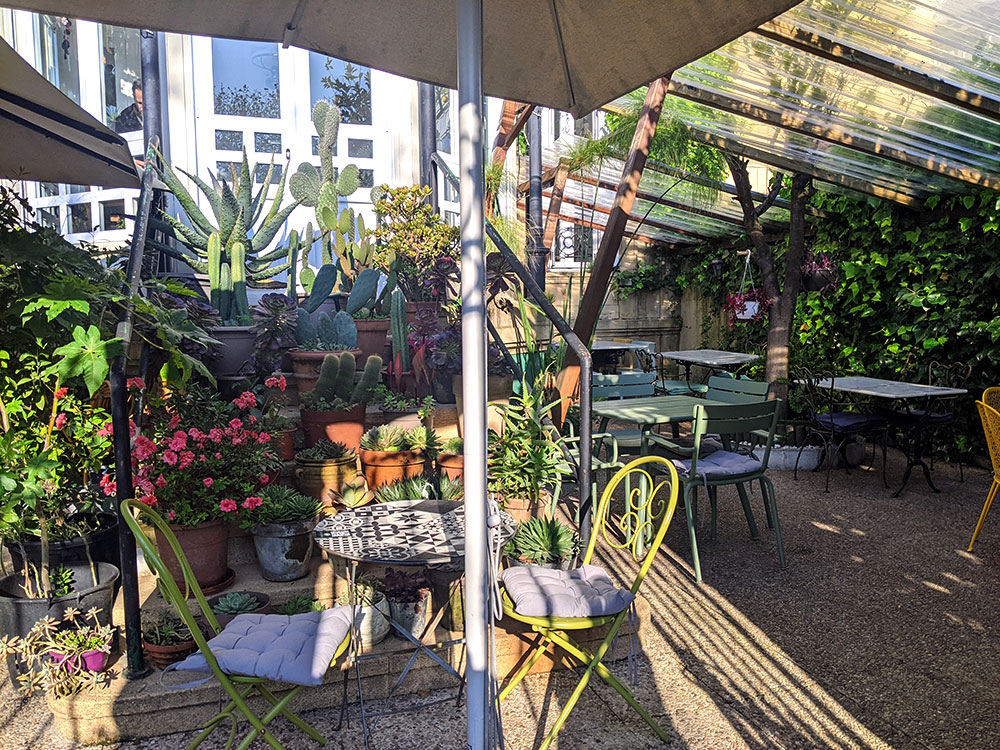 At Discover Donosti, we're big fans of Kafe Botanika. It features in our best places for breakfast in San Sebastian as well as being generally one of our favourite restaurants.
That's because they offer a varied, original, healthy food menu, in a beautiful outdoor setting on the banks of the River Urumea.
When any vegan or vegetarian friends are in town, we always take them here as it caters for everyone.
3. Kaxilda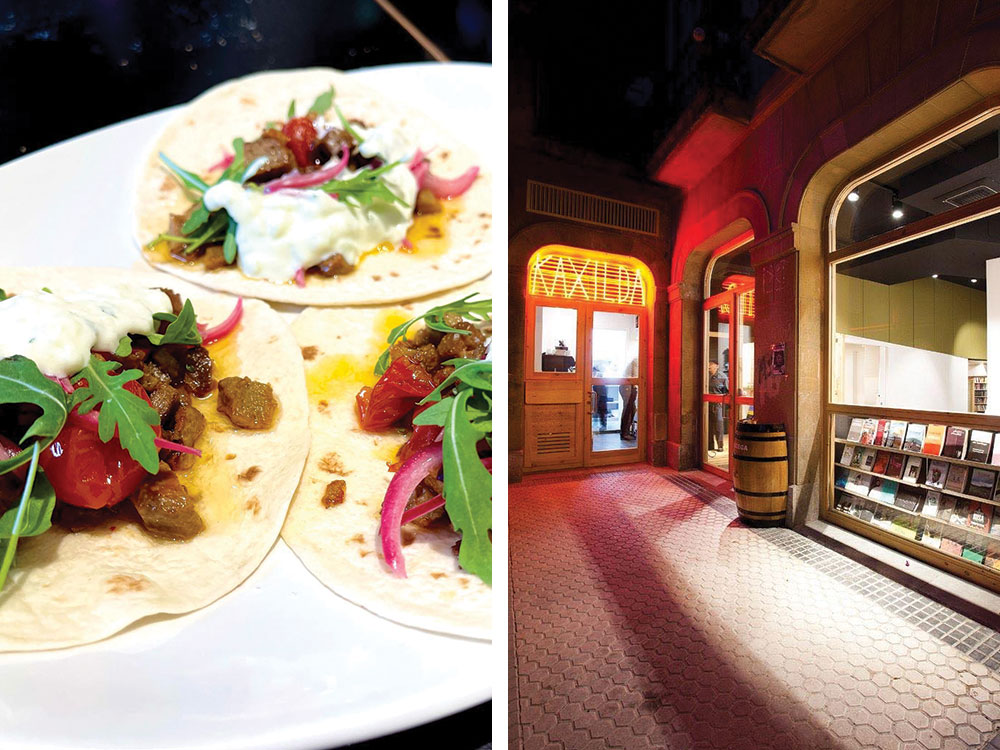 Kaxilda is one of the most interesting restaurants in San Sebastian. It's situated in Easo in the Area Romantica, near to the Euskotren railway station.
At first glance, it may appear to be more of a book shop or a library. And you'd be right to think so! They label themselves as an "associative library", as a space for meeting and discussions.
However, alongside all the books and open table meeting spaces, they also operate a restaurant in the space. Whilst the menu is fairly limited in terms of the number of options, a high percentage of them are vegan and vegetarian dishes and they are all delicious!
4. Zinema Corner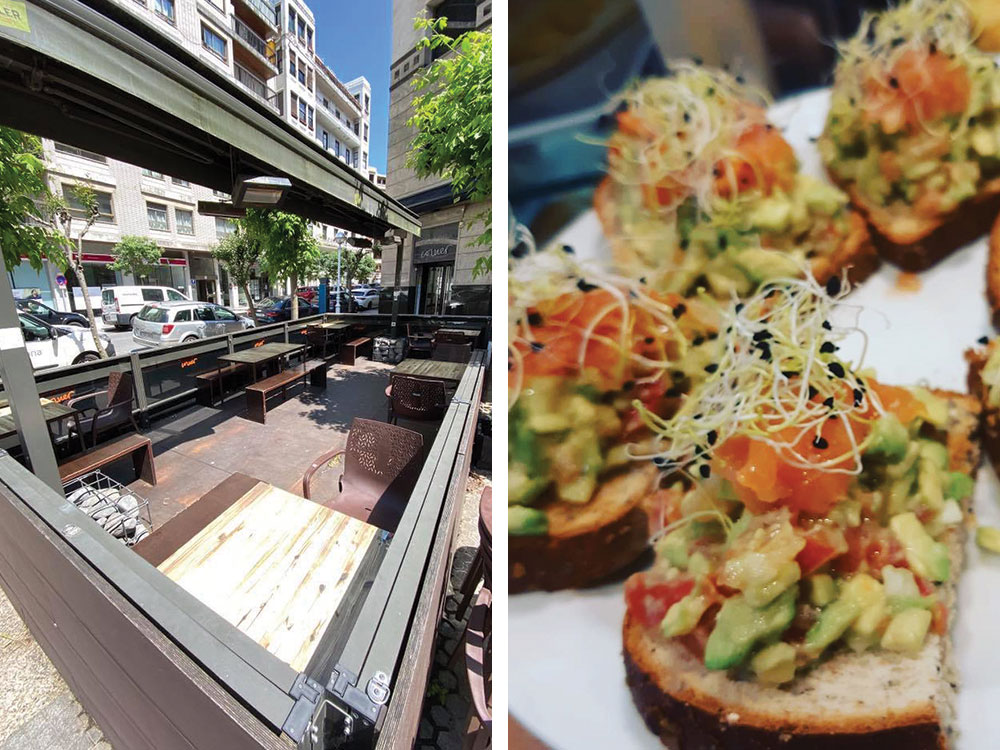 Situated in the heart of the Gros neighbourhood, Zinema Corner is a bar restaurant that serves a number of vegan and vegetarian options on their menu.
You can pick up anything from pintxos, bocadillos, tostas (toasts), salads and burgers which all have their own vegetable (vegan or vegetarian) versions.
They have a pretty decent sized terrace area too which makes it a good spot on a nice day.
If you're looking to experience pintxo pote whilst in San Sebastian, this is one of the few places in the city that offer vegan dishes.