When you're in San Sebastian, you can't miss out on a trip to La Zurriola beach. Whatever time of the year, there's bound to be something going on.
La Zurriola beach is located in Gros. The beach is sometimes known as Gros beach, and is situated between the River Urumea and Monte Ulía.
With Monte Urgull behind the river and the impressive Kursaal in front of it, the beach is spectacularly framed offering some stunning backdrops.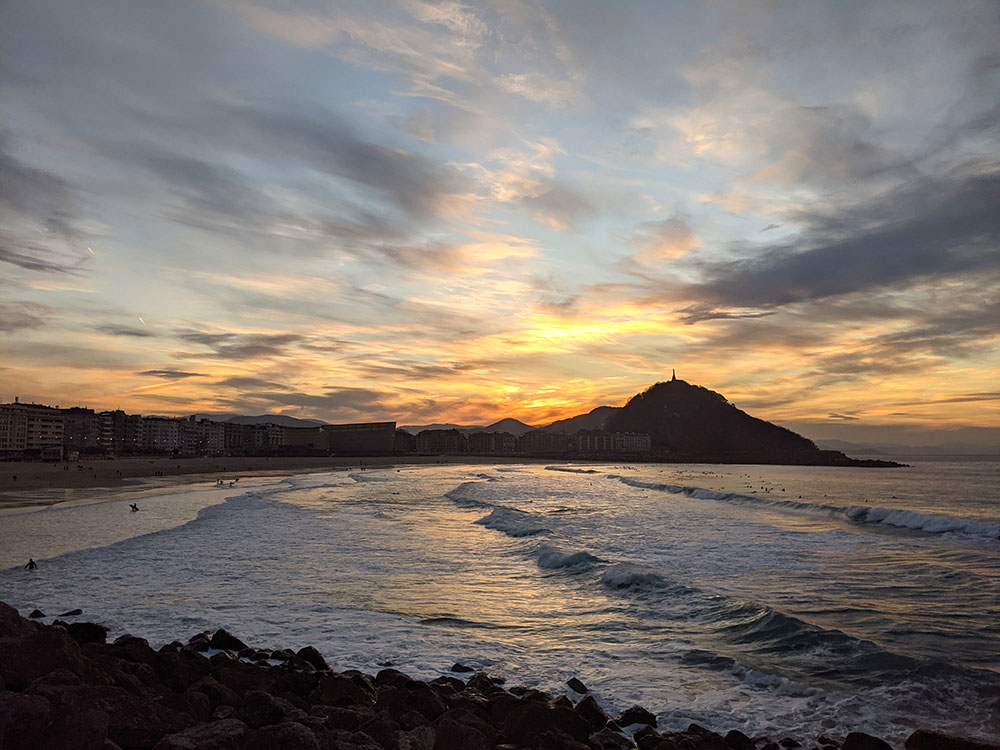 At 800 metres wide, it's not the biggest beach in San Sebastian. But it does have a steeper profile as you enter the sea, meaning it loses less beach to the high tide, making it a popular spot in Donostia.
🏙️ One of the best ways to learn more about San Sebastian is to take one of the FREE Walking Tours 
A beach buzzing with activity
Gros has a youthful surfers vibe and that extends to La Zurriola beach.
It's the first choice beach to go surfing in San Sebastian. Being slightly more exposed to the Cantabrian Sea, there are consistent breaks all year round.
The waves average around 5 feet in height. The summer months can be a little flatter, which makes it a good time for beginners to learn. And if you're interested in taking a class, there are plenty of surf schools in Gros.
In general, La Zurriola is a surfers paradise.
There's not many cities in the world where you can finish work, walk to the beach and catch some waves for a couple of hours. All whilst making it home in time for dinner!
And just because the beach is in the city centre, it doesn't mean the quality of the waves isn't great.
In fact, quite the opposite. La Zurriola plays host to a number of International surf competitions throughout the year. It's widely recognised as one of the best in the area.
Even if you're not a surfer, it's hard not to be sucked in by the atmosphere.
One of my favourite pastimes on a nice evening is to just wander down to the beach and watch the surfers for a short while. It can be very relaxing and a good way to disconnect.
Outside of surfing, the beach is a hive of activity for other things.
There are regular beach volleyball courts set up at the back of the beach. And occasionally on the weekends during summer, volleyball tournaments are held here.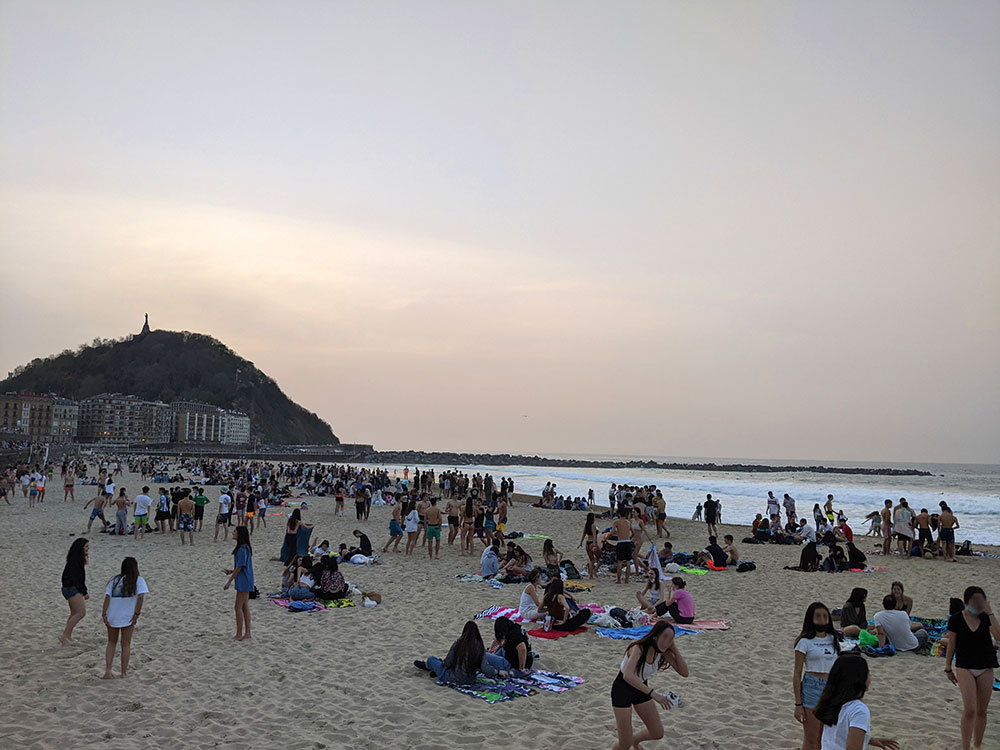 But generally, what gives La Zurriola it's unique character is the people. Young people from San Sebastian and nearby towns use the beach as one of their main meeting points – the beach is just a short walk from the San Sebastian-Gros train station.
On a hot summer's day (particularly when colleges and universities have finished) the beach will be flooded with cuadrillas (groups of friends).
They all bring music, drinks or generally just sunbathe and have a good time.
Sometimes the cuadrillas overspill the beach, to the Promenade or Paseo de la Zurriola, all the way up to Sagüés.
There'll be groups of people skateboarding, playing basketball, rollerblading, riding bikes or simply sitting on the wall overlooking the beach and chatting.
If you're after a calmer atmosphere, you can find a bit of peace too.
There's an area towards the Kursaal and river opening where young families and couples in search of tranquillity can enjoy the Zurriola without being disturbed by everything else going on!
Beach amenities
Being a city centre beach, there are plenty of bars, restaurants and you're probably not even too far from your hotel. But there are some amenities at La Zurriola which can make your visit more comfortable.
Lifeguards
From 15th June to 30th September there are lifeguards stationed at La Zurriola beach. They are on guard from 10am – 8pm.
The council also operates flags on the beach to notify people when it's unsafe to bathe or surf.
Disabled access
The beach has ramps at the main access point and special services for the disabled.
Showers and toilets
Free public toilets are available at Kursaal (50m away). There are public showers available at a small cost too.
Beach bar
During the summer months Txiringito Groseko is open at the end of the Zurriola beach (nearest to Sagüés and Monte Ulía). They sell cold drinks, snacks and have a seating area with umbrellas, music and good vibes.
Map of La Zurriola