The Basque Country is synonymous with surfing with a number of great surf spots along the Northern Spanish coastline and the Southern French coastline (which is just a short journey away).
And San Sebastian (Donostia) is one of the best spots in the Basque Country, if not Spain, to catch some waves.
The city has three beaches on offer, but what's unique is that they are all within walking distance of the city centre. This means that there's no need to be hiring cars and driving to the beach each morning as it's all on your doorstep. All you need is a pair of flip-flops!
Away from the sea, there's plenty of other things to do in San Sebastian to keep you busy which makes it an ideal location for surfing getaway.
Where to surf in San Sebastian?
As we've already mentioned, there are three beaches all within easy reach of the city centre in San Sebastian, but the top pick for surfing has to be La Zurriola Beach.
The beach is located in the east of San Sebastian in the area of Gros (the beach is sometimes referred to as the Playa de Gros) near the Kursaal building.
It's a little more exposed to the Cantabrian Sea than the other two beaches which makes it the best for surfing as it offers more consistent breaks all year round.
The waves tend to hit 5 feet on average, with the summer months being a little flatter, making it a great time for beginners to learn the ropes. The choppier winter conditions are better for intermediates or advanced surfers, but overall it means the beach is a great location for all levels of surfers.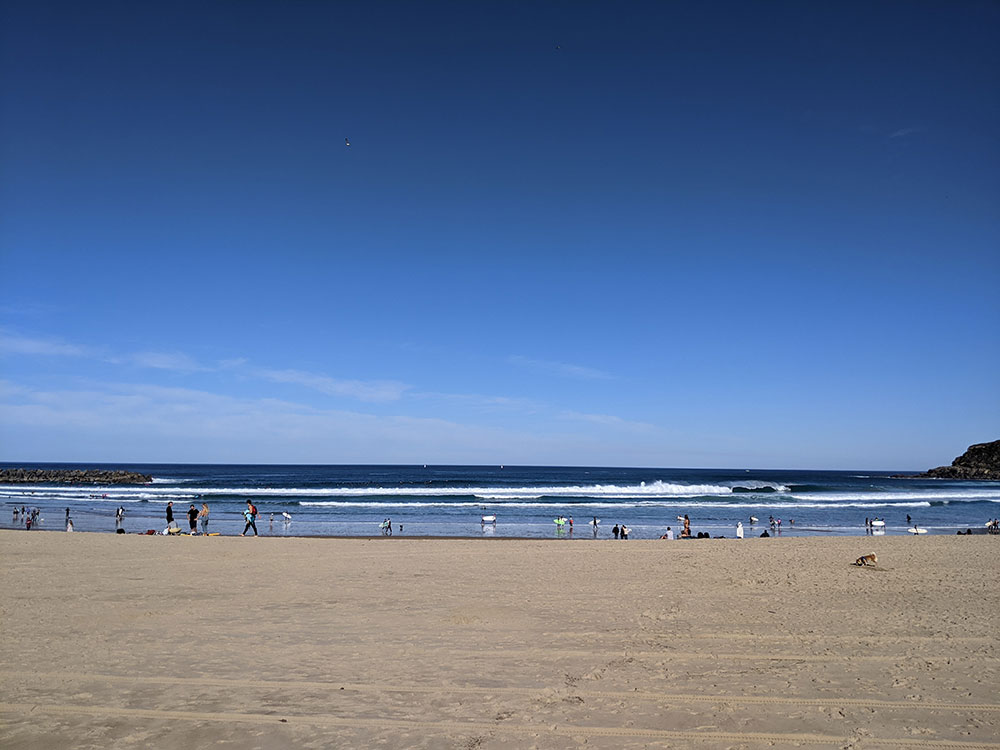 Occasionally the waves do get really big and La Zurriola can close, so it's worth checking the surf reports before heading out.
You can also surf on La Concha Beach and Ondarreta Beach. These are less popular surf spots as the waves aren't as predictable, largely due to Santa Clara Island that sits in the middle of La Concha Bay (where both beaches are situated) breaking up some of the waves.
You can still get some waves of around 2 – 7 feet depending on the day, but the irregularity means they aren't the first choice for most surfers. You're more likely to find paddle boarders and kayakers trying to catch a wave.
Both beaches are also more popular zones for swimming and bathing in the sea so they can get particularly crowded and particularly in summer there will be limitations on where you can surf.
When is it best to surf in San Sebastian?
Whilst San Sebastian is a great year round destination for surfing, the best time of year for you to visit will depend on your level and what you're looking for.
For beginners, the best time to visit will be in the summertime (June – August). Although the waves are more inconsistent during these months, they are also a little less intimidating. It's also the time when most of the surf schools run their group classes, so there should be plenty of opportunities to link up with other people who want to learn.
Away from the sea, the summer months are also some of the best times to be in the city, with the summer vibes in full flow.
For more advanced surfers or those who know what they're doing, Autumn (September – October) and Winter (November – March) are going to appeal a little more. The waves are more consistent thanks to the stronger swells.
There's also likely to be less crowds with most tourists visiting in summer and most of the schools operating their more popular courses outside of winter too. You'll need to wrap up though, as the sea can get particularly cold from November on.
Surf Schools in San Sebastian
Given San Sebastian is the surfing capital of the Basque Country, there are plenty of opportunities here to learn how to surf. There are a number of surf schools that will offer week long courses, day courses or private tuition. Two of the most popular ones are below.
Pukas Surf School
The Pukas brand is a fairly well known brand in the European surfing world. It's reputation has been built on designing and making high performance surfboards since 1973.
They operate a number of shops in the Basque Country, mainly in San Sebastian and Zarautz, from which they also offer surf lessons. You can book online and sign up to one of their many options for classes – https://eskola.pukassurf.com/.
If you already know what you're doing, you can also hire surf gear from the stores.
Zurriola Surf Eskola
Also located in the Gros area is the Zurriola Surf Eskola. They offer surf and bodyboard classes for all ages and levels. You can sign up to private lessons or weekly, weekend or month courses in groups.
For more experienced surfers they offer specialist classes such as video correction and even physical training camps. You can also hire gear from their premises.
Find out more from their website – http://zurriolasurfeskola.com/en/
Other places to surf near San Sebastian
Whilst San Sebastian is a great choice for surfers looking for a more rounded trip, there are some other good surfing areas nearby that are worth exploring. They are all commutable from San Sebastian with a car, but equally you could stay in any of the areas too as they each offer their own charm.
Zarautz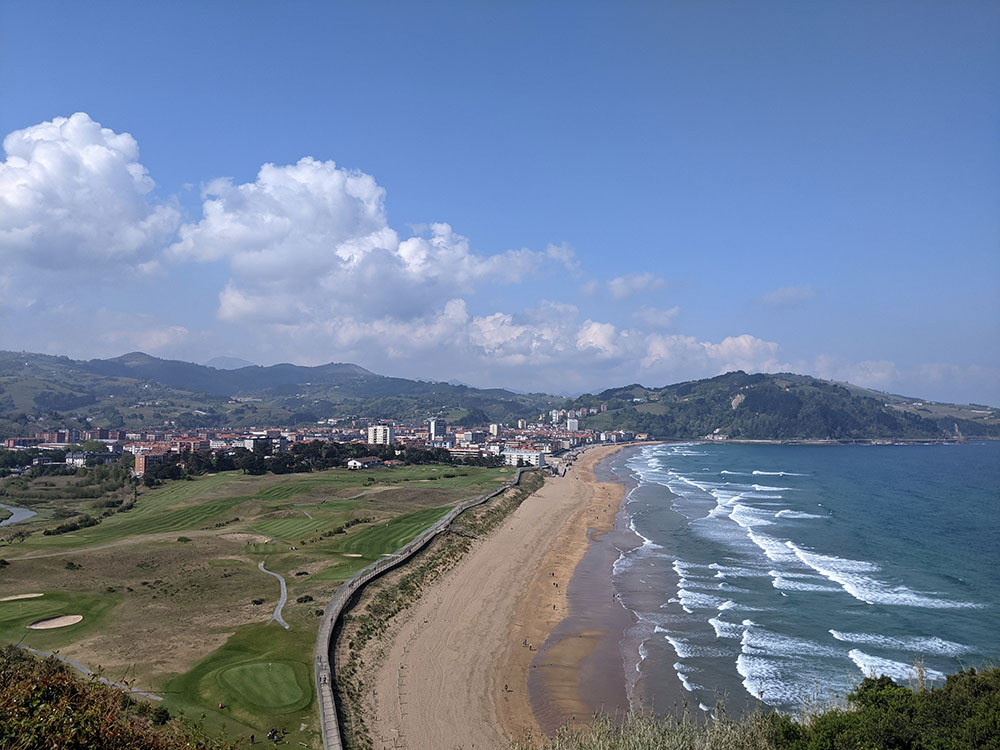 For most people when they decide to come surfing in the Basque Country, it will likely be a toss up between Zarautz and Donostia.
Whereas San Sebastian has a city vibe with plenty of things going on, Zarautz is a smaller surf town. There's still a very good selection of bars, restaurants and accommodation, but it's more of a small town atmosphere here.
What you do get though is great surfing conditions.
The town is built around the beach, which at 2.8km is much bigger than any of the beaches in San Sebastian. In fact it offers more surfing space than all three beaches in Donostia put together!
The size of the beach means it's also pretty easy to find whatever it is that you're looking for. Whether you prefer short boarding or longboarding, kayaking or paddle boarding, there'll be a spot that works for you.
There's also a number of surf schools in Zarautz which makes it a great place for beginners to learn. And given it's only 20km from San Sebastian, you can either make a day of it here or even stay a night or two.
Hendaye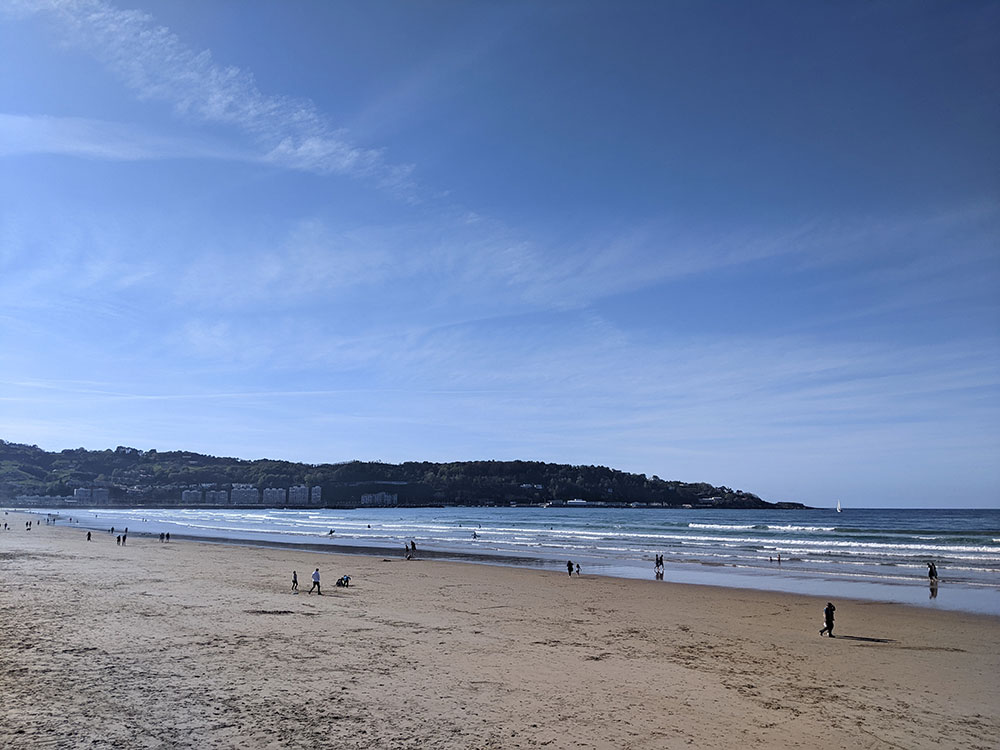 Situated in France, Hendaye is still part of the Basque Country. At just 25km away from San Sebastian it's another location that's easily accessible from the city, but equally a good place to visit and stay within its own right.
Ondarraitz Beach stretches over 3km long and is the main attraction of the town. It's a particularly friendly place for beginners as there's ample room for everyone meaning you have a better chance of catching a long ride.
Even on more crowded days you'll be able to find a pretty secluded spot to surf. Just be careful you don't head too far down towards Las Gemelas (The Twin Rocks of Hendaye) as you'll end up in the nudist section of the beach (unless you're into that kind of thing).
Again, there are plenty of places to hire equipment and take surf classes in Hendaye. The town also has a nice vibe, particularly in summer, with a number of different types of restaurants and bars.
There are some great walks nearby and other things to see such as the Old Town and the Château Abbadia, so it's well worth making a day of it if you're not planning to stay here.