Any visit to San Sebastian isn't complete without a trip to the Playa de la Concha! Voted as one of the best beaches in Europe, it's the picture-perfect setting.
But what makes La Concha unique is its location. It's set in the centre of San Sebastian next to the town hall and shopping district of the city.
There aren't many cities in the world that have beaches in their centres, and few have a beach that is as high quality as Playa de la Concha!
🏙️ One of the best ways to learn more about San Sebastian is to take one of the FREE Walking Tours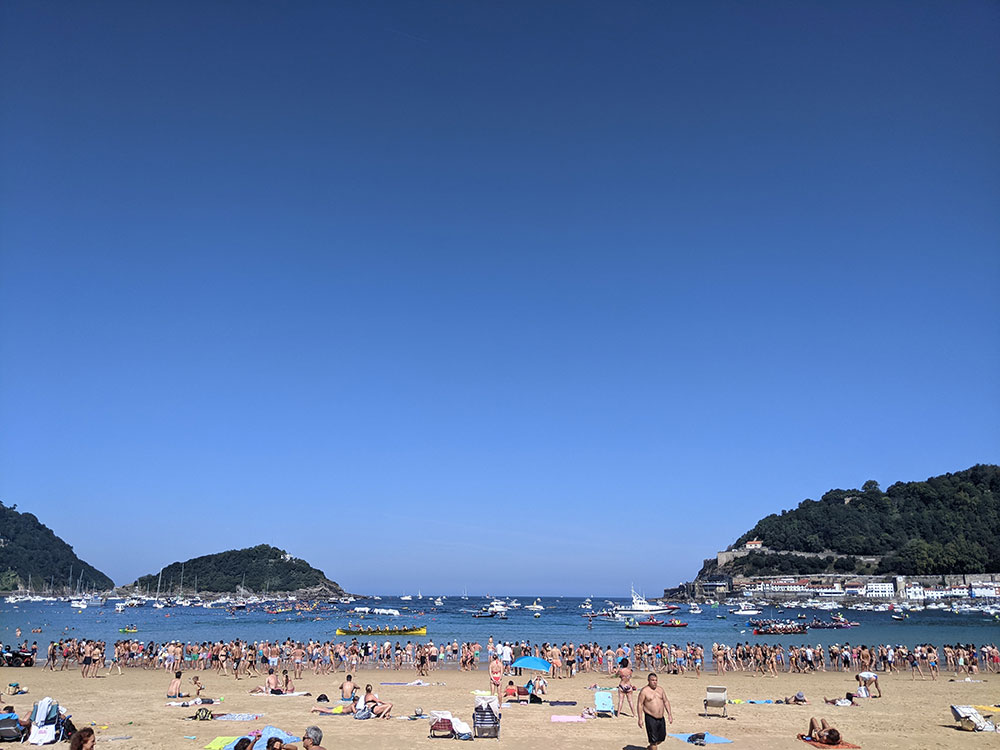 Despite being in the centre of the city's hustle and bustle, it offers a spectacular setting to escape all the noise.
The beach is framed by Monte Igueldo to the west, Monte Urgull to the east with Santa Clara Island in the middle, making it a perfect postcard setting. It's an image that's been featured all over the world's leading magazines.
And at 1350m long, there's plenty of room for Donostiarras and tourists alike.
Things to know about La Concha Beach
La Concha Beach isn't just inspiring to look at. It has a fascinating history, and today is a hub of activity.
1. It's fit for a queen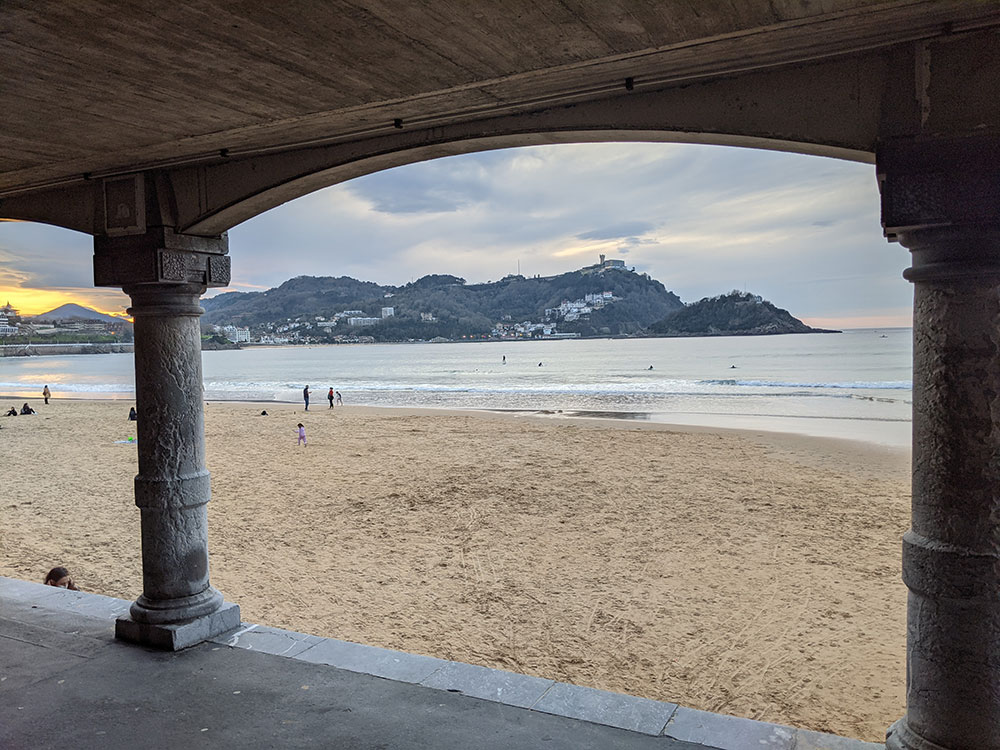 The popularity of La Concha beach goes back to 1845 when Queen Isabel II was advised by doctors to bathe in the sea as a remedy for some problems she had with her skin.
As a result, Isabel II chose to pass her summers in San Sebastian.
With her followed high-society aristocrats and nobles, leading to the rise of Donostia becoming a highly fashionable tourist destination.
La Concha beach became the centre of her visits, where she would spend time in the bay as advised by her doctors.
The shell-like shape of the beach led to it being nicknamed the Pearl of the Cantabrian Sea.
It's reputation was only enhanced when later generations of the Royal Family ordered the construction of a summer house (Miramar Palace) overlooking La Concha Bay.
2. Beach activities
It's easy to see why La Concha was Queen Isabel II's beach of choice.
Santa Clara Island protects the bay. It makes the sea relatively calm in comparison to surrounding areas, in particular La Zurriola beach – a popular surfing spot!
The bay is also relatively shallow. You can walk out a good few metres before you can no longer touch the sand.
And whilst it can get hot in the summer, the weather in the North of Spain is much more tolerable than the South.
All that adds up to a pleasant, safe space to enjoy the sea.
If you're in search of more of an active holiday, then there's also the opportunity to try your hand at some watersports. Given the calmer waters, kayaking, paddle boarding and open water swimming are the more popular choices.
There are plenty of places to hire gear nearby and during the summer months there are designated entry points for kayaks and paddle boards.
3. A seaside stroll on Paseo de la Concha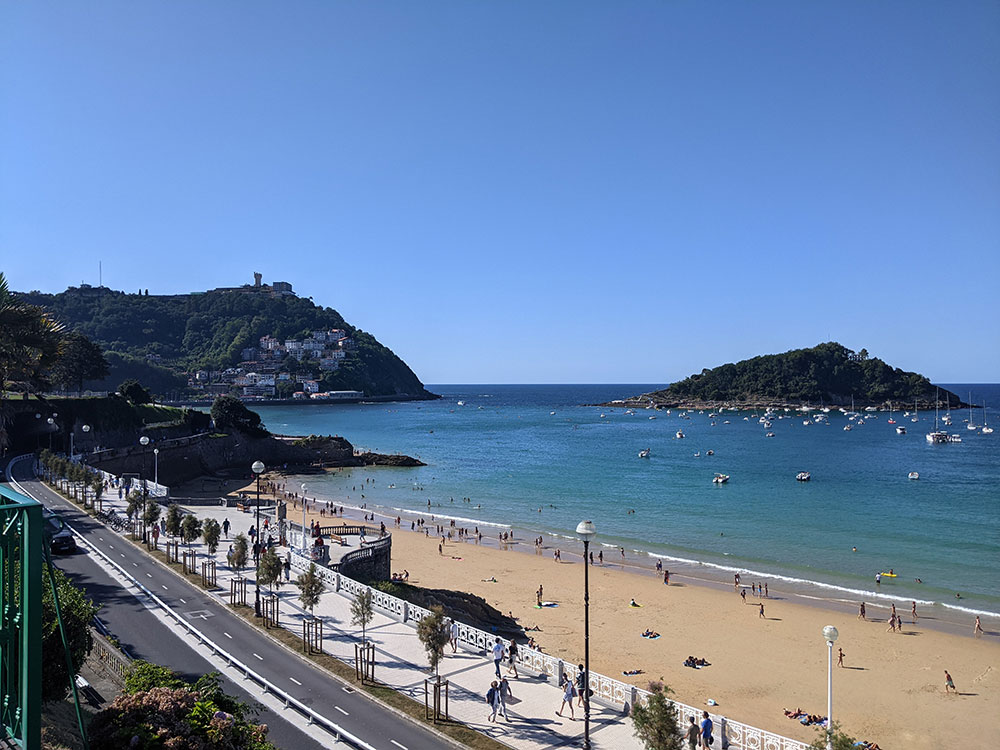 One of the things that makes La Concha special is the Paseo de la Concha. The promenade which sits high above the beach offers an impressive backdrop over the sand, sea and beyond.
Starting from the port (puerto) you can follow the famous white railings all the way round the beachfront to Miramar Palace and Ondarreta beach.
Along the way, you can admire the gardens, architecture, views, and if you take an early evening stroll you may be spoiled with a spectacular sunset.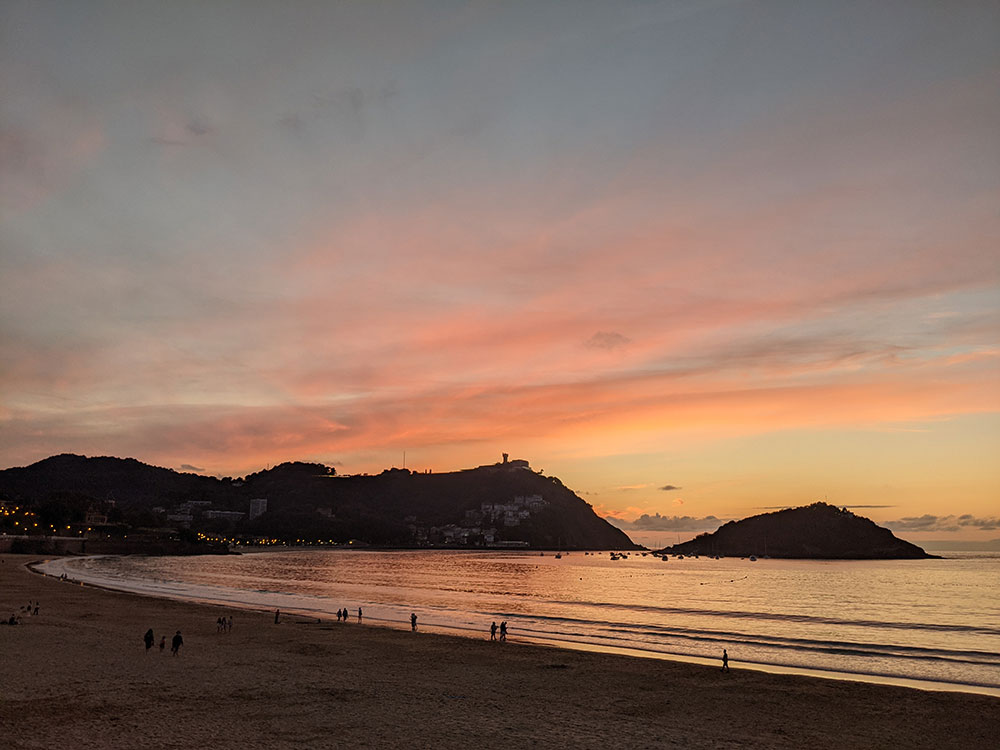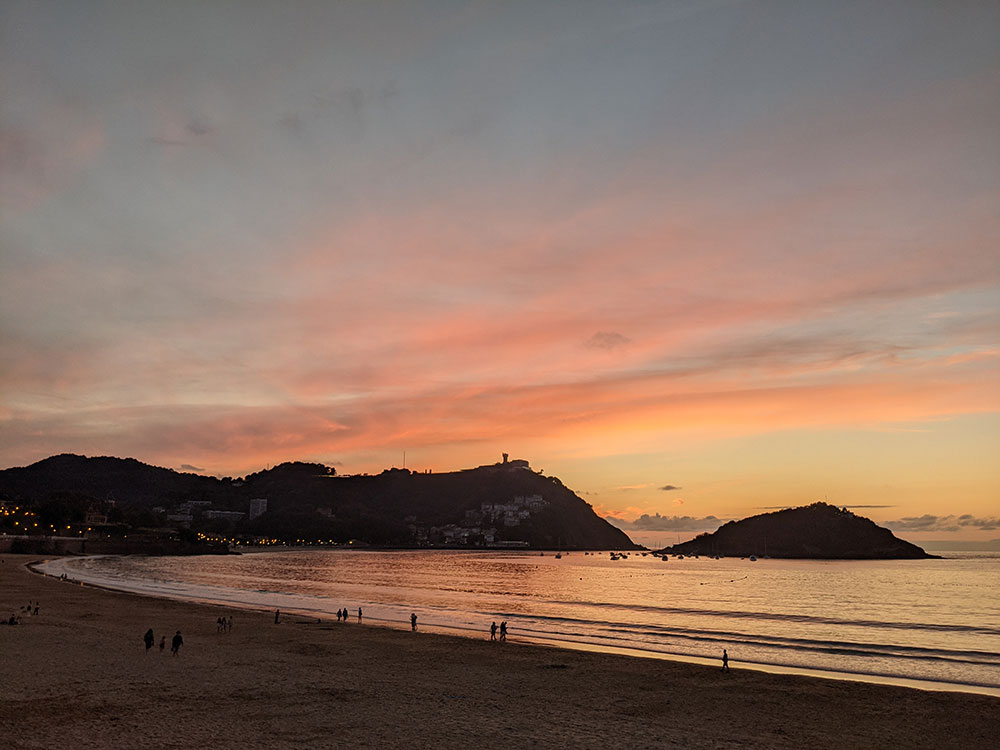 At the port of San Sebastian, there are many fishing boats that are parked up. There's a long wall to the side of the iconic Náutico building (club that is shaped like a boat) where on a nice afternoon there's no better plan than grabbing an ice cream, sitting on the wall and watching the world (and boats) go by in the bay. It's also the perfect spot to catch the sunset!
Further up from the port, is the ayuntamiento (town hall). An impressive structure, it was originally constructed as a casino in 1887, later being converted to the City Hall.
Sitting outside of the town hall are the Alderdi Eder Gardens. A green space filled with flowers, tamarisk trees, a merry go round and children's play area. There are many benches scattered around which make for quiet spots to read a book or listen to some of the buskers that regularly line Paseo de la Concha.
As you continue round the bay, you'll pass iconic buildings such as the Hotel Londres, La Perla (Spa) and Cafe de la Concha.
Eventually you'll reach a viewpoint (Balcón del Bicentenario) which is home to the "Homage to Fleming". It's a sculpture from Eduardo Chilliada who was also the artist of the famous El Peine del Viento.
And whilst the structure isn't as impressive, the setting is. From the viewpoint you're treated with panoramic views over La Concha Bay. From El Pico del Loro, Monte Igueldo, Santa Clara Island, Monte Urgull, it really is one of San Sebastian's best Instagram-able spots!
If that wasn't enough, you can continue towards the Miramar Palace. Climb the stairs and enjoy the bay from another angle in the palace gardens. You can also take a sneak peek at Ondarreta beach.
La Concha beach amenities
As the biggest and most popular beach in San Sebastian, there are amenities to make your visit as comfortable as possible.
Lifeguards
All beaches in San Sebastian have lifeguards from the 15th June – 30th September. They are on watch from 10am to 8pm.
The council also operates a beach flag system to notify people when it's unsafe to be on the beach.
Disabled access
La Concha has a number of access points and most of these have ramps.
There is also an assisted bathing service for the elderly and people with limited mobility. You can make reservations directly at the lifeguard station.
Showers and toilets
There are 24 public toilets on the beach, 3 of these are adapted for the disabled.
There are free external showers on the beach during the summer months and taps to wash your feet on exit.
There's a public changing room with lockers, showers (adapted shower for disabled) and a towel rental service too.
Beach bar
During the summer months there are a couple of small beach bars that serve cold drinks, coffee and snacks.
Above on Paseo de la Concha, there are a number of cabins that sell refreshments alongside cafes and restaurants where you can grab a bite to eat.
How to get to La Concha Beach
As we've already mentioned, one of the best things about La Concha Beach is its location, right in the centre of San Sebastian.
The beach is easily reachable on foot from most areas of the city and accessible by public transport.
By bus
Most buses that pass through the centre of San Sebastian will stop nearby La Concha Beach. La Avenida, El Boulevard and Plaza Gipuzkoa are some of the main bus stops which are all a short walk from the beach.
By train
There's currently a new (controversial) Euskotren station being built right on the doorstep of La Concha Beach.
However, until it opens (anticipated in 2025), your best bet is to make the short 5-10 minute walk from Amara Station.
By car
Most of the on-street parking around La Concha beach is reserved for residents, but there are some OTA (paid on street parking spaces) nearby on Paseo Mirakontxa (3 minute walk).
Spaces do fill rather quickly on a nice day though. You can check out the on-street parking map here.
Your other alternative is to park in one of the nearby public car parks at the Buen Pastor or San Martín.
Places to visit near La Concha Beach
As a main focal point in the city, there are plenty of other things to see nearby the beach.
1. San Sebastian Port (2 minutes walk)
If you're not a fan of getting sand in your shoes, the good news is, that shouldn't stop you enjoying La Concha Bay.
Located in a pretty lucrative spot with a backdrop of Monte Urgull and views of Santa Clara Island, sitting on the port wall is one of my favourite pastimes on a nice day.
During the summer it's a bustling corner of the city, with boats going in and out and tourists enjoying the many fish restaurants that line Paseo del Muelle.
2. Miramar Palace (2 minute walk)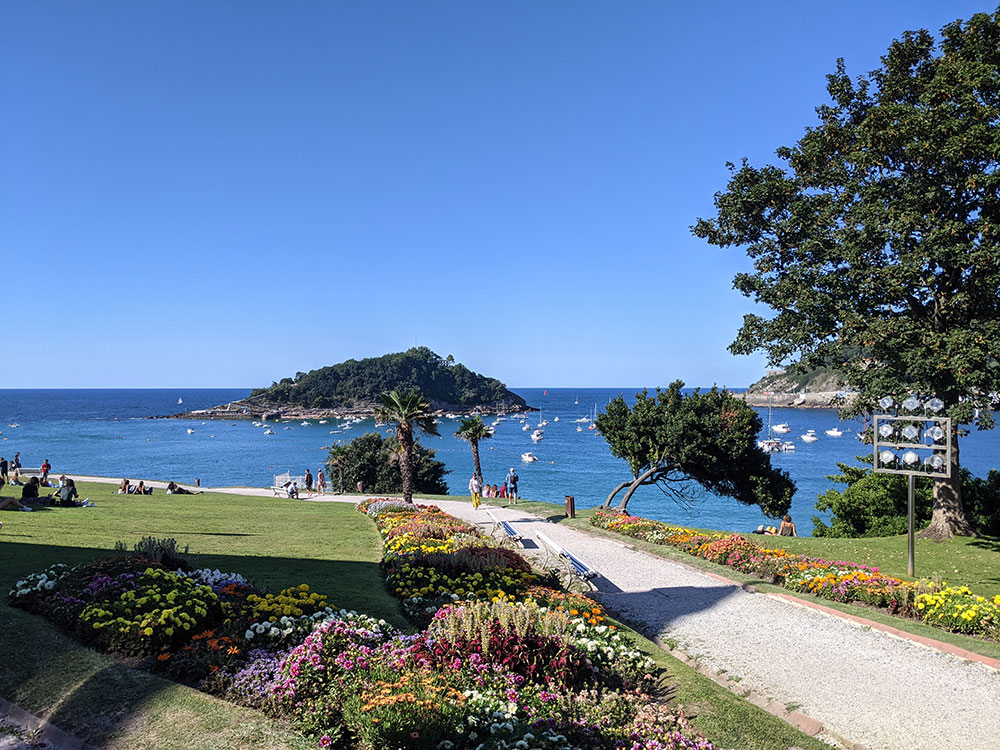 If you get tired of the sun and fancy a bit of shade, then you can head up to the gardens of Miramar Palace. The Palace stands prominently on the San Sebastian coastline between Ondarreta Beach and La Concha Beach.
It's just a couple of minutes walk up the steps from the eastern side of La Concha beach.
3. El Pico del Loro (2 minute walk)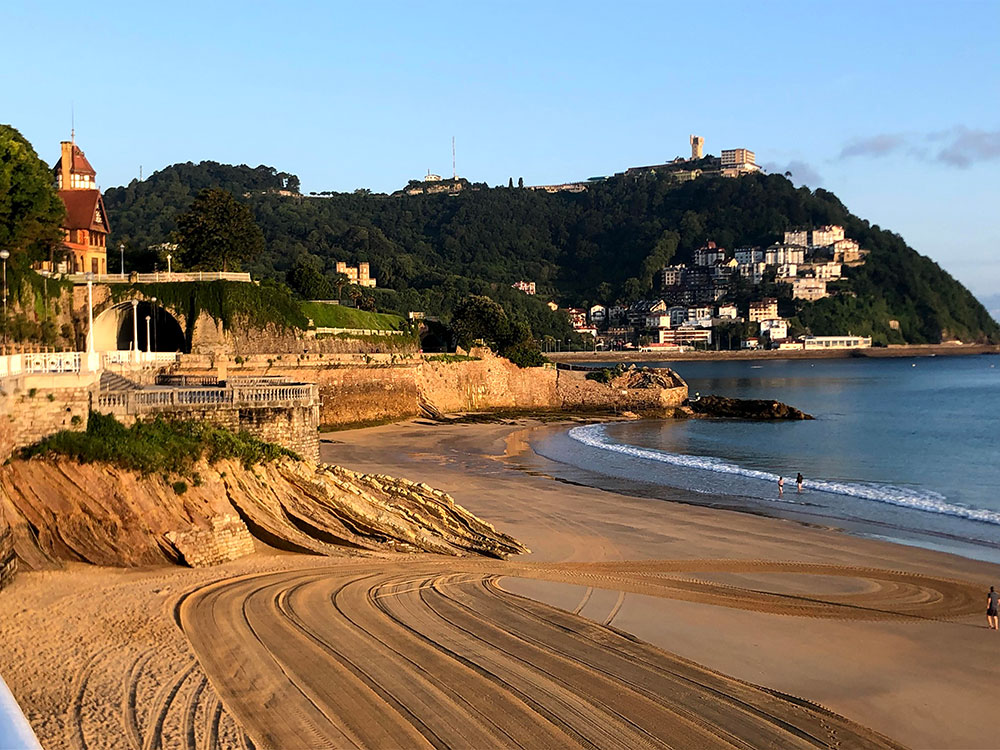 El Pico del Loro is a stunning rock formation between La Concha beach and Ondarreta beach. It offers one of the best views of San Sebastian and is probably one of the top Insta spots!
During low tide you can walk up directly from La Concha beach, but at higher tide you'll need to access it through Paseo de la Concha.