The Anoeta Stadium or Reale Arena is the home to La Liga side Real Sociedad and occasionally the Real Soceidad Women's team.
The stadium sits in the Amara district of San Sebastian, which is to the south of the city but easily accessible from the city centre by metro, biking or even walking.
Map of the Anoeta Stadium 
The Reale Arena opened in 1993 with the first game at the Anoeta being a 0-0 draw between Real Sociedad and Real Madrid.
The new ground was a big change for Real Sociedad who previously played in the Atotxa Stadium for 80 years (which only had a capacity of 17,000) before moving to their new home. Prior to that they actually played at the Ondarreta Stadium too.
The Reale Arena was built and funded by the local government as part of the Anoeta Sports Complex which covers a wider area, housing basketball courts, swimming pools, gyms and tennis courts amongst other things.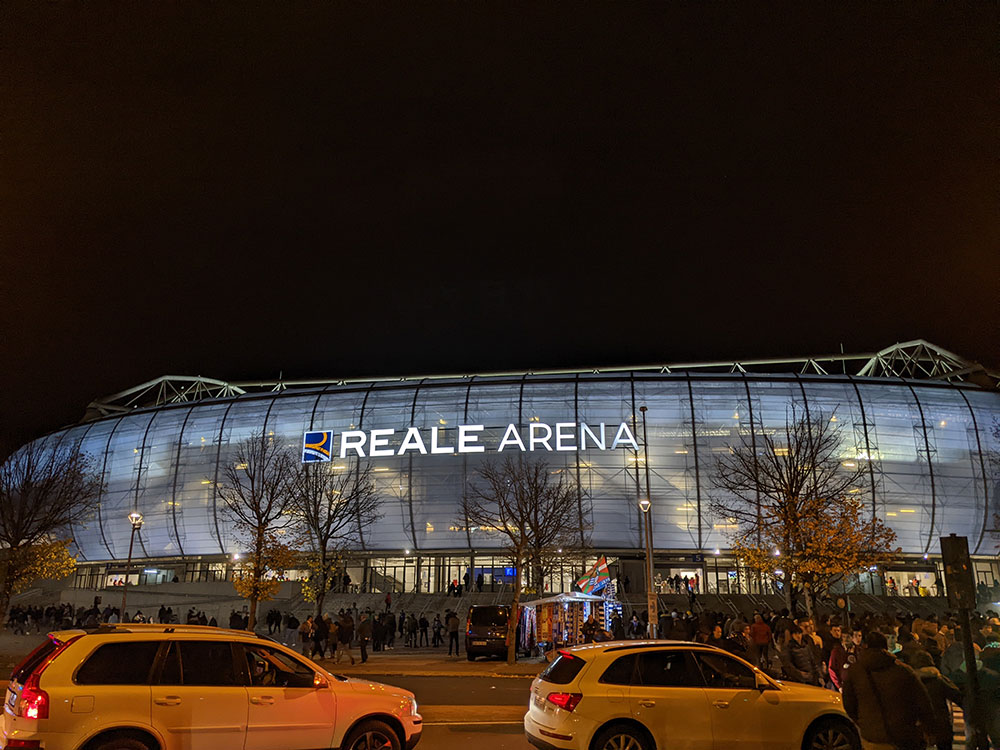 It has a capacity of 40,000, making it the 11th largest in Spain, and as a council-led initiative, the stadium occasionally plays host to other important events in San Sebastian such as rugby matches, athletics championships and concerts. Big names such as U2, Bruce Springsteen, The Rolling Stones and Pink Floyd have all played here in the past.
When the stadium first opened, it had an athletics track around the outside of the pitch. However, this was criticised by the Real Sociedad fans as in some areas of the stadium the fans were nearly 40 meters away from the action. In the end, the athletics track was taken out and despite only opening 30 or so years ago, the Aneota has undergone a number of changes to make it a modern football stadium fit for purpose.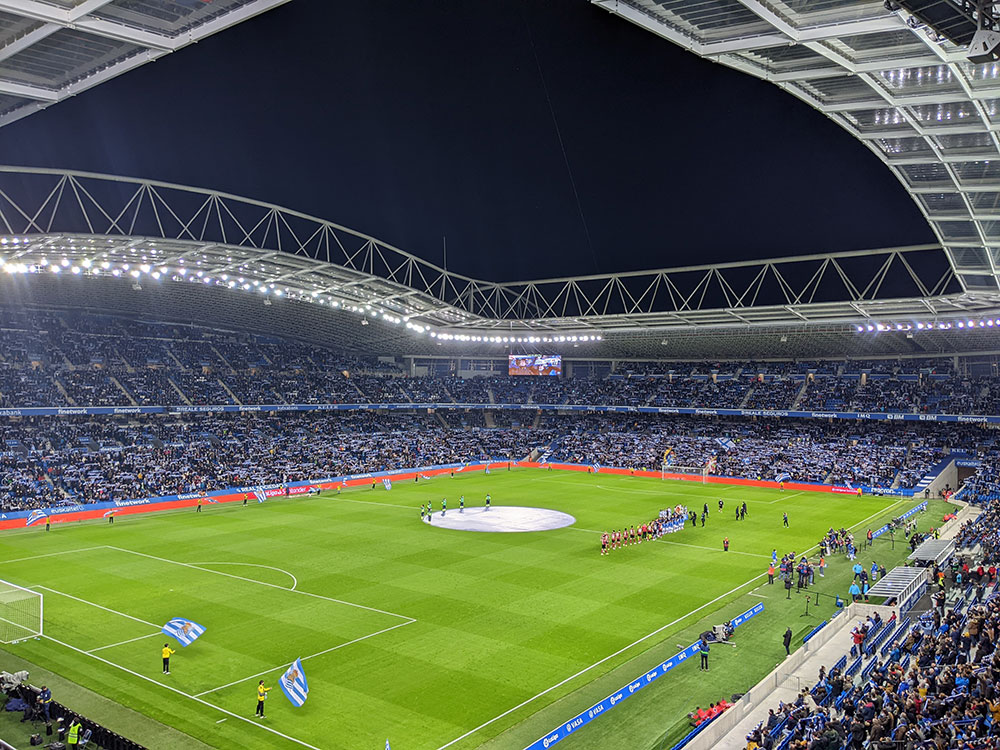 Today there's a good atmosphere in the stadium with much of the noise coming from the Txuri-urdin (fans) behind the goal in the South Stand.
How to visit the Anoeta Stadium
The best way to visit the Anoeta is to go to a game. Tickets for Real Sociedad matches generally go on public sale and are pretty easy to get hold off via the clubs website – https://www.realsociedad.eus//en
For a standard La Liga game, tickets start at around €35 rising to €60 depending on where you chose to sit. For more premium games in La Liga (against the likes of Real Madrid, Barcelona, Atletico Madrid) and El Derbi (against local rivals Athletic Bilbao) expect to pay a little more – with tickets starting between €60 – €90.
If you're visiting San Sebastian in the summer, or there's no game whilst you're in the city, there's also a museum and stadium tour that will give you a peek into the Anoeta. For more information check out the clubs website – https://www.realsociedad.eus//en