Not only does the Antiguo district of San Sebastian have its own beach, mountain and theme park. But it's also home to some of the best restaurants in the city!
The area offers it all. There's plenty of traditional choices, restaurants for vegetarians and vegans alongside some of the best burgers around!
If you're looking for some of the best restaurants in San Sebastian alongside a slightly different evening vibe to the rest of the city, then it's well worth trying one of our recommendations below!
🥘 Discover the best food San Sebastian has to offer on a Guided Food Tour
The best restaurants in Antiguo
All the restaurants below are located in the heart of the Antiguo district.
If you're not the type of person that wants to plan ahead and prefers to "go with the flow", then we recommend that you head to Calle Matia where you'll find plenty of great restaurants.
1. Damadá Gastroteka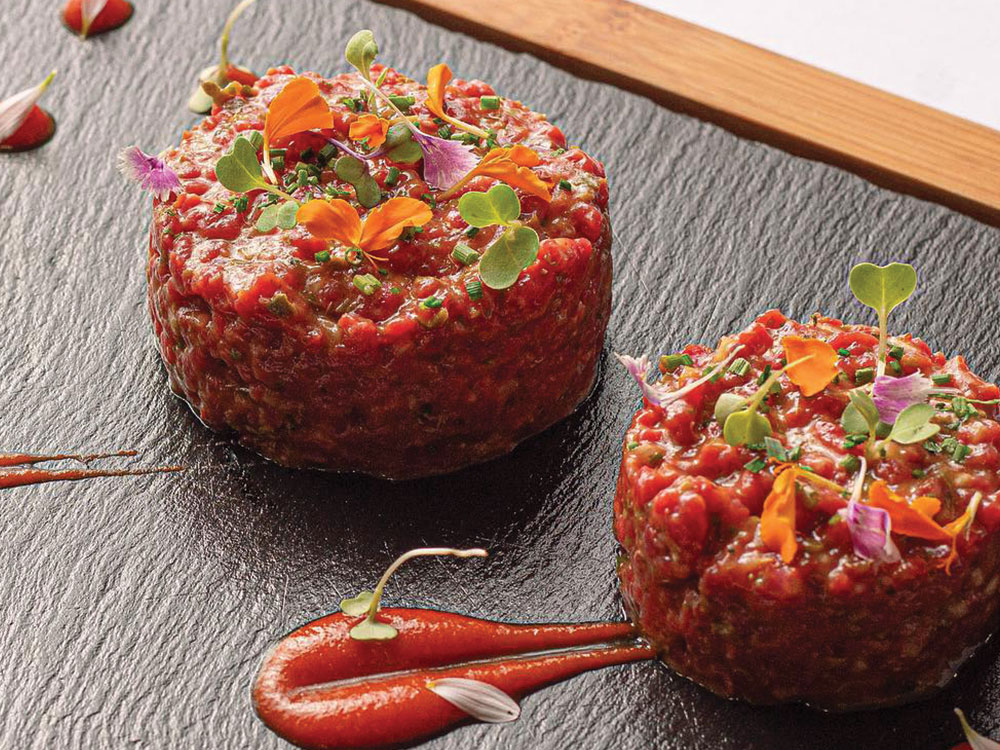 If you're staying in the Antiguo area and fancy something special, then Damadá Gastroteka is the place to go.
Chef (David Arellano) has many international plaudits after working with Martín Berasategui at eMe Be Garrote, one of San Sebastian's many Michelin star restaurants.
The restaurant has a minimalistic interior, but the food is anything but plain. They serve up traditional flavours with an experimental touch. And the result is incredible!
Alongside the food, the restaurant has one of the best wine lists to accompany a meal you won't forget in a hurry.
2. SUK Lab
SUK Lab is famous for being one of the best places in the city for burgers.
There are a couple of different burger bases; txuleta (steak) or chicken. From the base, you have to choose a style. These range from the typical bacon and cheese option to the more exotic "olives and parmesan" or "blue cheese, mustard and honey" options.
But they don't just offer burgers.
The menu here has a mixture of raciones (sharing plates) alongside some sandwiches, salads and food from the grill.
3. Ocho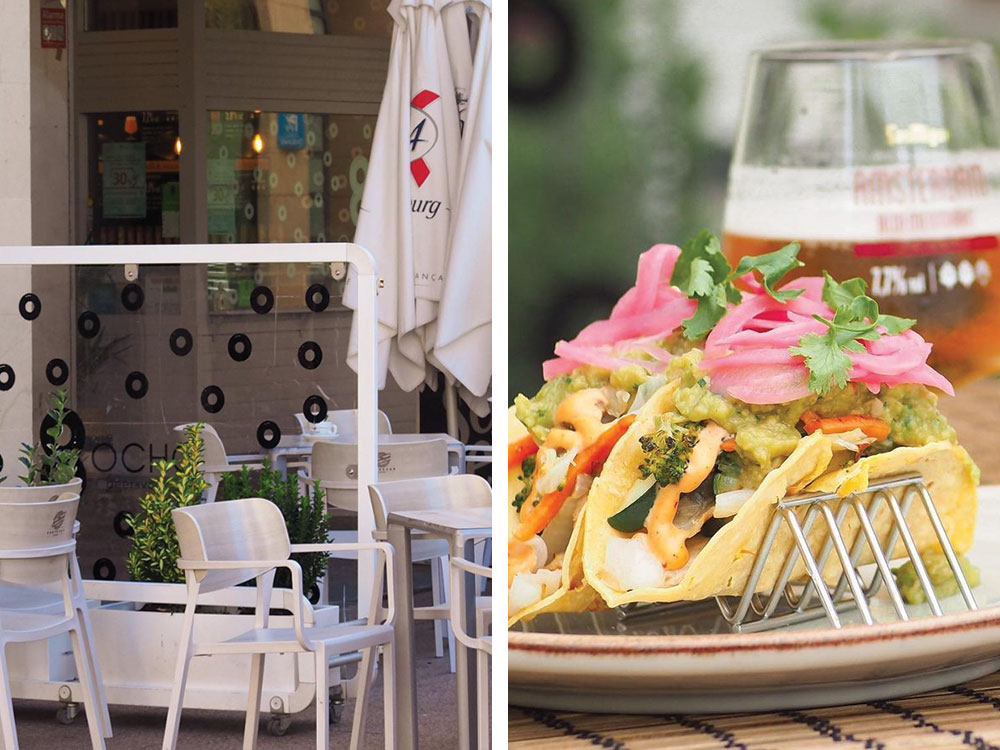 Ocho is a brewery with a couple of locations in San Sebastian. The branch in el Antiguo is located just down the road from SUK Lab, heading towards the University.
Whilst the brewery is well known for their different types of beers, they also serve up a mainly lacto-ovo vegetarian menu with vegan options.
From pintxos on the bar to their main dishes menu, there are plenty of options for everyone here.
4. La Mera Mera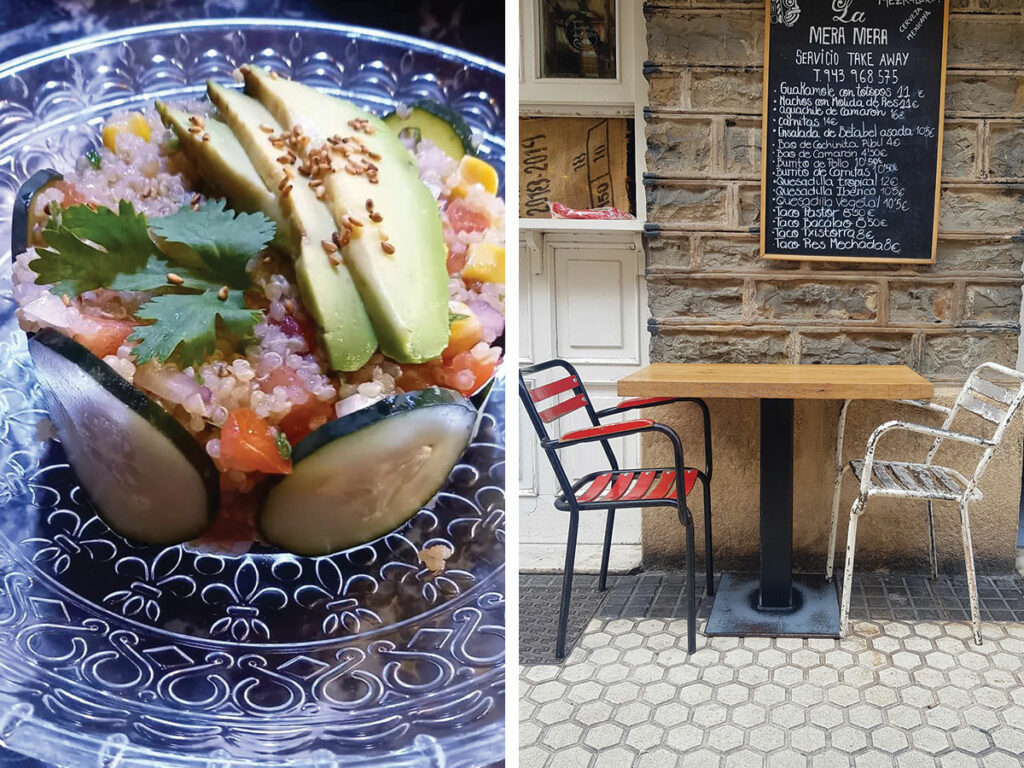 Now, if you're after something a little different to the typical food in San Sebastian, La Mera Mera is an excellent choice.
The restaurant serves up a mexican menu, located on Calle Matia (perhaps the most lively street in Antiguo).
It offers delicious nachos, tacos, burritos and quesadillas. Not to mention the amazing tequila and mezcal based cocktails!
5. Orburu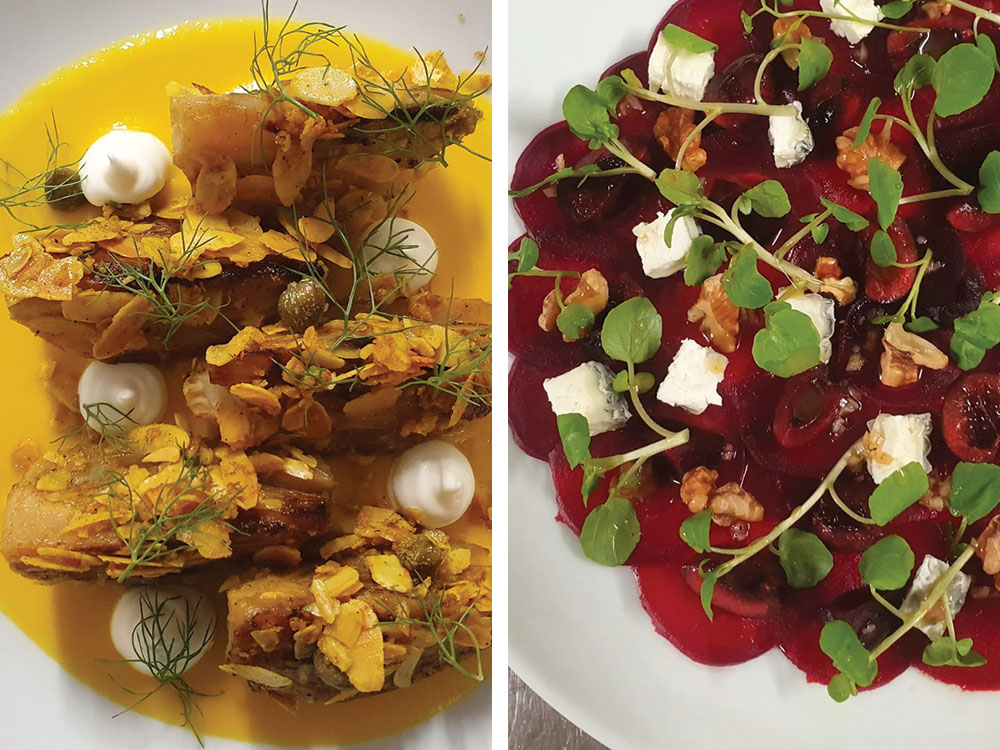 Orburu is another one of the best vegetarian restaurants in San Sebastian.
It's more of a taverna with a menu based on vegetables. You can find it just a few streets back from Ondarreta Beach.
The owner of Eneko López brings his years of experience living abroad to deliver an international menu with an exotic twist. It's mainly vegetarian dishes that are on offer, but around 50% of the menu is also suitable for vegans.
There's also a nice quiet terrace area outside on Calle Matia.
6. Drinka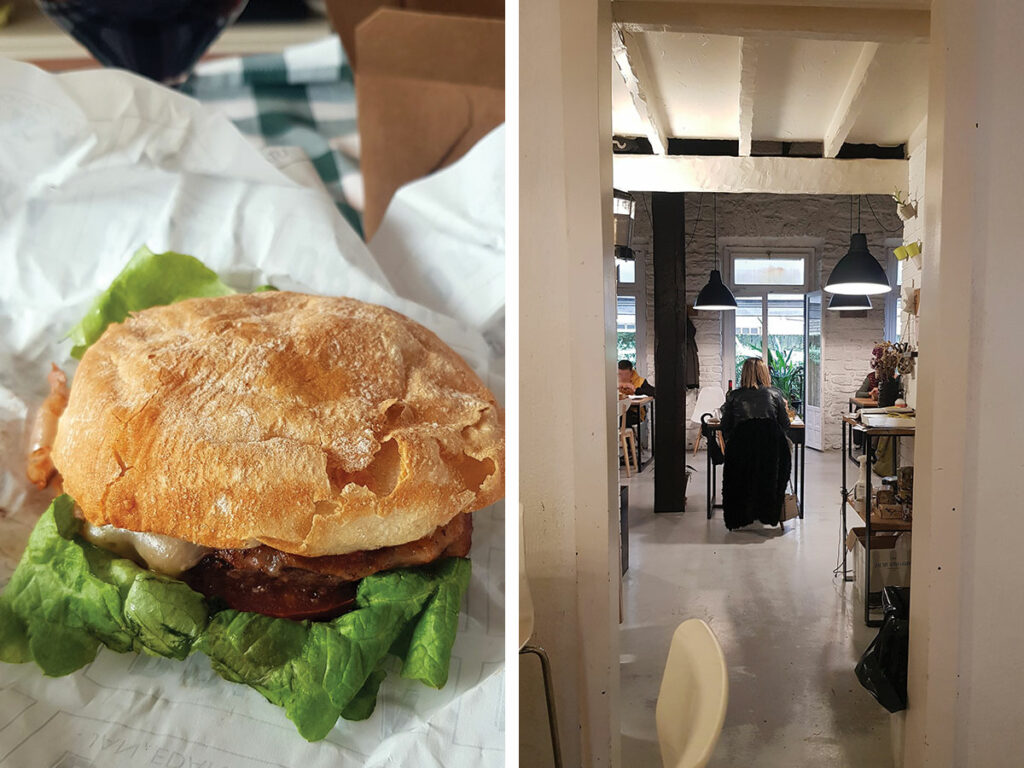 Since 2015, Drinka has been at the heart of the Antiguo district. It opened as a space to meet friends for a drink and a bite to eat, just a few hundred metres from Ondarreta beach.
On the menu are a mixture of bocatas (sandwitches), pintxos and raciones to share.
But perhaps they are most known for their three different burgers. You can't go wrong if you order the Txuleta Gallega burger, Tuna burger or chicken burger.
All the menu uses quality, fresh produce and the food tastes as good as it looks!