You may think it's all Sangria and Paella in Spain. But you'd be wrong!
Each province in Spain usually has a reputation for a certain type of food, dish or drink. And the Basque Country is no different.
The Pais Vasco (in particular San Sebastian) is known for its culinary excellence. But it doesn't stop with the food. The Basque country has some traditional Basque drinks that aren't readily available elsewhere in Spain, let alone elsewhere in the world.
In this article, we'll run through some of the unique Basque drinks that you must try on a trip to the Basque Country!
🥘 Discover the best food San Sebastian has to offer on a Guided Food Tour
Basque drinks that are a must try
You'll need something to wash down all the fine txuleta (steak) and pintxos when in the Basque country. So why not give some of the traditional Basque drinks below a try?
1. Basque Cider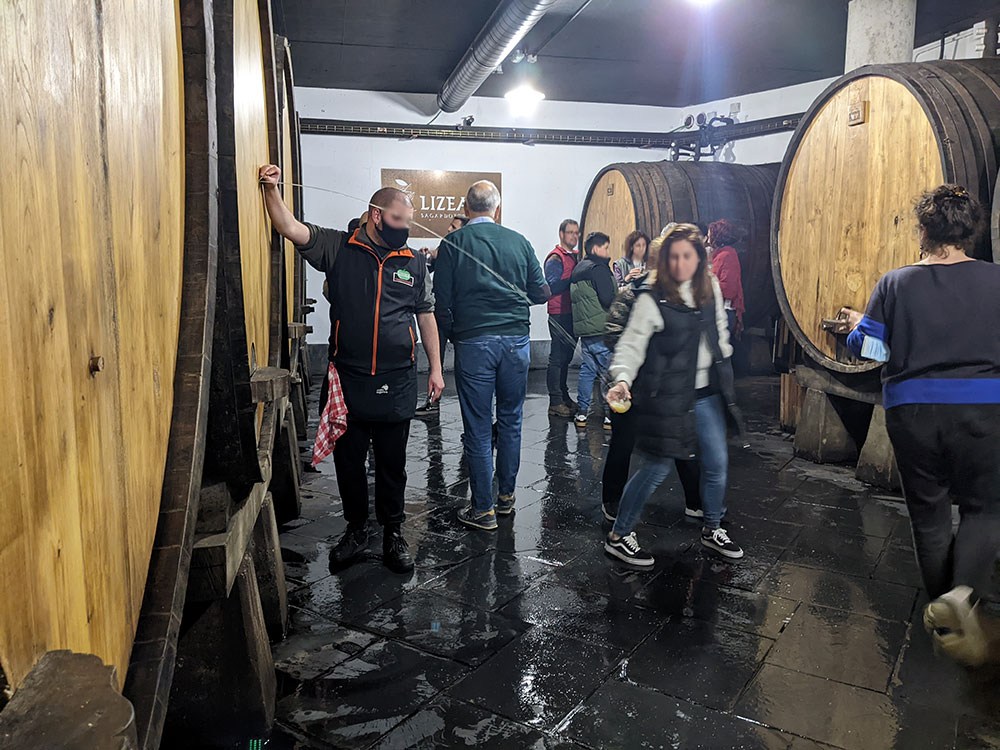 Perhaps the most famous Basque drink is the basque cider. Locally and seasonally produced, it's common for most cider to be made with Basque apples using traditional methods.
This isn't your typical Strongbow cider either. It's a natural, cloudy cider that is much drier than most European ciders with an acidic hint to it.
But perhaps the most memorable thing about the cider is how it's poured. Naturally Basque cider contains little gas so requires pouring from a height to "break" it. It can lead to quite a spectacle – and a messy table!
The best way to taste the cider is at one of the local siderias (Basque cider houses). There are over 100 within 10km from San Sebastian, with some of the best cider houses in Astigarraga!
These establishments have long traditions. They usually serve a fixed priced food menu containing cod omelette, fried cod with peppers, finished with a huge steak and as much cider as you want!
2. Txakoli wine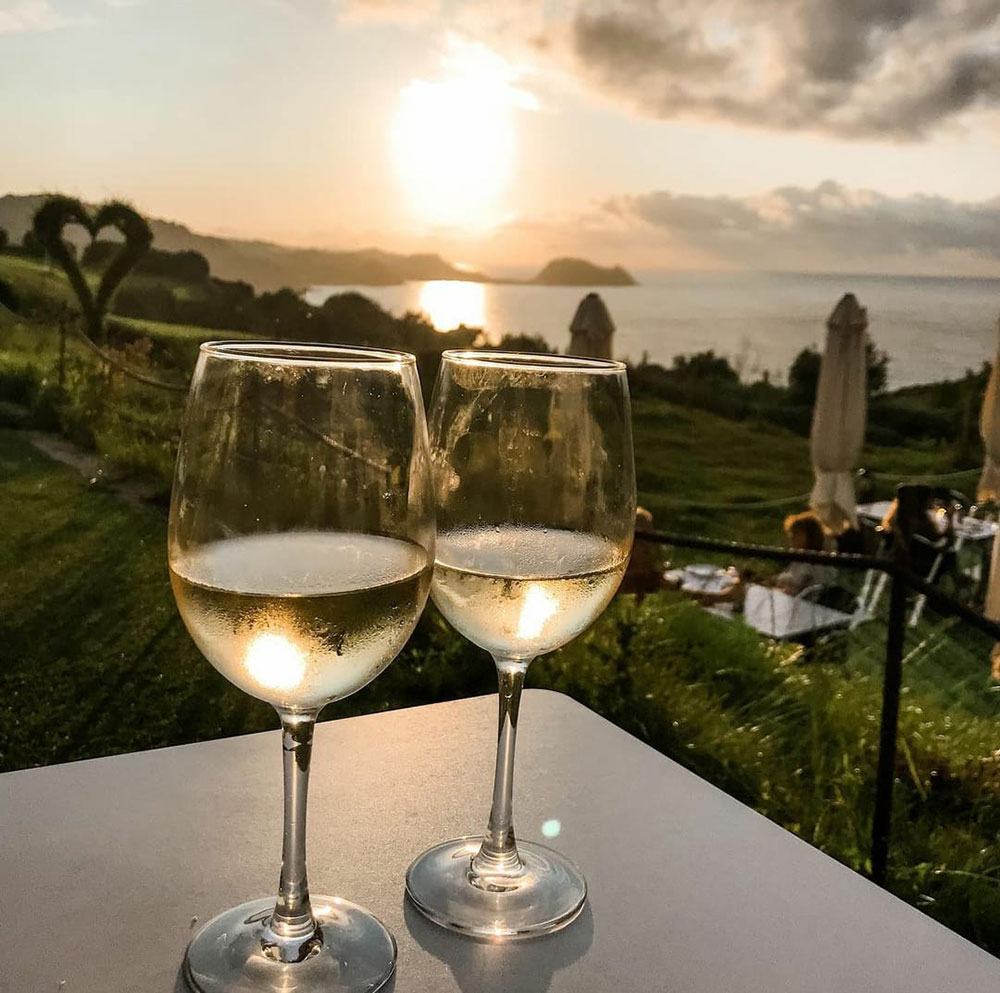 Txakoli wine, pronounced (chah-kuh-lee), is one of the Basque Country's greatest ambassadors for the region's excellence in food and drink, thanks to its inclusion in some of the best restaurants in the region.
It's a traditional wine with origins from the Gipuzkoa region of the Basque Country, the province of San Sebastian. In 2007, Gipuzkoa and its 400+ hectares of vineyards was recognised as a Designation of Origin with the name Getariako Txakolina (extended from previously being just the town of Getaria).
The txakoli vineyards are traditionally located at high altitude, close to the sea. This is what gives the wine its unique naturally acidic and crisp tones.
But much like Basque cider, txakoli is most unique for the way it's served.
Instead of being served in a stem glass, it's recommended that txakoli is served in a tall, flat-bottomed glass. And similar to the cider, it's recommended to pour the wine from 8-10 inches above the glass which is said to agitate the wine and release its flavours.
What you're left with is another spectacle. And another messy table!
3. Rioja Alavesa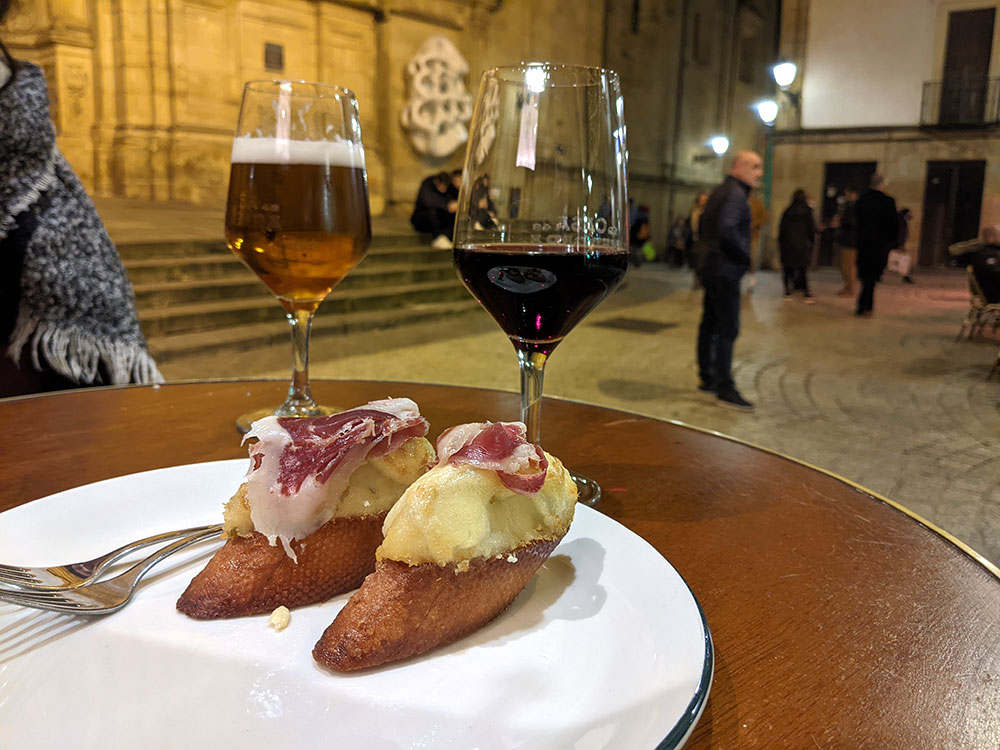 Sticking with the theme of wine, just an hour and a half drive away from Donostia is one of the most recognised wine regions in the world, La Rioja.
If you're particularly interested in wine, it makes a great day trip from San Sebastian.
The La Rioja wine region is divided into three sub regions; Rioja Alta, Rioja Oriental (or Baja) and Rioja Alavesa – which forms part of the Basque Country in the Álava province.
The Alavesa region shares a similar climate to the Alta region, but subtle differences in vine density and soil conditions produces a wine with a fuller body and higher acidity (a common theme in basque drinks).
The sub region is the smallest of the Rioja regions, but the wine is generally considered of exceptional quality.
Due to its popularity, the wine is more readily available throughout the rest of Spain (and even in Europe). But if you want to take some home with you, you can pick some up in one of the shops in the Old Town of San Sebastian.
4. Patxaran
After a heavy meal you're going to want something to wash it all down. And that's where the basque drink patxaran comes into play.
Patxaran (or pacharán in Spanish) is a liqueur made from sloe bush berries. The berries produce a recognisable light reddish-brown colour.
The drink has origins from Navarra from as early as the Middle Ages, and like txakoli until the mid 1900's it was primarily homemade.
Today however, patxaran is more commercialised and has a Denomination of Origin in Narrava. There are also strict rules on the processes for making the drink for it to be considered an authentic Pacharán Navarro.
In terms of taste, it has an intense, sweet, fruity aroma. It usually contains 25-30% alcohol.
5. Kalimotxo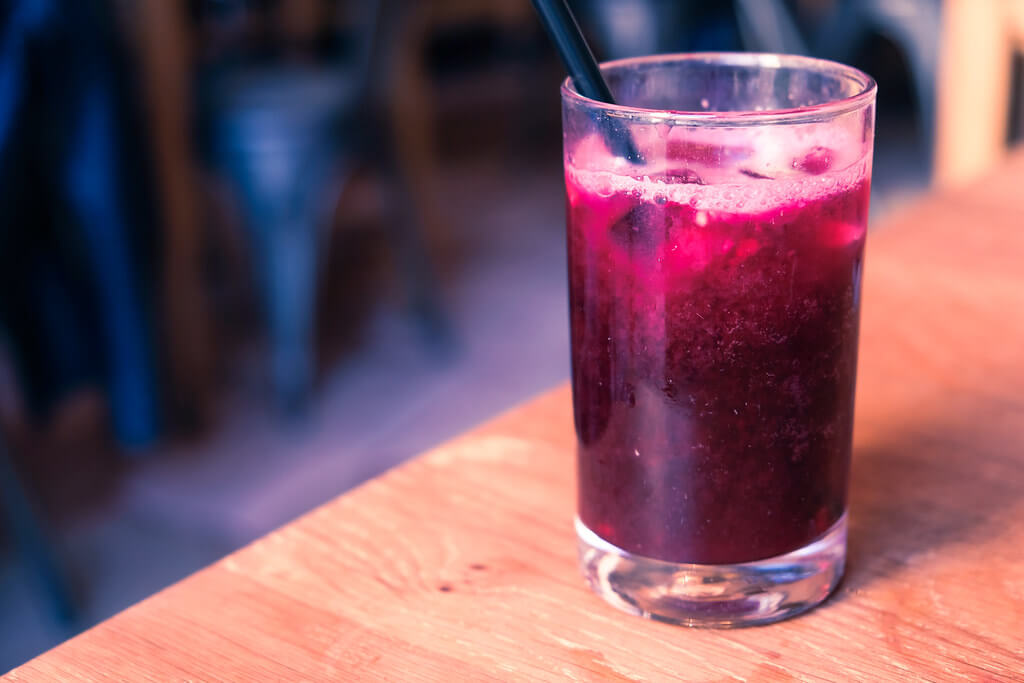 Whilst the Basque people love drinking wine and cider with their meals, it's not something you can carry on drinking all night. At some point, there's a need to switch up to something else.
One of the most popular copas (alcoholic drinks) in the Baque Country is kalimotxo (or calimocho in Spanish).
It's technically a "cocktail", with equal measures of red wine and cola, served with ice.
Given the cola dilutes the taste of the wine, it doesn't need to be the best wine in the world to get the authentic kalimotxo taste. In fact, the cheaper the wine, the better. For this reason, it's a popular drink amongst teenage cuadrillas (groups of friends) in the Basque Country.
If you go on a night out in Donostia, you'll find plenty of people drinking it, both in the streets and in the bars.
6. Zurito
You can't come to the Basque Country without trying some of the famous pintxos! But the best way to experience them is going from bar to bar on a pintxo crawl in San Sebastian.
The problem is, sometimes there's not enough time to drink a full caña (beer). So, in the 60's the zurito started to appear in bars as an alternative.
A "zurito" is a small sized beer, usually about 150ml. It's the perfect companion to wash down a pintxo – especially if you're going to a number of different pintxo bars!
There's not much else to it, but it's a pretty unique drink that's readily served in most towns across the Basque Country and isn't common anywhere outside of the area.
So just remember, a "caña" is a normal beer and a "zurito" is a smaller beer.