Cider Houses have a long standing history in the Basque Country. The presence of Siderías ("Sagardotegi" in Basque) or Basque Cider Houses dates back to the 11th century.
Originally they were places where locals would typically go to buy cider and food. However, over time they converted into places of social gatherings and restaurants.
Today, they're still popular with locals and tourists alike and a txotx cider house experience is (we think) one of the best things to do on a trip to San Sebastian.
In this article we'll run through what makes this experience a must if you're visiting San Sebastian early in the year, alongside the best places to book.
🥘 Discover the best food San Sebastian has to offer on a Guided Food Tour
Things to know about Basque Cider Houses
Before we get into the list of Basque cider houses that you can visit, it's worth knowing a few things about what makes this cider so special!
1. The taste comes from the acidic Basque apples
Much like some of the other Basque drinks such as Txakoli, the secret behind Basque cider's unique taste is the location of the apples and the process.
The apples are usually grown at higher altitude areas, with high humidity.
They are grown over summer and are then picked from September to November. Once picked, they are left to ferment a few months before the cider season starts.
Together this is what gives the cider its unique acidic flavour.
2. Txotx is the best way to experience Basque cider houses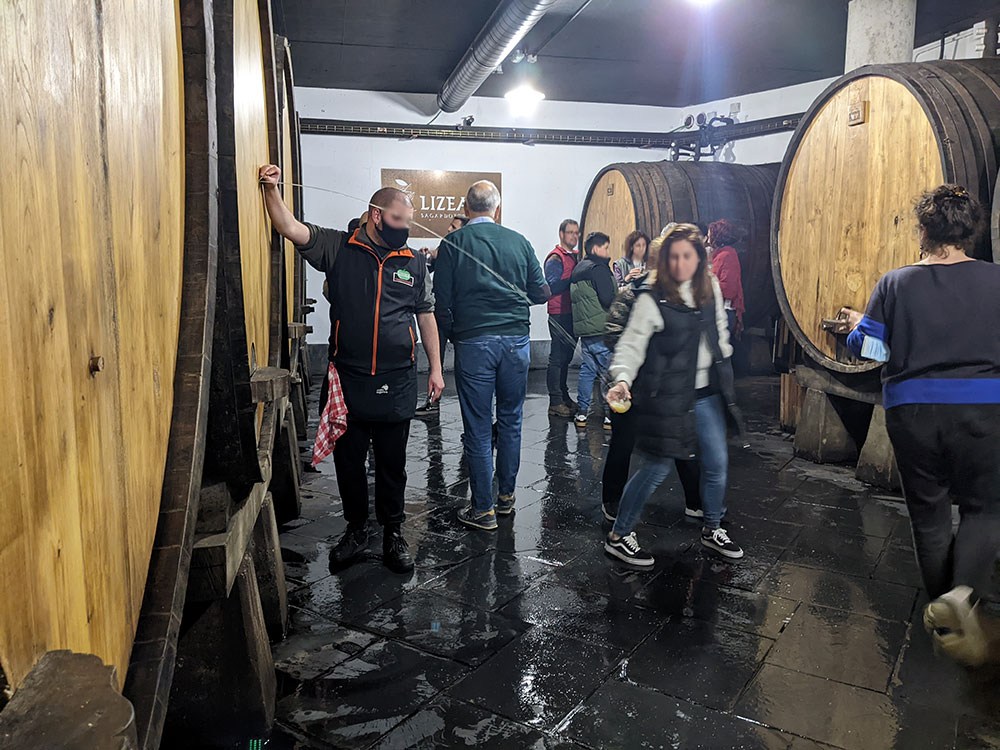 Alongside the fact that a traditional Basque cider house menu will include unlimited cider, one of the things that makes the experience fun is the way the cider is served.
Every diner is given their own glass, but they aren't served the cider. Instead, one of the waiters will occasionally shout "txotx" which means the cider barrels will shortly be opened.
Diners rush to the huge wooden cider barrels (called kupelak) which are then opened from a small hole, with cider shooting out. The cider has to be caught in your glass from a couple of metres away!
The result is a lot of cider on the floor, plus a whole host of fun! But there is a method behind the madness. It's served this way to help with the aeration.
3. They all serve the same traditional menu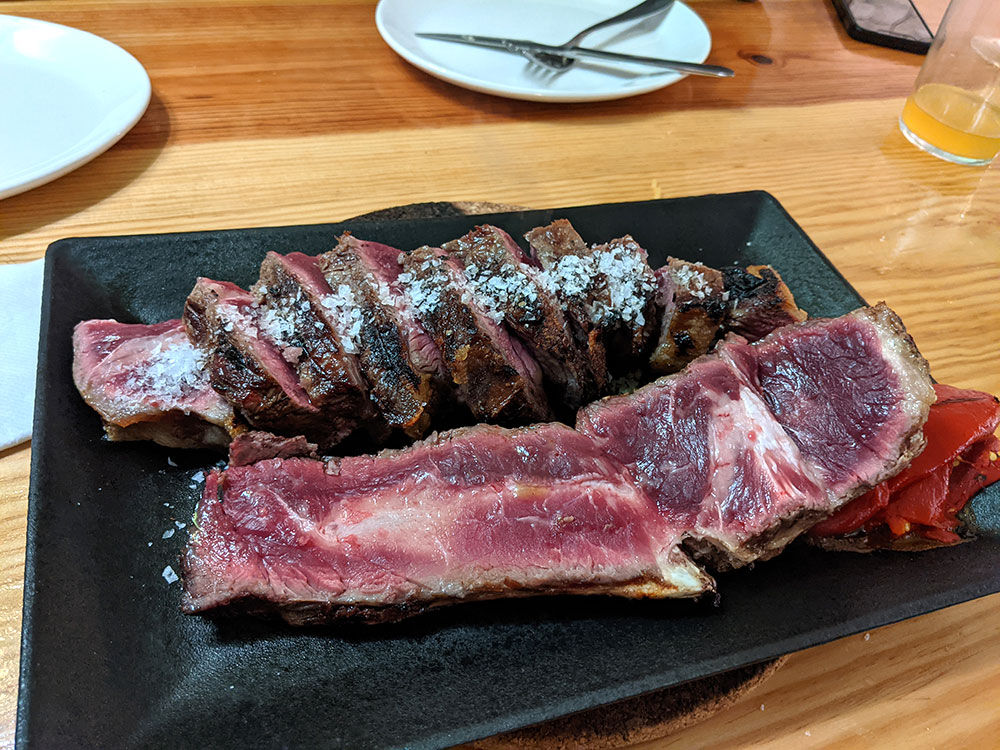 It's fair to say the dining experience at a Basque Cider house is fairly traditional. It's certainly a no frills experience!
All of the food is communally served in the middle of each table. Bread is served as a long baguette which is broken by hand. And all the courses are just put in the middle of the table with everyone eating from the same dish.
You may not even be given a chair! It's traditional in some Basque cider houses to eat standing up.
However, it's fair to say that the food is incredible!
No matter how it's served, all Basque cider houses typically operate with the same menu below (costing around €30 per person).
First course – Cod fish omelette (Tortilla de Bacalao)
Second course – Salt cod in garlic sauce (Bacalao al pil-pil)
Third course – Huge aged ox steak (Txuleton)
Dessert – Walnuts and Idiazabal cheese with quince jelly (membrillo)
It's worth arriving with an empty stomach too, as the portions are generous and you won't be leaving hungry!
4. Basque Cider season
The Basque cider season officially kicks off each year in January, running until May.
This is when all the cider houses in Gipuzkoa are open, serving up plenty of the good stuff!
Outside of these months, some of the cider houses will open where you can still drink bottled cider with a traditional or a la carte menu.
But outside of the main months, you'll struggle to find a "traditional" txotx cider house experience.
All of the bars and restaurants in San Sebastian, will also serve bottled cider all year round.
Cider Houses near San Sebastian
Now you know a bit about cider houses, if it sounds like something you'd be interested in, you need to know where to go!
Sagardotegis are typically located in old farmhouses. For that reason most of them are located outside of town and city centres. Most are located in Gipuzkoa, but they can be found all over the Basque Country.
Around San Sebastian, most are located in the small cider town of Astigarraga. It's a short (10 minute) bus or taxi ride from the centre of San Sebastian.
On a weekend during cider season, the town is buzzing with hundreds of cuadrillas (groups of friends) meeting for an aperitivo before heading to the cider houses on foot.
Some of our favourite cider houses are listed below. However you can check out all the cider houses near San Sebastian and book online here (English link).
FAQs about Basque Cider Houses
Below we've answered some of the most popular questions we get on cider houses.
What is cider house in Basque?
Cider house = "Sagardotegi" in Basque and "sidrería" in Spanish. 
Cider = "Sagardoa" in Basque and "sidra" in Spanish.
Where in Spain is famous for cider?
Cider is most popular in the north of Spain. Alongside the Basque Country, the most famous place for cider in Spain is Asturias, where nearly 80% of Spain's cider is produced. 

In fact, you can find sidrerias across the whole of the northern coastal region of Spain, from Galicia, Cantabria, through to the Bay of Biscay.