Cider Houses have a long standing history in the Basque Country. And perhaps there's nowhere better to experience Basque Cider than at one of the cider houses in Astigarraga.
The small town on the border with San Sebastian has the highest concentration of Sidrerías ("Sagardotegi" in Basque) in the whole of Guipúzcoa.
It's what brings thousands of people to Astigarraga every Txotx season (January – April).
Originally places where locals would go to buy cider and food, the Basque cider houses have been converted into places of social gatherings.
Today, they're popular amongst locals and tourists alike, and a Txotx cider house experience in Astigarraga is (we think) one of the top things to do on a trip to San Sebastian.
In this article we'll run through some of the best places to try Basque Cider.
🥘 Discover the best food San Sebastian has to offer on a Guided Food Tour
What we think are the best Cider Houses in Astigarraga
All the cider houses below are located in Astigarraga and offer the perfect place for one of San Sebastian's must-try food experiences.
If you're heading to a cider house on the weekend during txotx season, it's worth heading to Calle Nagusia beforehand, where there are plenty of bars and a buzz around the centre.
1. Petritegi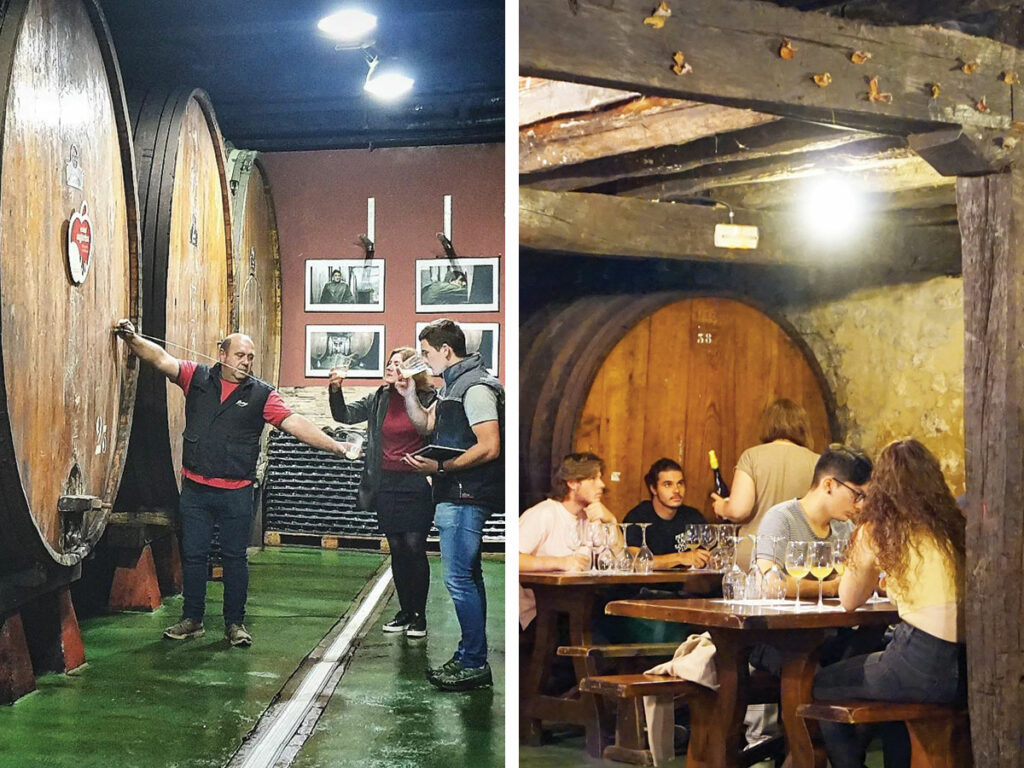 Petritegi Cider House is a classic, perhaps the most famous cider house near San Sebastian.
The reason is that it's one of the biggest cider houses, with three traditional dining rooms and enough space for over 400 diners. You can imagine the atmosphere here on a weekend!
With that sort of capacity, you have to be well organised (which they are). And despite having to satisfy a large number of servings, the food is excellent.
2. Astarbe Sagardotegia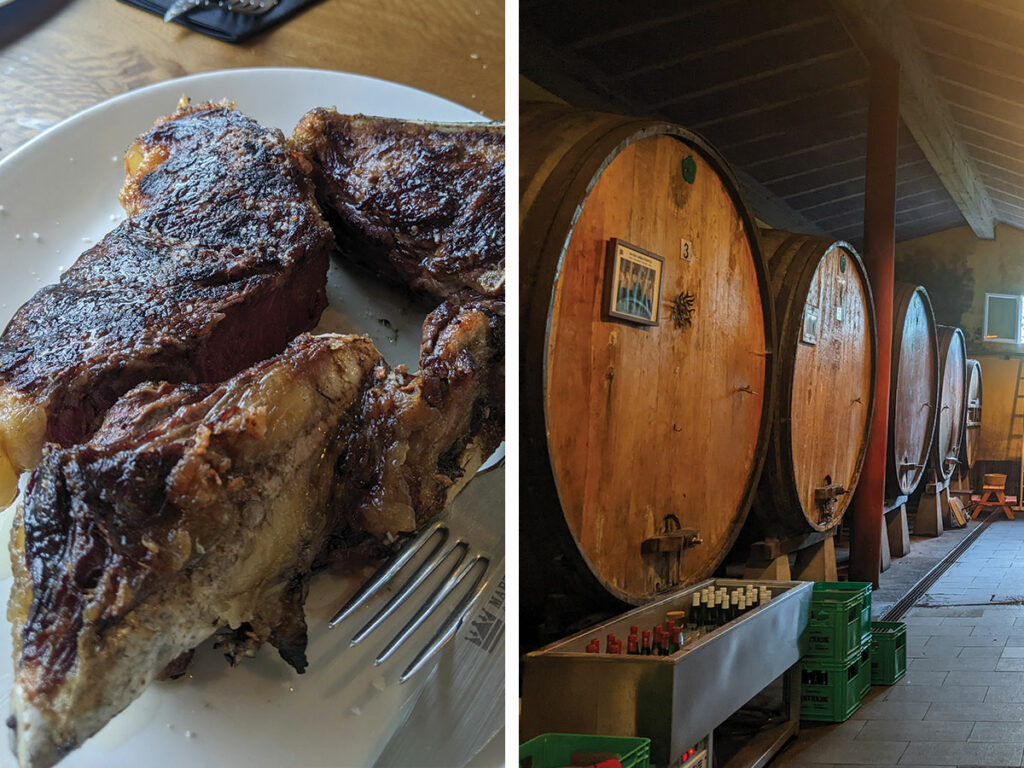 Astarbe Sagardotegia has been making Basque Cider for over 15 generations, going as far back as 1563!
Located on the outskirts of the Astigarraga, it's one of the oldest Cider Houses in Gipuzkoa.
Unlike some of the other cider houses, they offer Txotx all year round. So you can enjoy the full cider house experience no matter what time of year you visit. In summer they also offer another menu with different options for those who don't want the traditional cider house menu.
We found the staff to be super friendly. When we arrived, they explained the process of creating the cider to us (even in English) , talked us through the menu and genuinely looked after us.
3. Oialume Zar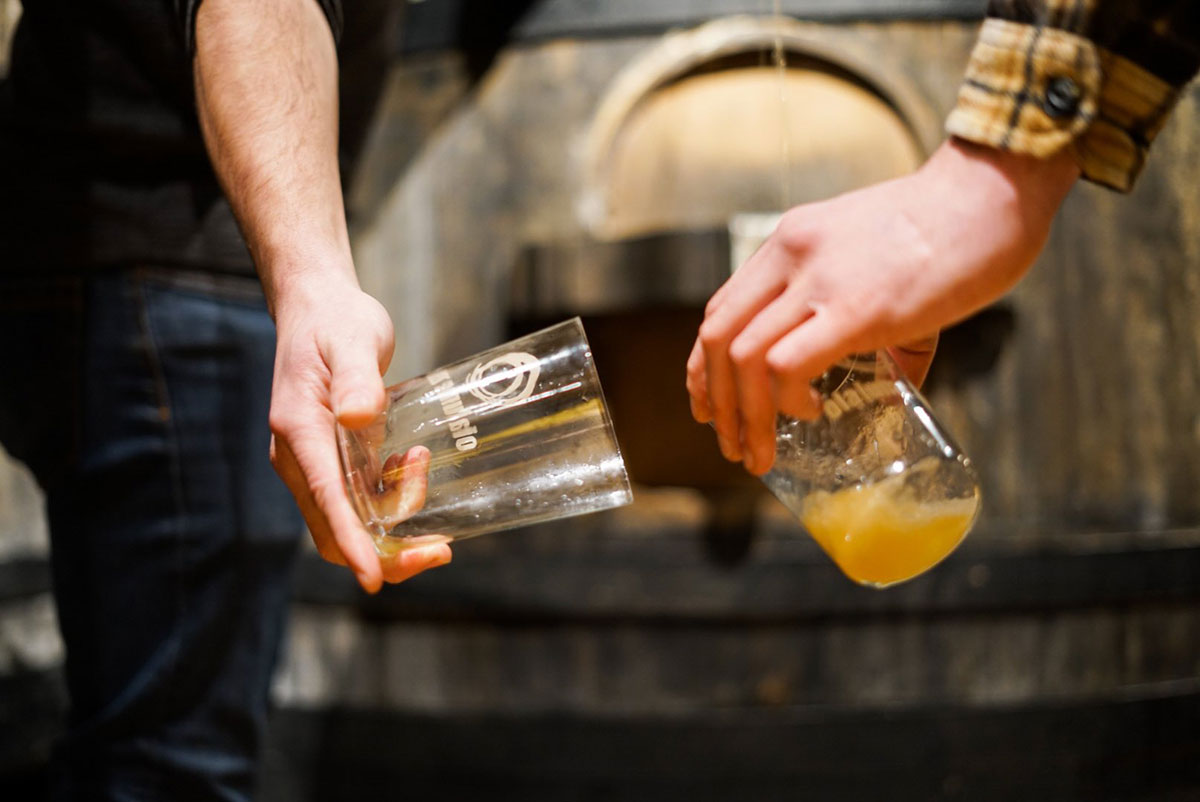 Oialume Zar is more of a traditional cider house, so if you want to experience Txotx here, you'll have to visit in-season (Jan – April).
Situated between Astigarraga and Hernani, the good thing is, it's located just 150 metres from the bus stop, making it easy to get to from San Sebastian and nearby.
There are three dining rooms here. If you want a really traditional Basque Cider House experience, you can reserve in the dining room where you eat on foot!
4. Gurutzeta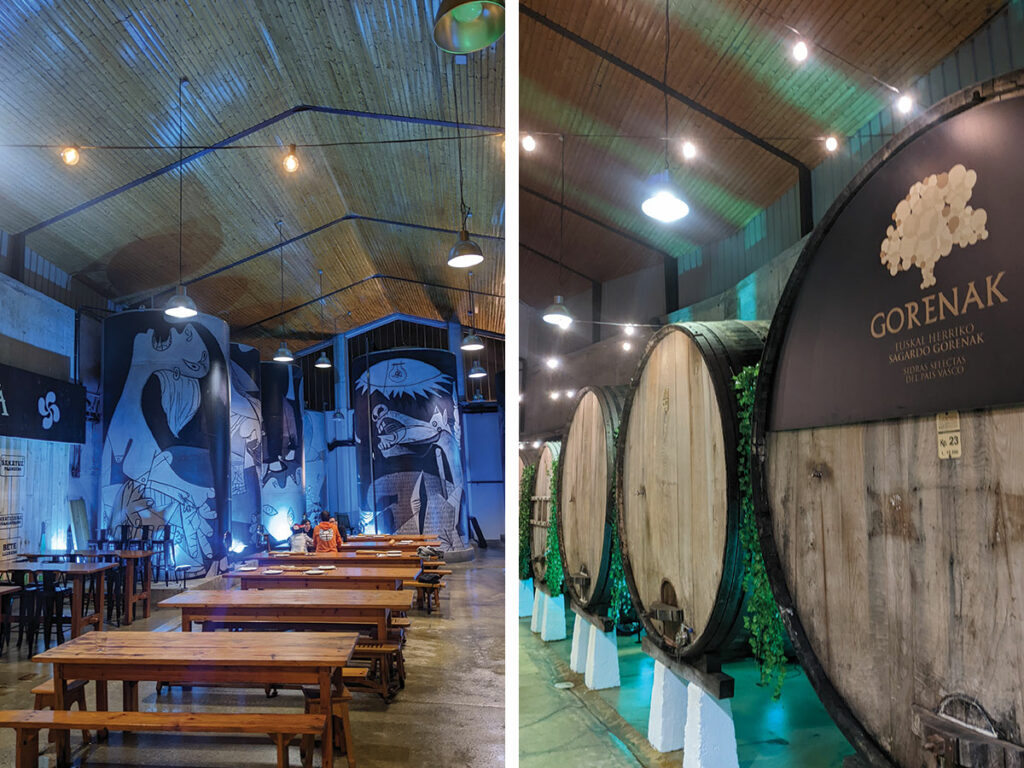 Although Gurutzeta is now running into the 4th generation, it's perhaps one of the modern Cider House experiences having been renovated in the last couple of years.
It's not just the cider house that's been renovated. In the kitchen, they've also outsourced the Txotx season to one of the chefs of Restaurante Txuleta (in the Old Town of San Sebastian).
But this doesn't mean you don't get a traditional cider experience. Serving a the traditional menu alongside other menus all year round, Gurutzeta is the perfect place whatever the time of year.
5. Ipintza
Just 200 metres from the centre of Astigarraga is Ipintza Sagardotegia.
The cider house is open for Txotx from January to the end of April. There's even a vegetarian menu (which is rare in Basque Cider Houses), making it one of the best places if there's a veggie in your group.
From May onwards, Ipintza is still open, but extends their offering to their spring-summer menu.
6. Zapiain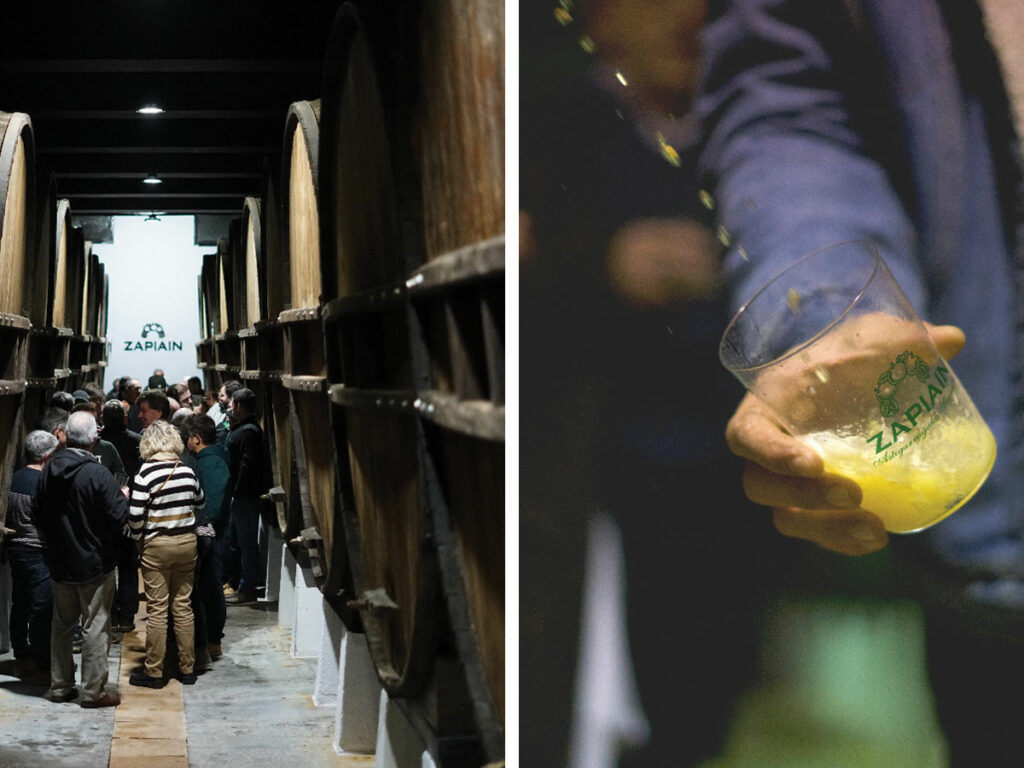 The name Zapiain is well known throughout the Basque Country. Not only because the cider house has been producing cider since the 16th century, but it's bottles of cider are present in many restaurants and supermarkets.
But the Zapiain Sagardoa is also open for Txotx season! From January to April you can visit the cider house with a full txotx experience.
Outside of the txotx season, if you're still interested in visiting Zapiain Sagardoa, you can do so on a guided tour where you can learn about the history and making of Basque Cider.
7. Rezola Sagardotegia
Located only 100 metres from the centre of Astigarraga, Rezola Sagardotegia is easily reachable via. public transport.
The cider house serves up a traditional cider house menu all year round, making it a great option for those visiting outside of txotx season. They also offer a vegetarian and infants menu.
If you're interested in the process for making Basque Cider, there's also the opportunity to visit the on-site museum.