The strategic positioning of San Sebastian (Donostia) means it is well communicated by road, rail and airports making it an easy place to access from inside and outside of Spain.
The city is located on the northern coast of Spain, in the Basque Country, and is less than 20km or half an hour from the French border to the East, coupled with big cities (Bilbao and Santander) to the West.
In this article we'll run through the best ways to reach the city from pretty much anywhere in the world.
How to get to San Sebastian by plane
Probably the most common way to get to San Sebastian, especially by international visitors, is by flying. This is probably due to the fact that there are plenty of options with 4 airports (2 of them international) within reach at just over 100km from the city.
San Sebastian Airport
San Sebastian Airport is the closest airport to San Sebastian. It's actually located between Fuenterrabía (Hondarribia) and Irún, close to the French border about 25 minutes from the city centre.
The airport is small with small runways so has very limited commercial flights. Throughout the year the airport really only offers domestic flights to Madrid and Barcelona, with a small list of additional destinations in the summer months. However, these options are often very limited and quite expensive due to their infrequency.
The airport is the best option if you're coming from further afield and need to transfer in Madrid or Barcelona. There's a regular shuttle bus that runs between the airport and the city which takes around 40 minutes, you can find more information on the timetables here.
Bilbao Airport
Perhaps the most common airport to fly to when visiting San Sebastian is Bilbao. Bilbao Airport is one of the two nearby international airports with good connections across Europe and further afield.
There are a number of options to travel from the airport to San Sebastian city centre including a good bus service that runs frequently between the two. To find out more information, check out our post on how to get to Donostia from Bilbao Airport.
Biarritz Airport
Despite being located in France, Biarritz airport is actually the closest international airport to the city at just under 50km away.
The issue with the airport (and main reason why most people travel to Bilbao) is that it isn't well connected with San Sebastian by public transport. The main shuttle bus service runs just one service a day and takes around an hour to reach the city centre.
If you're hiring a car, or willing to pay the taxi fare (it'll cost around €160 to get to San Sebastian) then the airport is a good option.
Vitoria-Gasteiz Airport
The final airport (and furthest away) is Vitoria-Gasteiz. The airport is around 110km away and like San Sebastian Airport largely only offers domestic flights with the exception of a couple of international flights run by Ryanair to Germany (Cologne) and Italy (Milan).
There's no direct shuttle bus that connects San Sebastian to Vitoria-Gasteiz Airport, but you can take one of the ALSA or PESA buses from the centre of Vitoria which run every hour and take around 1 hour 20 minutes.
How to get to San Sebastian by car
Getting to San Sebastian by car is fairly easy from the rest of Spain and parts of Europe. Below are the main motorways that connect San Sebastian to the rest of Spain and France.
From the South of Spain: You can reach San Sebastian via. the N1 which runs from Madrid to Irún.
From the West of Spain: The AP-8 connects Bilbao to San Sebastian (just be wary that this is a toll road and will cost you around €12 from Bilbao to San Sebastian)
From France: The A-63 runs all the way from Paris to Irún, connecting San Sebastain with a large part of Europe.
Although you can pretty much walk anywhere within Donostia (it's not the biggest city), there are some advantages to having a car for your stay.
If you're staying long enough, you'll be able to drive to some of the nearby towns, to one of the siderias (cider houses) and other points of interest in and around the city – useful if the weather isn't the best!
There are just a couple of things to be aware of if this is how you're going to make the journey.
Parking
There's very limited free parking in San Sebastian, particularly in the centre. There's plenty of on-street parking where you can pay and display, but it's not cheap and there are sometimes limits on how long you can stay depending on the zone. In the summer months (particularly when the weather is good) you may even struggle to find a nearby on-street parking spot, especially if you're near one of the beaches.
The good news is, there's plenty of (paid) underground car parks – in total there are over 6,000 spaces! Again, they're not the cheapest, it'll cost you around €25 to leave your car 24 hours in any of these in the centre.
You can see a map of all the parkings available in the city here.
If you want to avoid the costs of parking, your best option is to book a hotel with parking included. Failing that, there are six park and rides, where you can park your car for free and take a bus connection to the city centre.
Toll Roads
It's worth noting that there are lots of toll roads in and around San Sebastian.
After all, the Basque Country is very picturesque with all the mountains, dramatic coastlines and rivers. But that means there's lots of tunnels and bridges required to connect one place to another, and unfortunately someone has to pay!
You can avoid the toll roads for most journeys, but it will take you longer to travel between places.
Hopefully it doesn't put you off driving to San Sebastian.
How to get to San Sebastian by bus
There are plenty of national and international buses that depart and arrive at the main bus station in San Sebastian – Estación Donostia Geltokia.
As well as offering destinations from nearby cities and towns in the Basque Country, it's possible to travel from further afield by bus, with destinations including:
Madrid
Barcelona
Malaga
Pamplona
Paris
Bordeaux
Porto
Lisbon
Not all of the above are direct buses, but with San Sebastian connecting to some of the largest cities in Spain and Europe, getting from one place to another by bus is of relative ease.
How to get to San Sebastian by train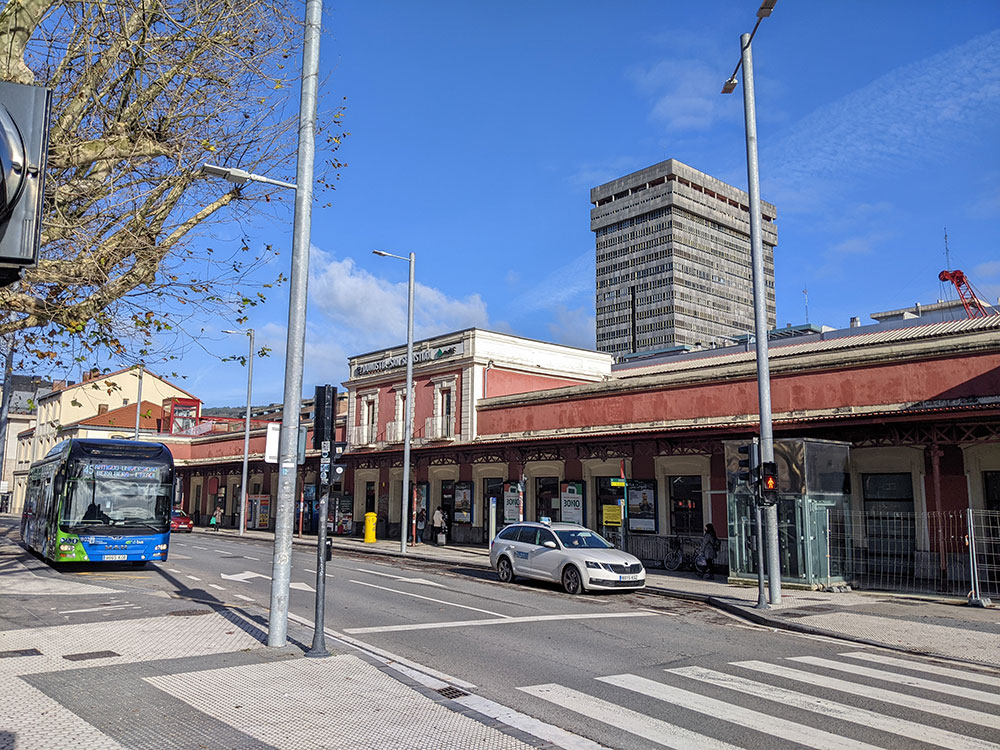 The rail infrastructure in the north of Spain isn't the best. Journey times can take a little longer than then would by car for instance, but the new high speed train that's currently under construction will dramatically improve the journey times to the city in the near future.
However, you do have the option to reach San Sebastian by train if it's your preferred way of travelling.
The main train station in San Sebastian (Estación del Norte) offers both long distance trains that connect to the largest cities in Spain (Madrid and Barcelona) and destinations across Europe alongside the suburban train which connects the city to nearby towns.
You may have to transfer at another station on your way, but you can check the timetables and journey times from most destinations on the RENFE website.
And that's it! Once you've decided on how you're going to reach San Sebastian, check out our posts on what to do in the city and the best places to stay.