As you wander through the city, you'll realise that there are a lot of bars in San Sebastian.
A place that's famous for its food culture, Donostiarras (people from San Sebastian) demand plenty of options for going for a drink and a bite to eat.
The reality is that you can't go wrong with most of the bars in the city. A bar with poor food, beer or service just won't last in this city.
So in this guide to the best bars in San Sebastian, we've pulled out the bars for people looking for something in particular.
This isn't a guide to the best pintxo bars either. We've left the food off the table in this article. Also, if you're looking specifically for a good night out, check out our guide to the nightlife in San Sebastian instead.
🥘 Discover the best food San Sebastian has to offer on a Guided Food Tour
What we think are the best bars in San Sebastian
Not everyone looks for the same thing in a bar or pub. So we've broken what we think are the best bars in San Sebastian into a few different categories.
We'll start with our favourite craft beer bars before moving onto our favourite bars with outdoor terraces. Finishing off with the best bars to watch sport.
The best craft beer bars in San Sebastian
Being from Manchester, where there's quite an impressive craft beer scene, I regularly get the impulse for some craft larger!
Here are the places I've found that serve up a decent pint (or caña) of something different.
1. BeerSS Zurriola Beach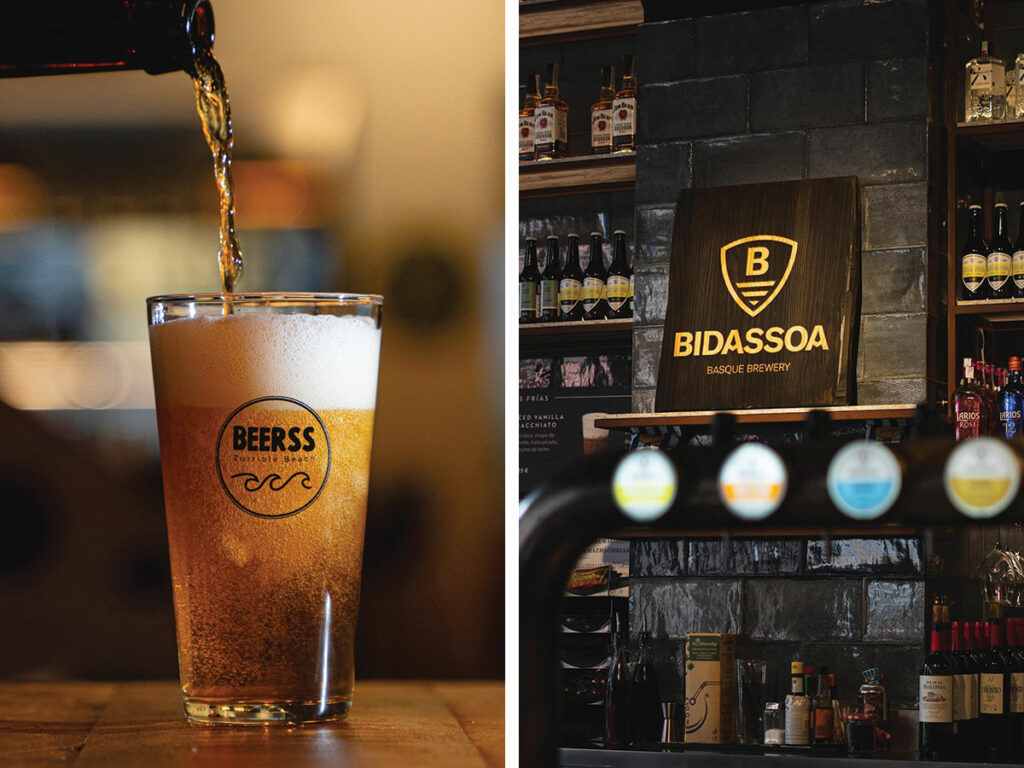 Close to the Zurriola beach (hence the name), this bar pours out beer supplied by Bidassoa Basque Brewery.
The Bidassoa brewery that supplies them hasn't been going long, only opening in 2014. But they already serve up some excellent artisan ales. Anything from dry stouts to IPAs. My personal favourite has to be the Mugalari pale ale!
The BeerSS Zurriola Beach bar itself is a great space inspired by music and ale. It's a huge space with plenty of tables, including a large covered terrace out front.
It makes it the perfect place for larger groups or a good drinking spot when it's raining.
The food is also as good as the beer.
2. Baga Biga Faktoria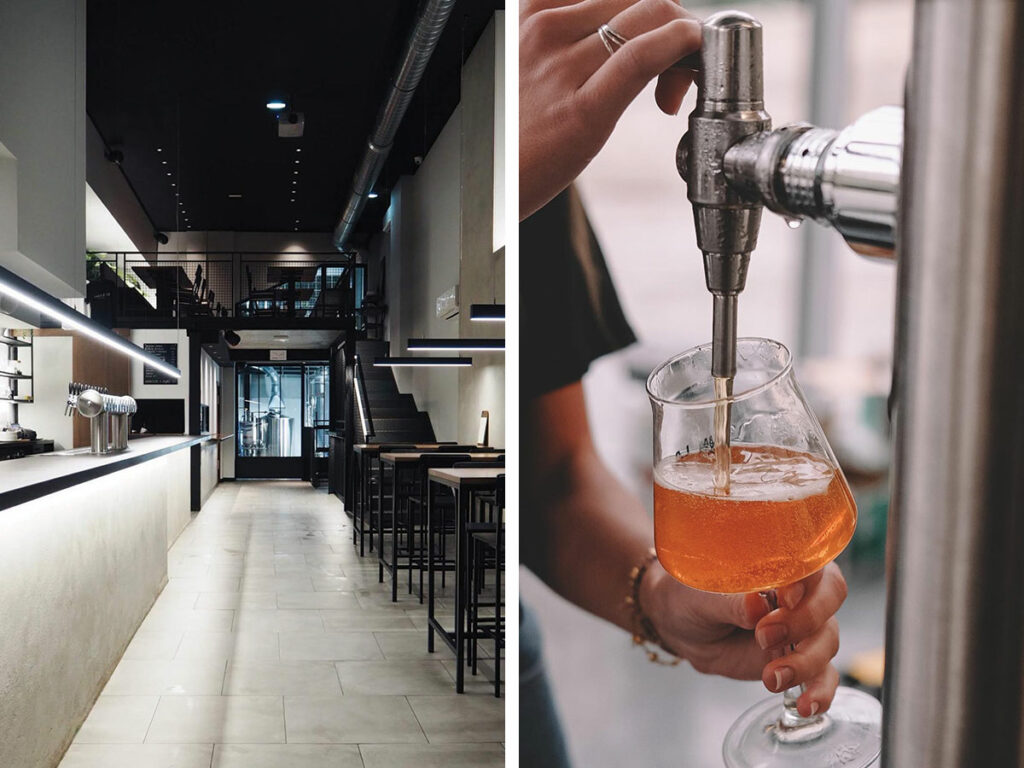 Baga Biga Faktoria is a bar and restaurant located in the Gros neighbourhood, on the banks of the River Urumea.
Out from the brewery (which is on-site), the bar serves up 12 artisan beers on tap. Everything from Sours, Stouts to Brown ale, there's bound to be something for you.
And if not, then they're likely to stock your favourite beer amongst the 70 or so options in the fridges!
The bar has plenty of indoor seating and a small terrace. It's a great place for a drink on a hot summer's day or a few early evening bevvies.
3. Akerbeltz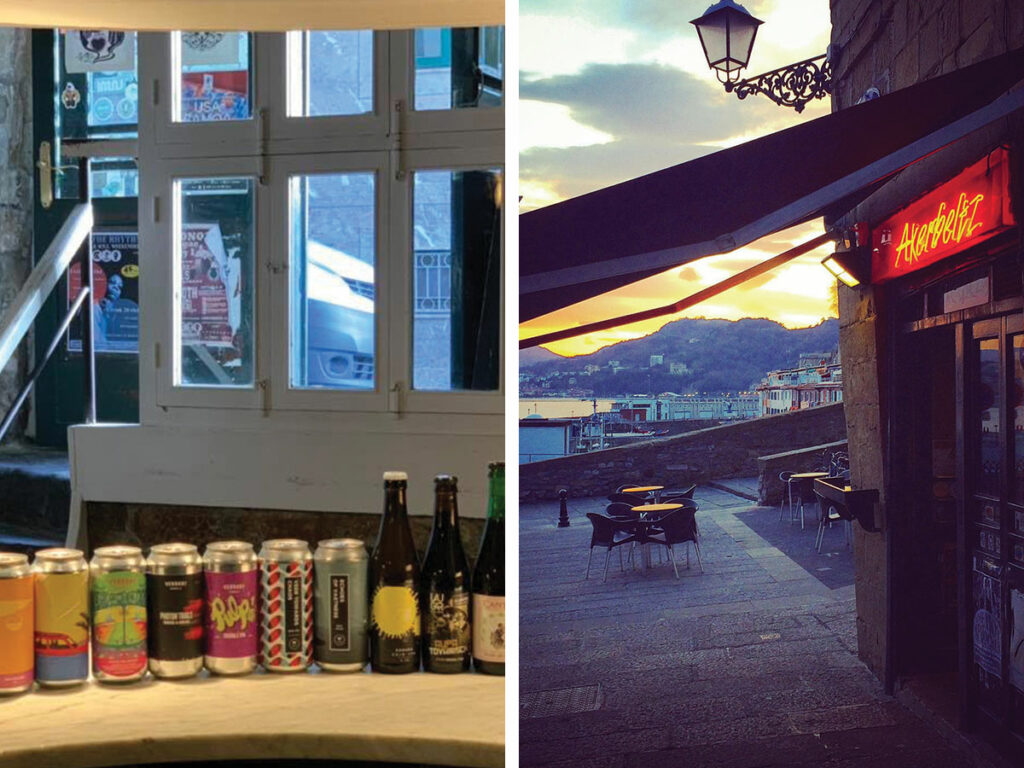 "Hidden" in the corner of the Old Town facing the port of San Sebastian, Akerbeltz is a bit of a local's secret.
The big terrace with amazing views over the port and Bay of La Concha is this bar's big attraction.
The international craft beer on offer isn't too bad either. They have a number of beers on tap, with plenty more options in the fridges too.
On a nice summer's day, the bar is buzzing as it's a bit of a sun trap.
4. Basqueland Izakaia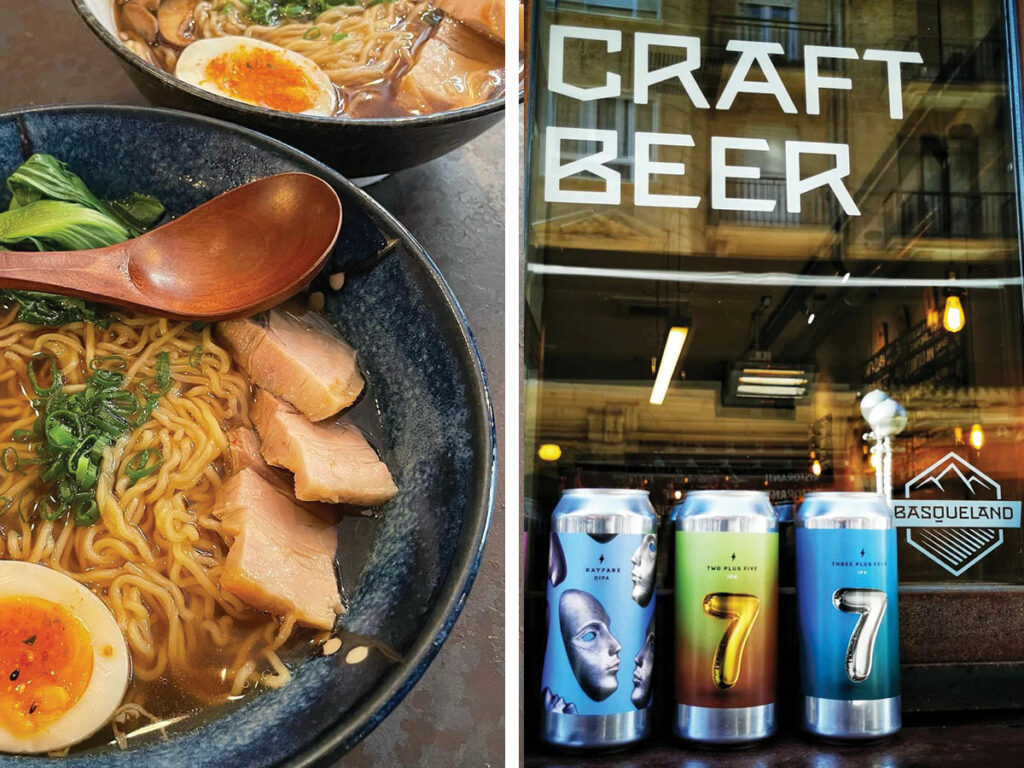 Basqueland Izakaia in Gros, serves up craft beer directly from the Basqueland brewery, an independent brewery that opened in 2015.
Alongside their amazing IPAs, Stouts and lagers, they serve their favourite beers from other local breweries. And if you're more of a wine person, they have some excellent organic wines on the menu too.
Alongside the refreshing beverages, you can expect a good atmosphere (whether inside on the terrace), and delicious Asian food!
5. Mala Gissona Beer House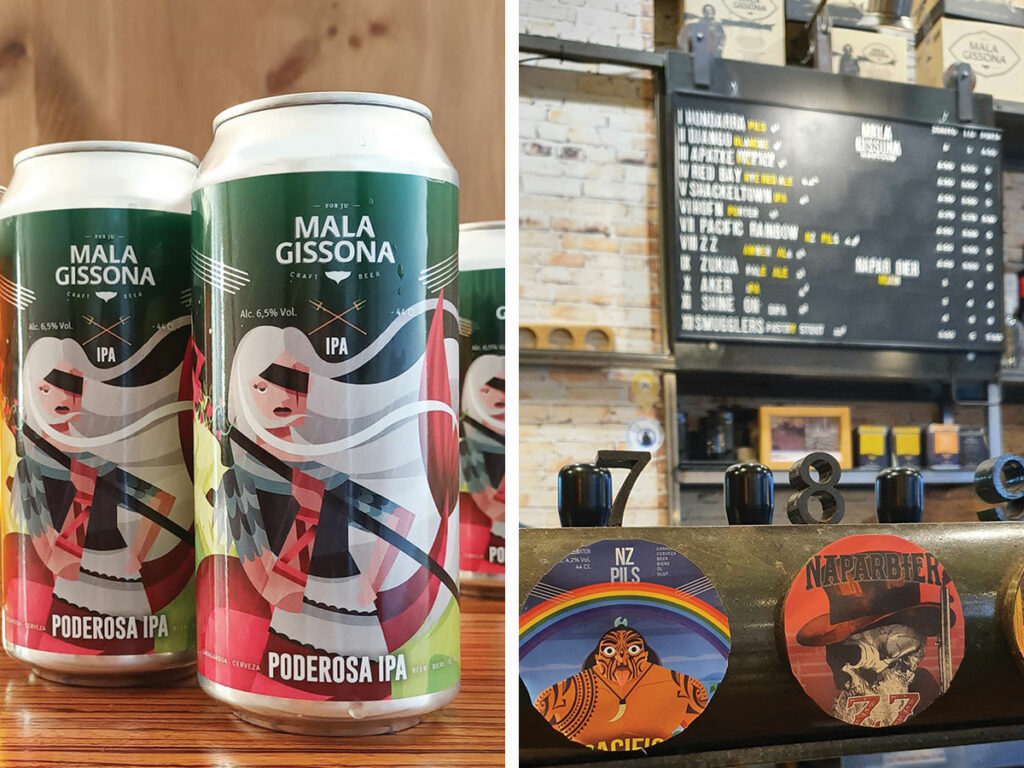 Another option located in the hipster neighbourhood of Gros is Mala Gissona Beer House.
This brewery (from Oiartzun) distributes its craft beer all over the Basque Country and beyond.
They offer 12 different beers on tap in the bar, alongside a decent food menu to complement.
The bar has a decent sized terrace which is also covered should the weather take a turn for the worse.
The best bars with terraces in San Sebastian
If you're not a craft beer lover, and prefer a drink in the sun, then there are plenty of options in the city.
Most of the bars with terraces are lumped together. So rather than hand-pick the individual bars, we'll give you the rundown on the best areas.
On a nice day, they fill up quickly! And well, beggars can't be choosers.
However, if you fancy a drink with a view, then you can check out our guide to the rooftop bars in San Sebastian!
1. Easo (Centre)
Right next to the main local Euskotren station (Amara Donostia), there are plenty of bars with large terrace areas.
There's more of a locals vibe to this area, with Easo being a popular spot for local residents. It's also a hit with families in San Sebastian as there's plenty of room for kids to run around and play too.
Whilst there's plenty of outdoor seating in the bars, it's not uncommon to grab a drink and sit on the nearby benches and walls to grab a bit of sun either.
2. Reyes Católicos (Centre)
Just down from Easo, behind the Buen Pastor Cathedral, is Reyes Católicos.
This narrow pedestrianised street is lined on either side with bars and restaurants. And whilst it may be referred to as "Reyes Alcoholicos", the vibe here is more chilled than the name suggests.
It's a fairly residential zone, but all the bars have terraces with plenty of seating outside. Some are covered, some are not. But it makes for a good place when the weather is decent.
3. Sagüés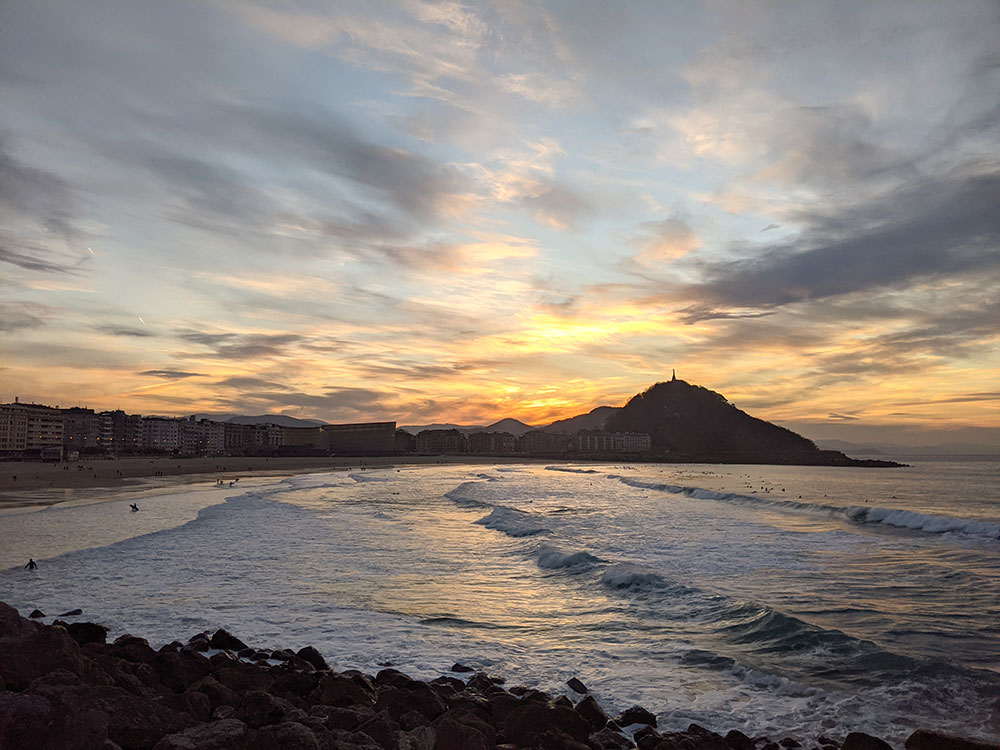 At the far East of Donosti, at the foot of Monte Ulía is the area of Sagüés.
This "extension" of La Zurriola beach is sun-trap! Thanks to the skate park and large recreational area between Sagüés and the beach, there's nothing to obscure the sun's rays that bless the numerous bars located here.
For that reason it's an extremely popular area when the weather is nice.
Even if you don't find a spot on one of the terraces, the long sea wall is the perfect spot to sit and have a drink watching the sunset.
3. La Perla (Centre)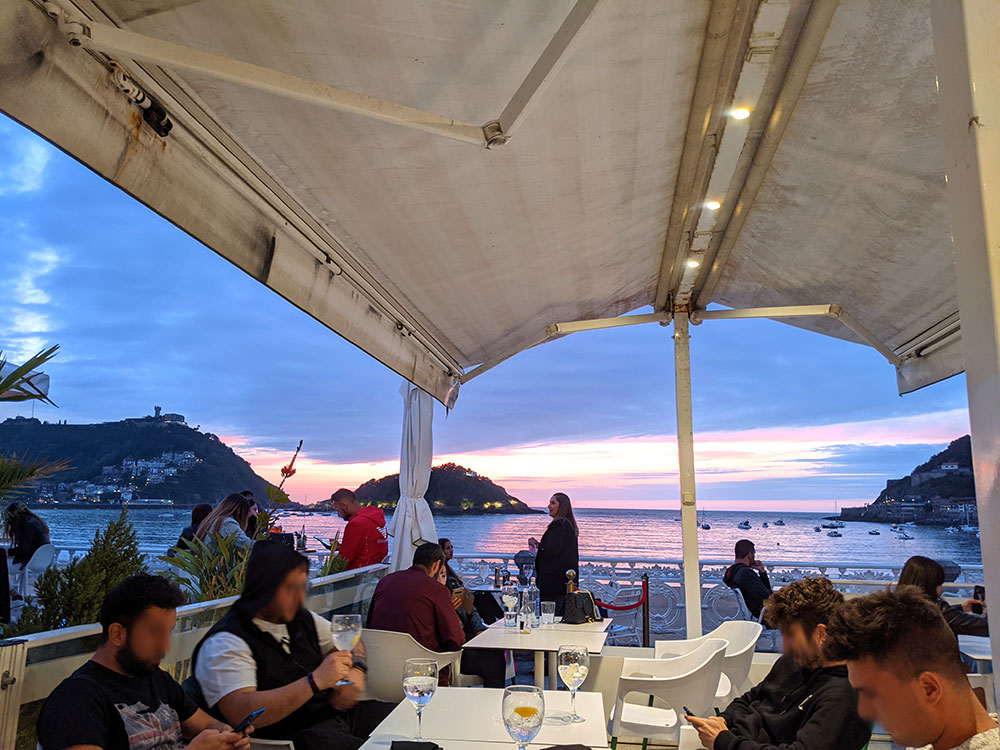 Better known for its spa, beauty and fitness centre, La Perla has one of the most privileged spots in the whole of San Sebastian.
Not technically an area, it's a single complex, but it does offer not just one, but three terraces! They all sit high above La Concha beach with unrivalled views of La Concha Bay and Santa Clara Island.
The three terraces are named after the island and mountains you can see from La Perla: Igueldo, Santa Clara and Urgull.
4. Calle Zabaleta (Gros)
If you're looking for a younger vibe, then Calle Zabaleta in Gros is the place to head.
The side of the street closest to Zurriola Beach is lined with a number of bars and restaurants, all with large terraces.
This area doesn't get as much sun as some of the others. That makes it the perfect spot if you're looking for a bit of break from the sun bathing, or for early evening drinks.
5. Convent Garden (Centre)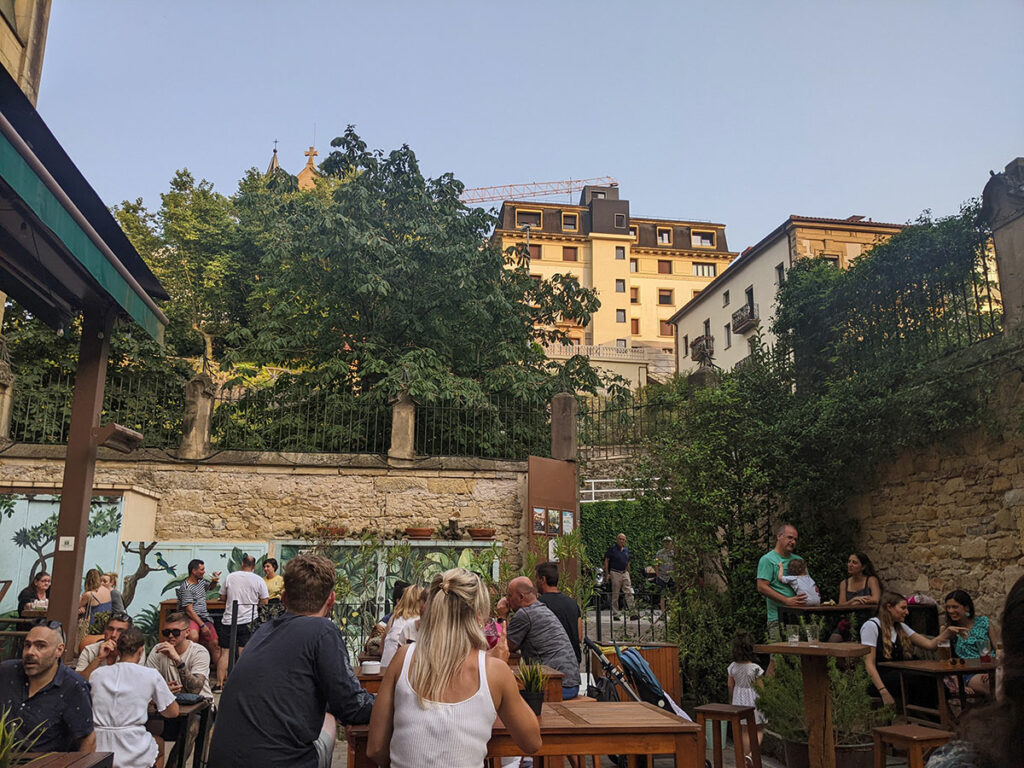 Now this is a single bar and not an area, but we simply had to include this in our favourite bars list, as well, it's probably our favourite bar in San Sebastian.
Although it's located right in the centre of the city (just a couple of minutes walk from the Buen Pastor Cathedral and La Concha beach) it's somehow hidden.
It forms part of one of the top hostels in San Sebastian (A Room in the City). And with it brings a young, international vibe.
The bar is completely outdoors, with a retractable toldo (roof) meaning they can keep it covered or open to the suns rays should they wish.
The best sports bars in San Sebastian
If you're in town and looking to keep in touch with some of your favourite sports back home, it is possible.
Below are the bars where you can watch anything from Basque sports to International sports.
1. 695 (Gros)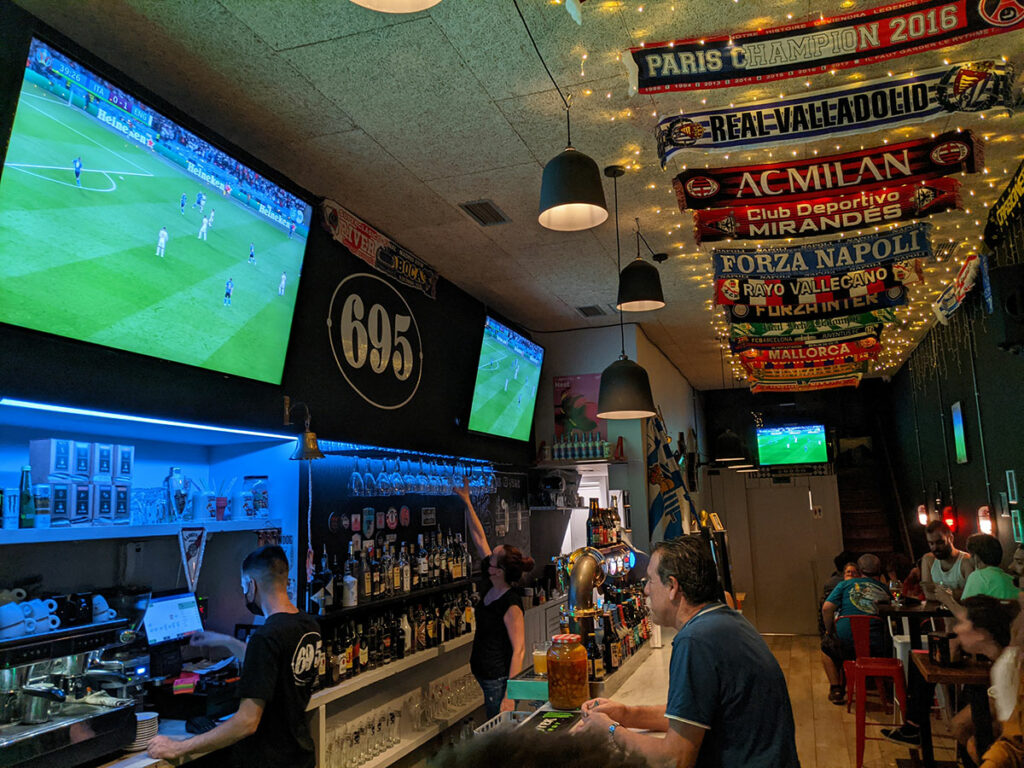 If you're after a bit of atmosphere whilst watching your favourite team, then bar 695 in Gros is the place to be. The bar is run by Argentinians who have the passion for sport the country is famous for.
It's a fairly small bar, but has TVs dotted all around it, so wherever you're sitting, you'll have a view.
Outside there's a small terrace to catch your breath at half time. And there's a food menu where you can get a decent bite to eat during the game.
2. Picachilla Taberna Naútica (Gros)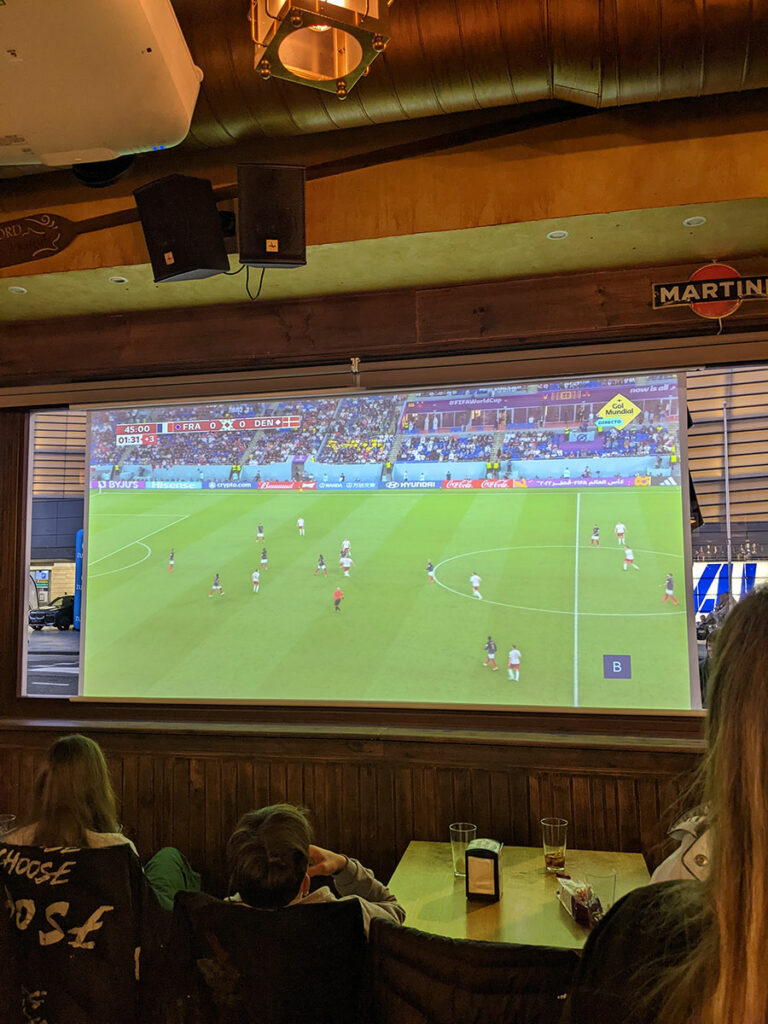 Picachilla is one of the more traditional bars located on Calle Peña y Goni, opposite Kursaal and La Zurriola Beach in Gros.
It's a fairly big bar with lots of tables both inside and out. They have TVs in every corner of the bar. Best of all, they have a huge projector screen which they pull down for the biggest sports events!
In terms of sports, they show anything from Basque Pelota to International rugby.
3. Pub Drop (Centre)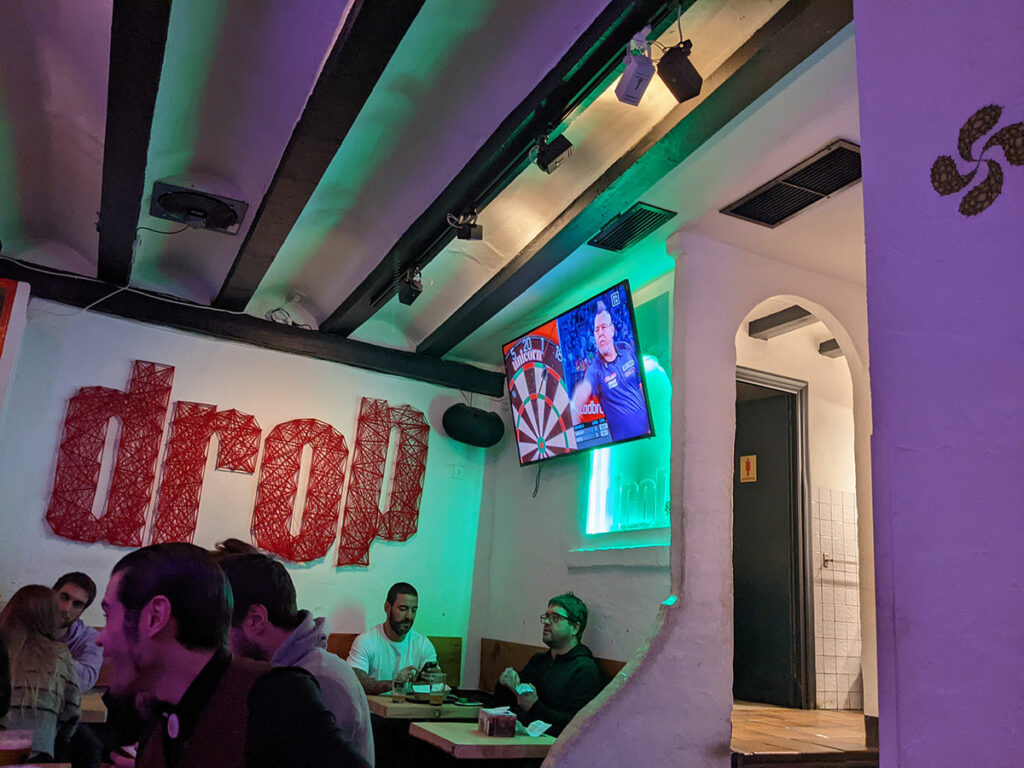 Now, we weren't sure whether to include Pub Drop on the best craft beer bar list or sports bar list. The fact is, it's great for both.
Located near to Reyes Reyes Católicos, it doesn't have a huge terrace, but it does serve up over 50 different craft beers! Behind the bar and downstairs there are also a number of TVs to watch your favourite sports.
The bar has access to all types of events. They will even put multiple different matches on at the same time. We've previously been in and asked them to put the darts on, which they did no problem.
4. Splash (Centre)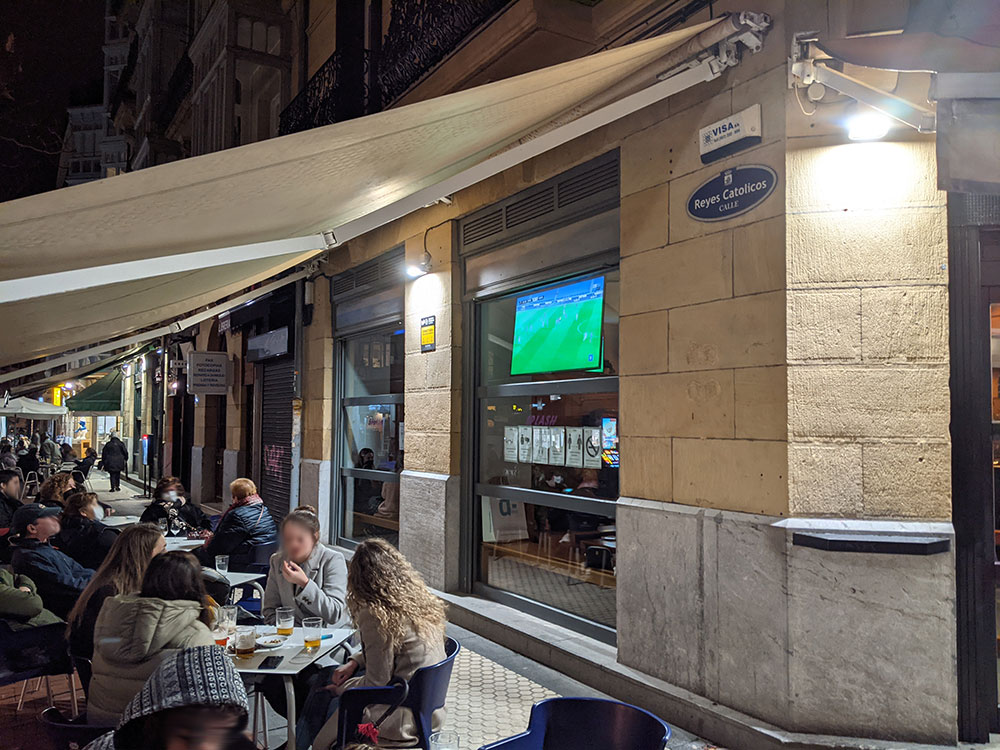 Just a stone's throw away from Pub Drop, located on Reyes Católicos is Splash.
The bar only really shows Real Sociedad football games. Occasionally they put on other big games like the Clasico, Champions League or International football.
However, we've included this on our list as it's one of the few bars where you can watch football directly from the terrace.