Whilst wandering around San Sebastian, you may notice that there are quite a lot of restaurants with terraces.
Although the Basque weather can be a little temperamental, that doesn't stop the locals enjoying a good meal out on a terrace. Even on cold days in the winter, you'll find people dining outside!
Despite all the options, in this guide we've narrowed it down to our 8 go-to terraces for a meal al fresco.
If you're more bothered about the terrace than the food, check out our post on the best rooftops and terraces in Donostia. Or, if you're more bothered about the food than the terrace, check out our favourite restaurants in the city.
🥘 Discover the best food San Sebastian has to offer on a Guided Food Tour
What we think are the best restaurants with terraces in San Sebastian
We've compiled this list based on our favourite restaurants that have a decent sized terrace. At all the options below you can enjoy a good meal in the open air.
1. LABe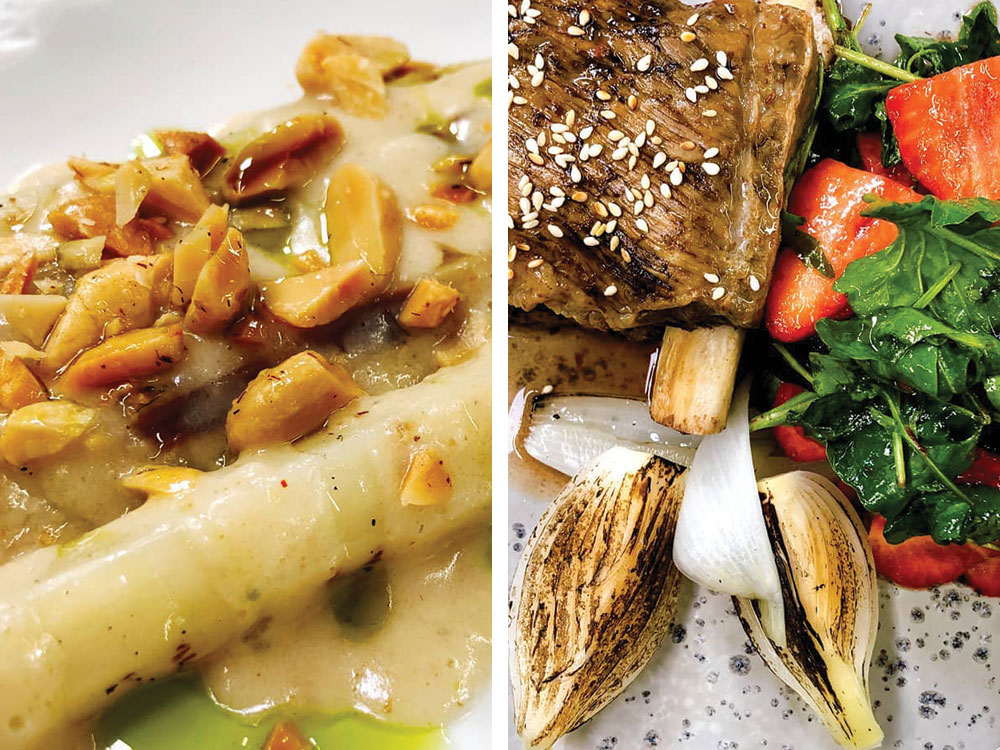 Located on the top floor in Tabakalera in Egia, LABe features in both lists of our favourite restaurants in San Sebastian and best rooftops and terraces. So it's only natural that it's first on the list of our top restaurants with a terrace for outdoor dining.
The large terrace is a little hidden oasis in the centre of San Sebastian. There are plenty of tables and occasionally there's live music played for diners.
The restaurant itself is "a laboratory for innovation and digital transformation for the gastronomy of the future". It's a space dedicated for experts, startups, people and institutions to meet up, create synergy and drive innovation in food.
The menu is seasonal so dishes do change throughout the year. But what you do get consistently is top notch food and some great views!
2. Kafe Botanika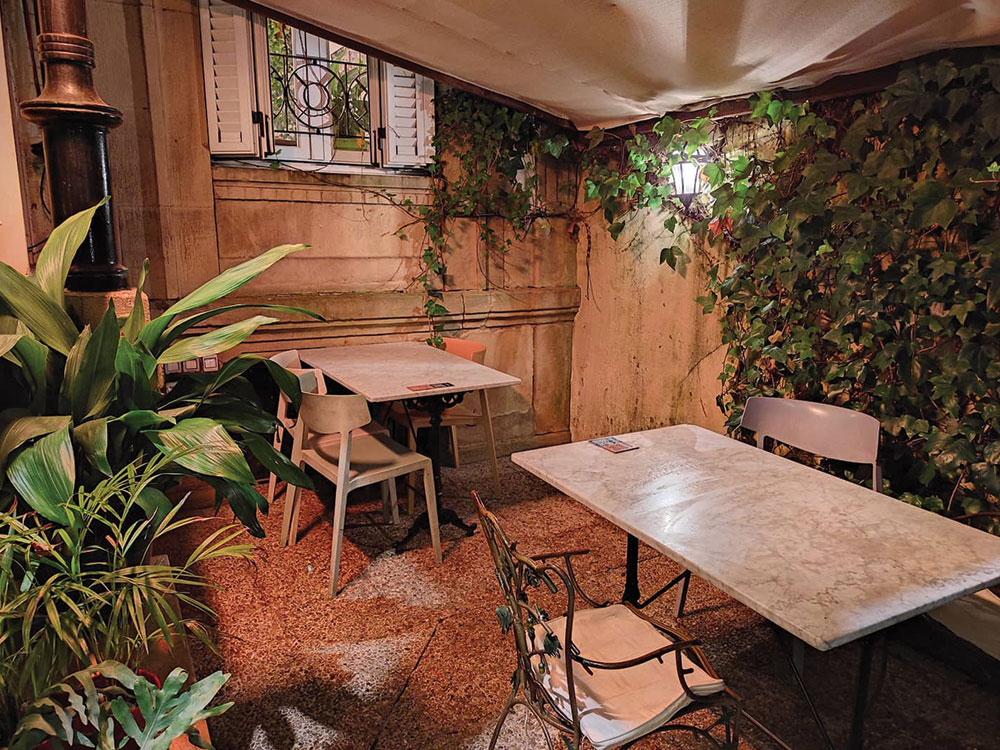 We simply just love Kafe Botanika. Set in a special location on the banks of the River Urumea, Kafe Botanika has a beautiful terrace garden filled with colours from the plants and flowers that fill the space.
It's the perfect setting for a bit of breakfast or lunch on a sunny day.
The menu at the restaurant is built around healthy, ecological food and offers a mixture of raciones to share, salads, main dishes and tasty sweets!
It's highly recommended for vegans and vegetarians as it presents one of the most varied menus with the most suitable options.
3. La Perla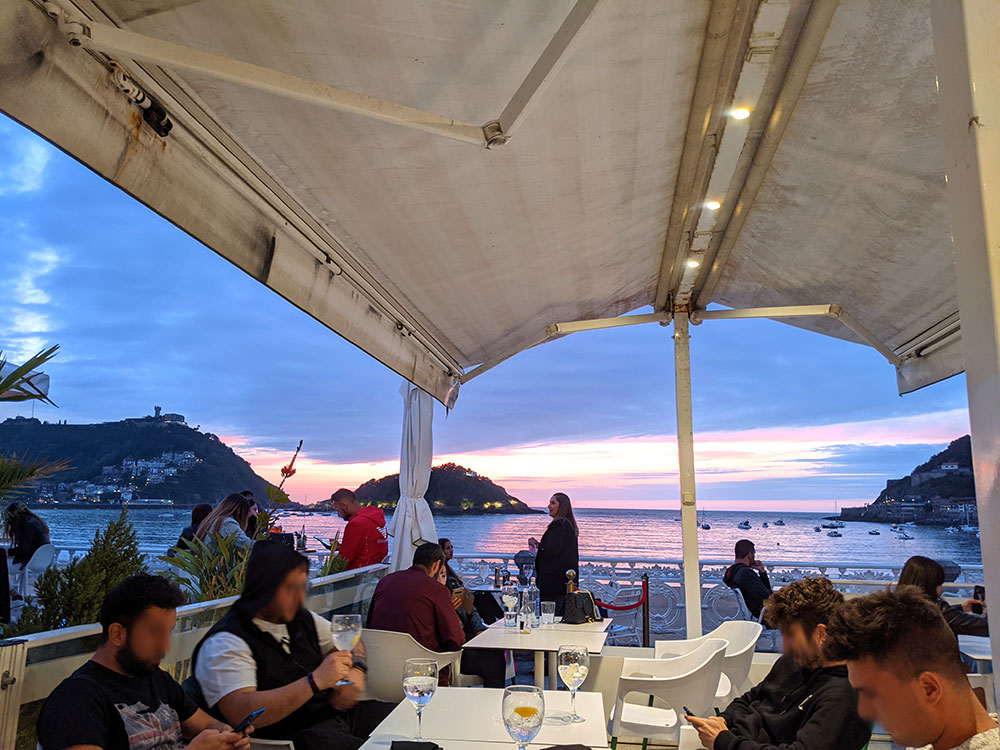 La Perla probably occupies the most privileged spots in Donostia! Right in the middle of La Concha.
And boy, do they take advantage of it. They have not one, but three terraces! They all sit high above La Concha beach with unrivalled views of La Concha Bay and Santa Clara Island.
La Perla is primarily a spa, beauty and fitness complex. But thanks to its three outdoor dining areas, it's also a brilliant spot for a bit of food in San Sebastian.
Each terrace (named after the mountains and island: Igueldo, Santa Clara and Urgull) have their own unique vibe and offer different menus. Whether you're after a quick snack or a full three course meal, there's an option for everyone.
4. Kata4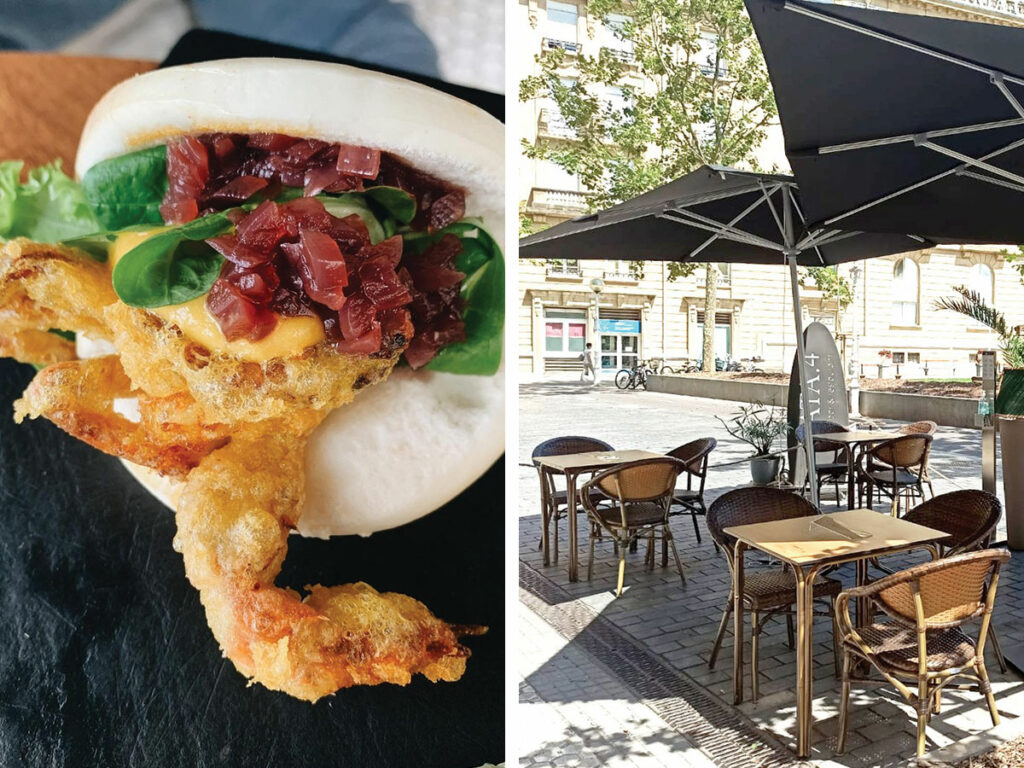 Kata4 is an Oyster Bar located on the banks of the River Urumea with a large terrace area.
It's a beautiful setting (whether you want to dine inside or outside), and the food matches the quality of the surroundings.
Opening early, you can get anything from breakfast through to late night drinks at Kata4. It also has one of San Sebatian's most expansive lists of wines.
5. Le Comidare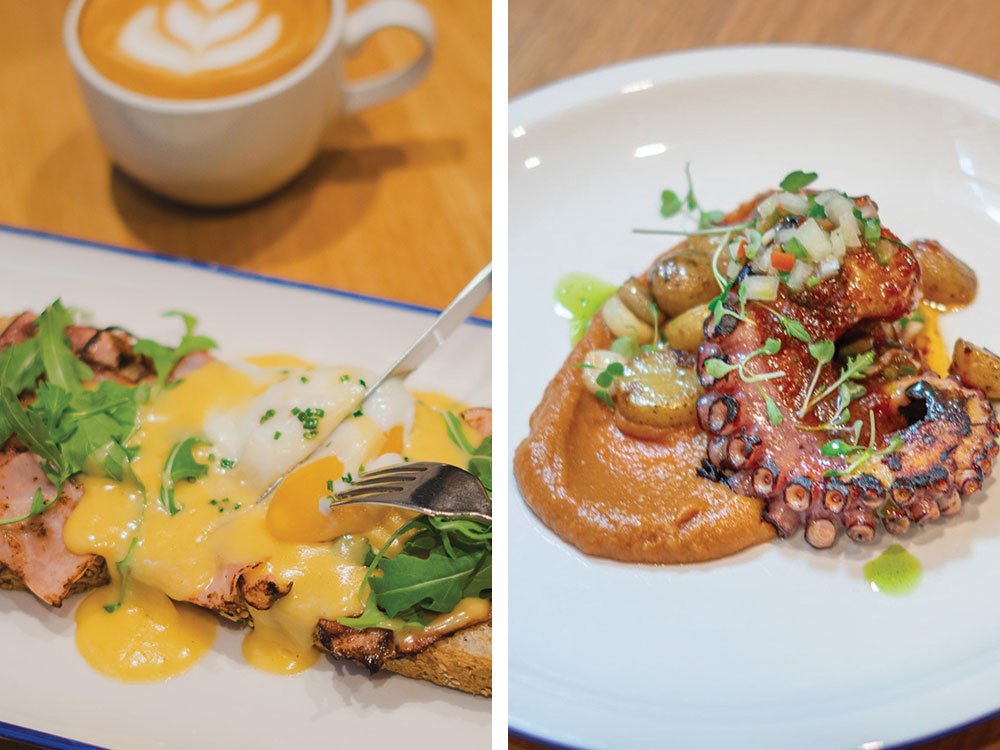 Prominently situated on Calle Peña y Goñi in Gros (a street lined with bars and restaurants, all with large terrace areas) is Le Comidare.
Le Comidare is one of our favourite restaurants in Gros. It offers an international menu, made from quality local produce.
There's a mixture of south american options, traditional spanish dishes, italian food, american classics and asian infused plates.
It's a great place whether you want to go for a quick lunch or a meal in the evening.
6. Cortazar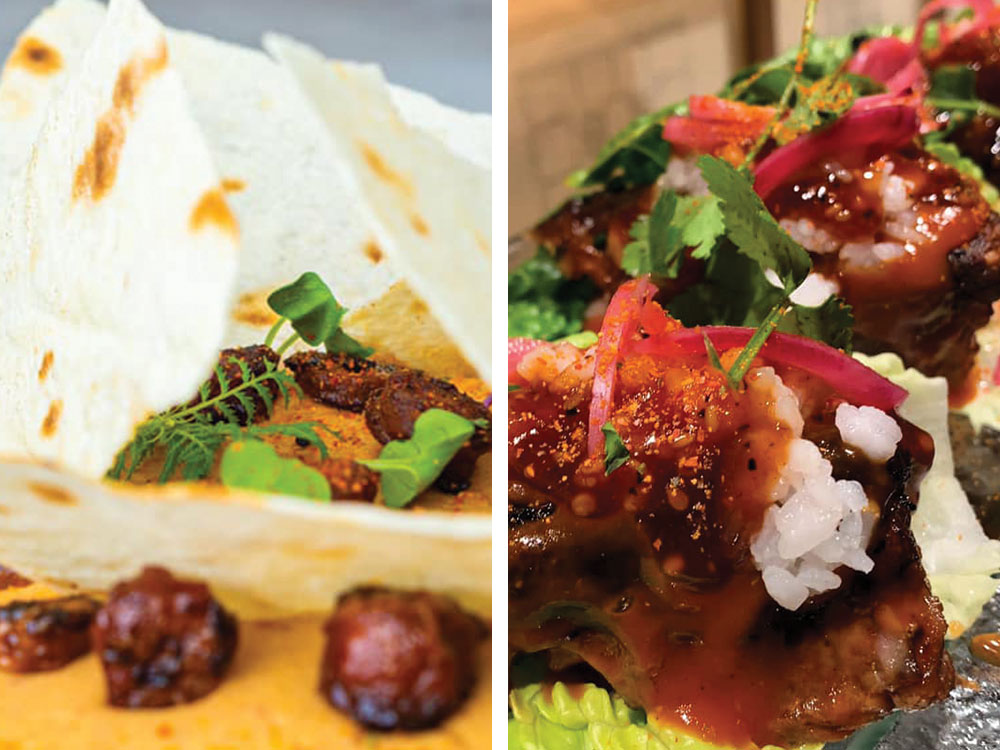 Cortazar is a bar-restaurant located in the centre of San Sebastian.
The terrace is a little smaller than most of the others we've included in this list, but it's covered and is a good option for eating outdoors if you're not 100% sure of the weather!
In terms of the restaurant itself, it's a great place whatever the time of day.
It's one of the best places for brunch in the city. They also offer an excellent value menú del día during the week. It's the perfect bar for after work drinks. And they also offer an expansive, varied a la carte menu in the evenings.
If that wasn't enough, it's also open until 1am on the weekends with a DJ offering a party atmosphere on Friday and Saturday evenings.
7. K21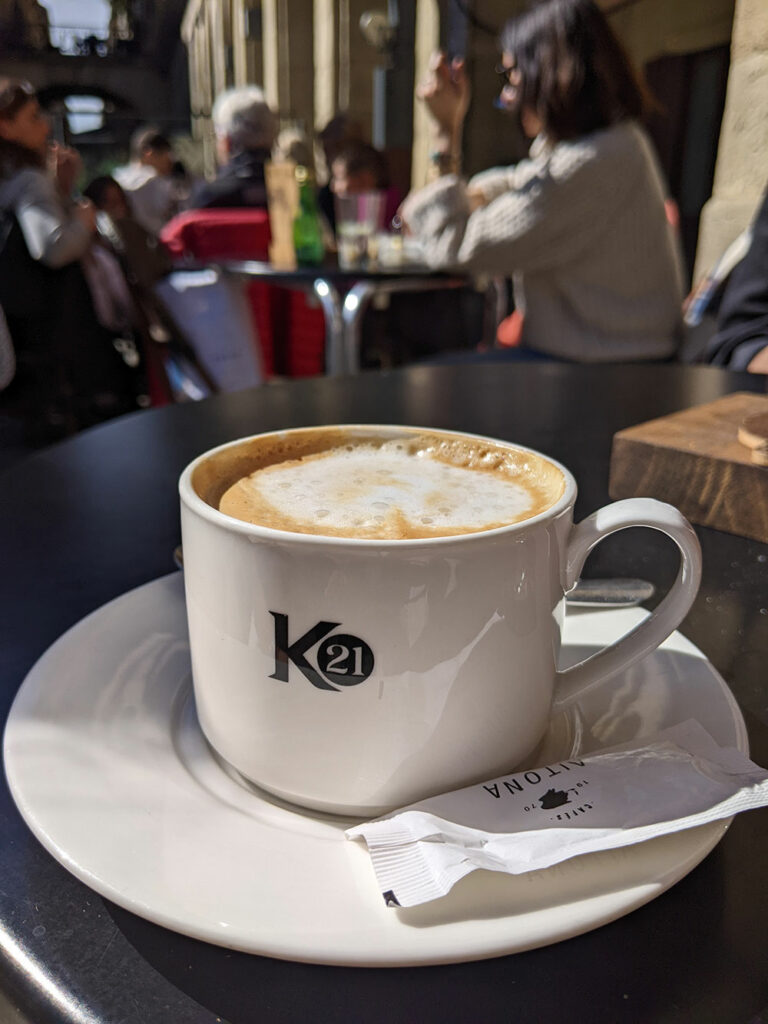 K21 is set in the heart of the Parte Vieja (Old Town) of San Sebastian, in the Plaza de la Constitución.
I'll be honest. The bars in the Plaza de la Constitutión are a little touristy, but there's nothing wrong with that!
K21 serves up some decent food, and when the sun is shining during the day, it's a sun trap! Especially if you visit San Sebastian early in the year and get a nice day, it can provide you a little glimpse of summer weather!
8. La Taberna De Blas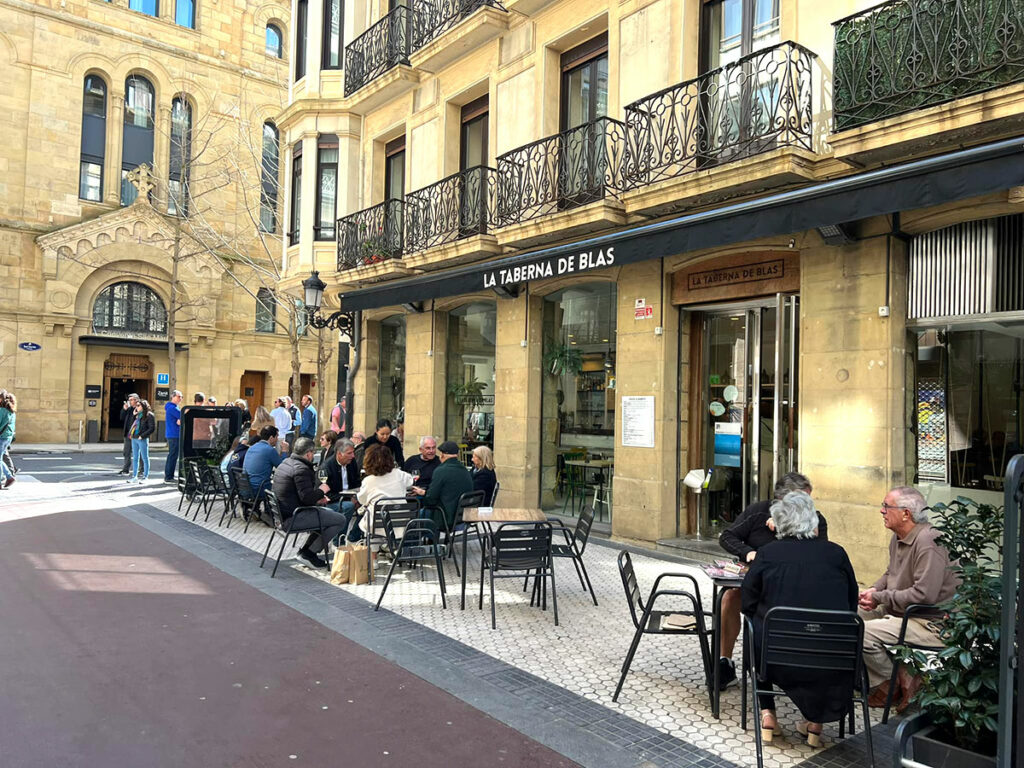 Now if K21 is a bit of a tourist spot, Taberna de Blas is the opposite.
It's located on Calle San Martín, near to the Zenit Convento Hotel (one of the best hotels in the city), but the bar-restaurant is more of a hit with the local Donostiarra.
And there's a good reason. They provide a traditional Basque menu, with simple food that's brilliantly cooked. From pintxos, raciones, classic Basque dishes, or even breakfast. Whatever you choose, you can guarantee it taste amazing.
It's worth booking in advance if you want to eat here though, as the terrace fills up quick!