Whether you're looking for terraces in Bilbao where you can grab a bite to eat, rooftops with impressive views over the city, or an outdoors aperitivo in the historic Casco Viejo, we've got you covered!
Our guide below runs through some of the best terraces in the city. A visit to one of them is one of the top things to do on a trip to Bilbao.
The best terraces and rooftops in Bilbao
Below is our selection of some of the best terraces and rooftops in the city!
Further on, we also break down some of our favourite areas for enjoying a drink or bite to eat outside.
1. Gran Hotel Domine Bilbao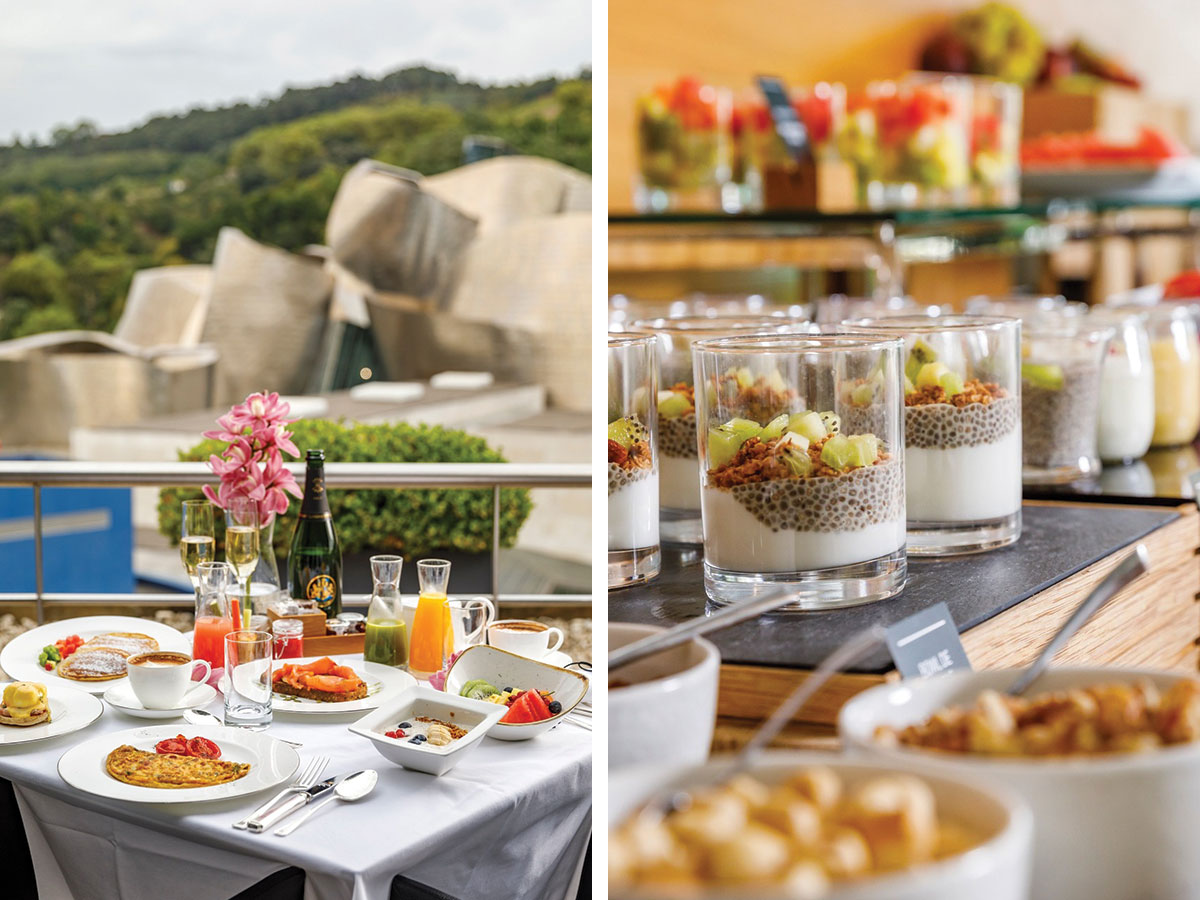 If you're looking for breakfast with a view, then look no further! The Gran Hotel Domine Bilbao also features on our list of the best places from brunch in Bilbao, in large part due to its terrace.
Sitting right opposite the Guggenheim museum, the hotel offers some of the best views of the city.
The good news is it's open every day to hotel residents and non-residents from 16:00 – 00:00 (23:00 November to March). On Friday evenings they also have a DJ.
2. Mercado de la Ribera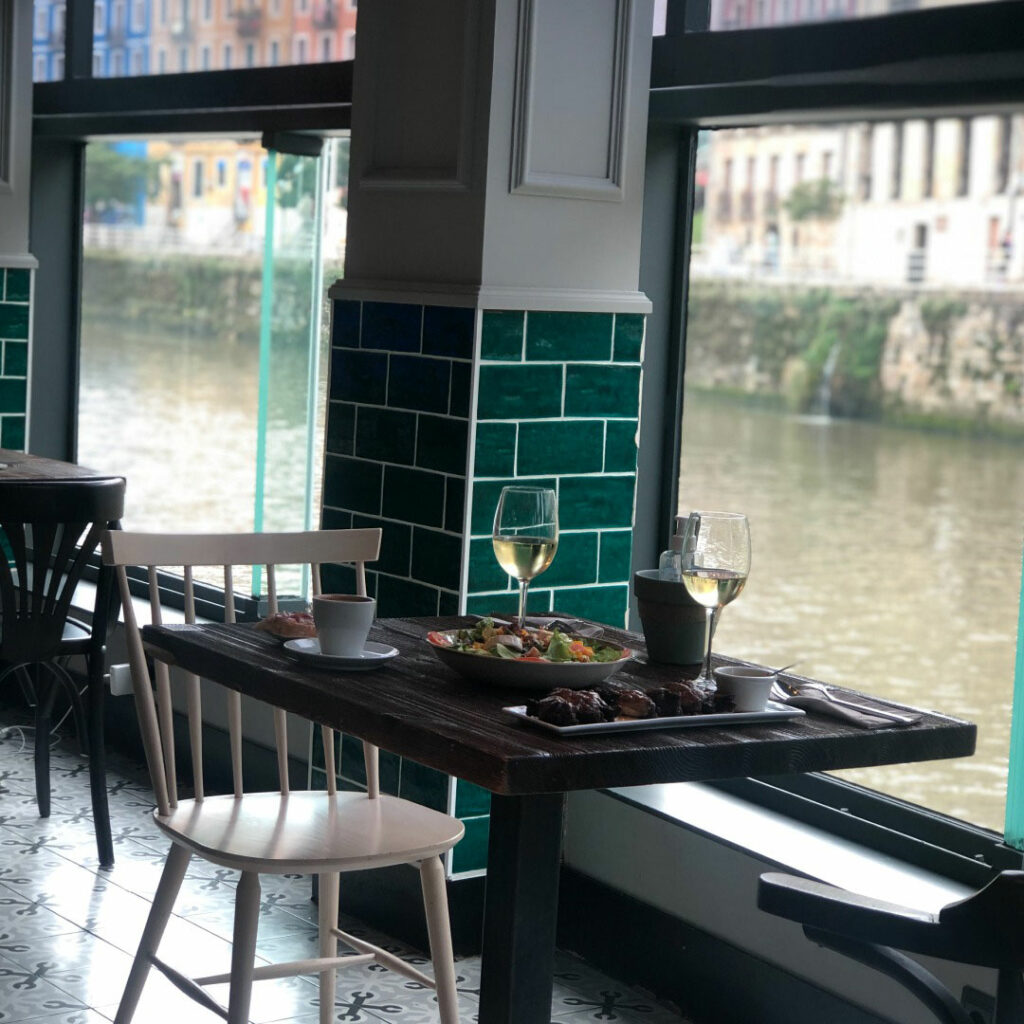 Most people who are planning to visit Bilbao have the Mercado de la Ribera on their itinerary as it's one of the best places to try some authentic Basque food in the city.
However, what most don't know is that it's actually home to one of the best terraces in Bilbao too.
With views over the River Nervion and a number of amazing gastrobars to choose from, what more could you ask for from a terrace in the centre of the city?
3. ROOF Euskalduna Terraza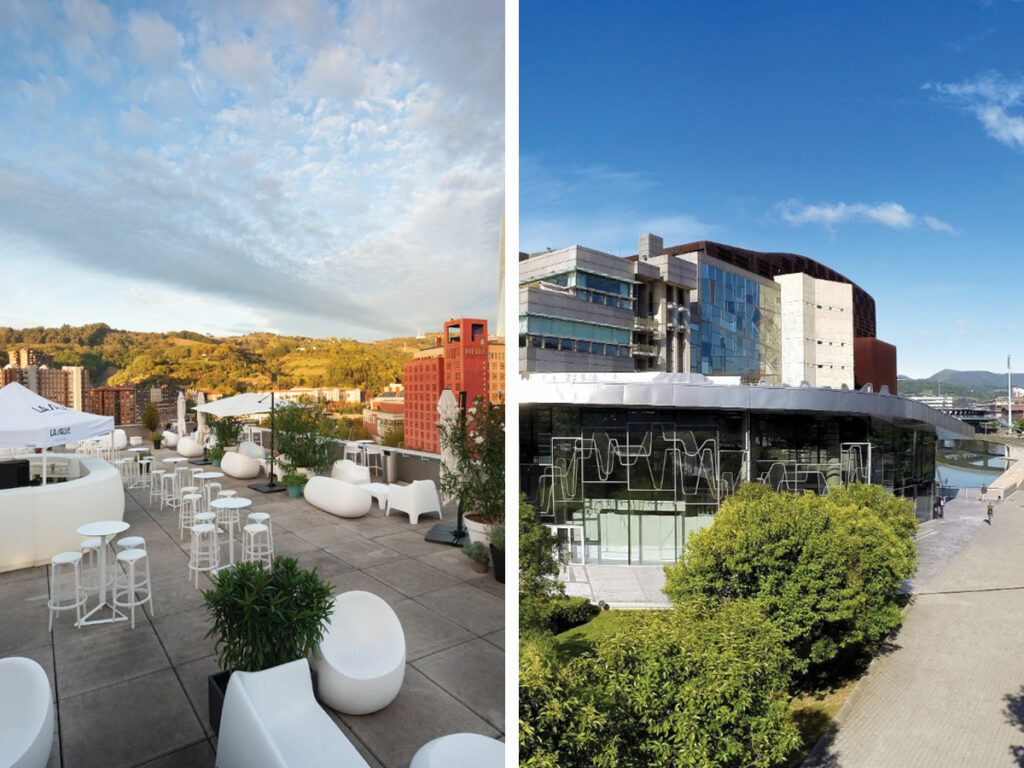 Sitting high on the 7th floor of the Euskalduna Bilbao building, ROOF is one of the most iconic terraces in Bilbao.
If you make your way up there, you'll quickly see why! From high up, you have unrivalled 360° panoramic views of Bilbao, across almost 600 metres of open space.
Open from Friday to Sunday (16:00 – 23:00 Fri – Sat, 12:00 – 22:00 Sun), they host a number of different events throughout the year alongside evening meals.
4. Hotel Ercilla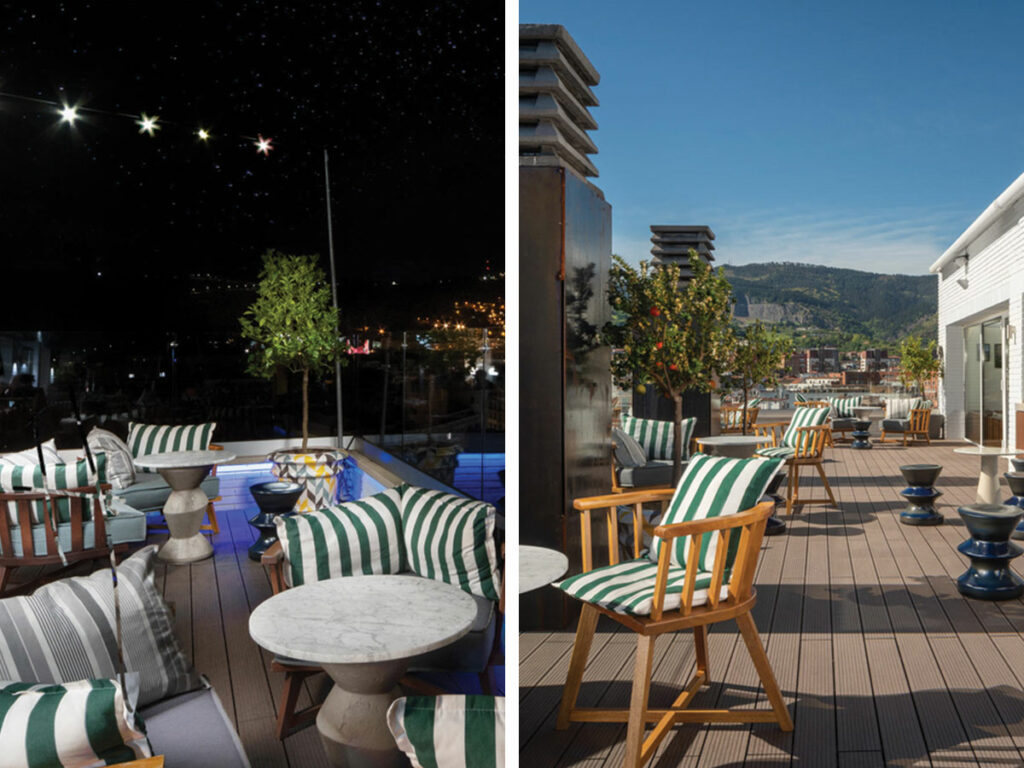 Le Club is the terrace bar that sits at the top of Hotel Ercilla, right at the heart of Bilbao.
Up high above the skyline of Bilbao, Le Club offers one of the best places where you can sit back and take in some of the best views of the city.
Alongside some of the best cocktails, the rooftop bar serves up a varied snack menu.
5. El Cargadero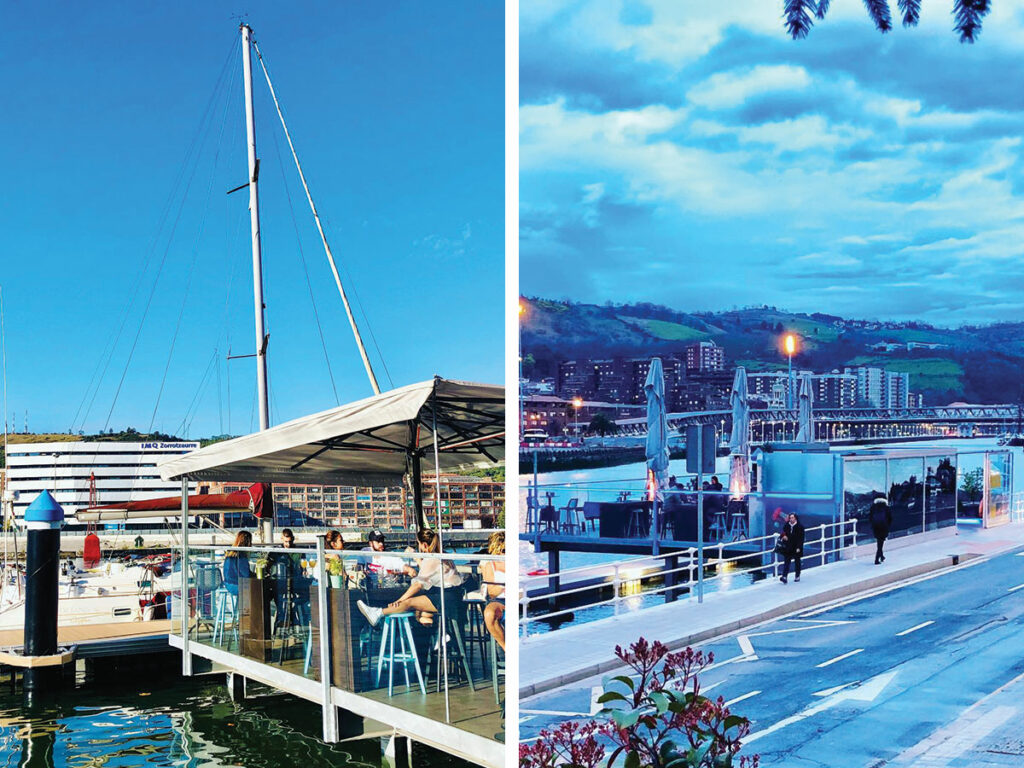 We head back to ground level as we explore another great outdoor space to enjoy in El Cargadero.
Whilst it isn't located high up, offering views over the city, El Cargadero does sit on a raised platform (Amsterdam bar style) in a privileged position on the estuary of Bilbao.
Open each day from 12:30, there's plenty of space for everyone with a capacity of 70+. Even if the weather isn't so nice, a large portion of the terrace can be covered with parasols and made comfortable with outdoor heaters.
The best areas for terraces in Bilbao
Whilst the above are some of the best terraces available in the city, they are highly sought-after and you won't always be able to bank on getting a table or spot.
In that case, we've listed some of the areas where you can find terraces below. These are generally bars with smaller terraces, but places where there are multiple options close by.
1. Calle Ledesma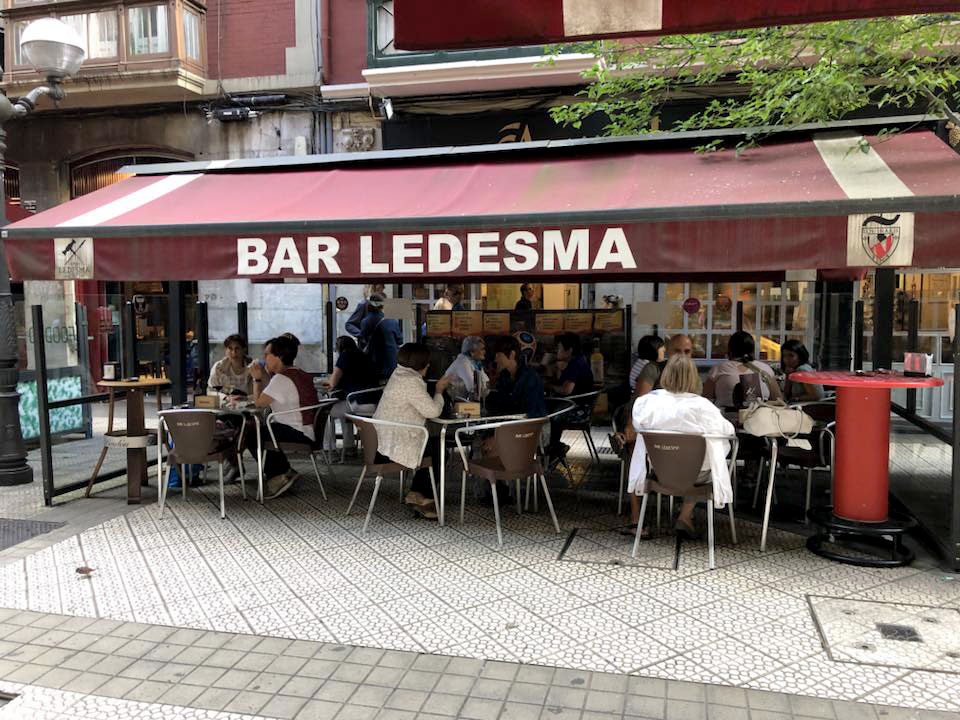 For years, Calle Ledesma has been a favourite amongst bilbaínos (people from Bilbao) as a place to grab a bite to eat or caña (beer).
The pedestrianised street is lined with bars and restaurants, most of which have decent sized terraces.
It's the perfect spot if you're exploring the city as it's situated parallel to Gran Vía (one of the main streets in Bilbao). Close by are most of the main shops, the Casco Viejo and Guggenheim Museum.
2. Plaza Nueva (Casco Viejo)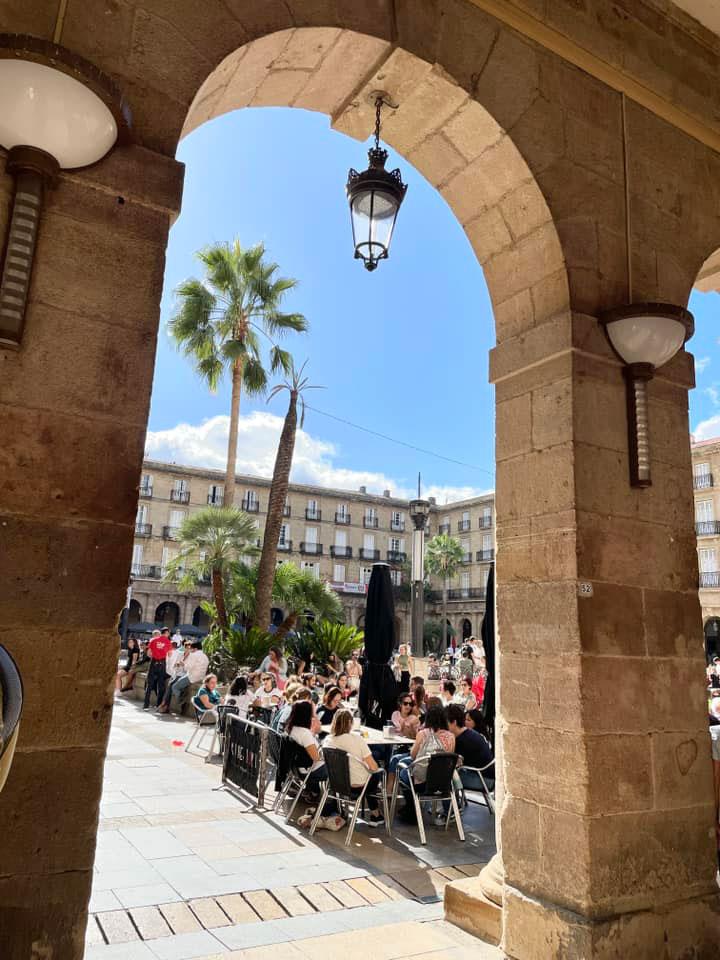 If you're exploring the Casco Viejo (Old Quarter) and don't fancy heading to the central district, then Plaza Nueva is a great option!
With a number of pintxo bars, traditional tavernas and restaurants lining the perimeter of the square, it's one of the top things we recommend when visiting the Casco Viejo.
On the weekend, the Plaza Nueva and its terraces are always busy with a good atmosphere.