The Basque coastline is packed with stunning rock formations, cliffs, amazing surfing conditions and impressive beaches. They're one of the main reasons people come from all over the world to visit the area.
But, when you think of Bilbao, I wouldn't blame you if golden sand wasn't the first thing that springs to mind.
Whilst the beaches in San Sebastian are at the heart of the city, Bilbao is located some 10 miles from the coast.
But that doesn't mean you can't sit back and relax on the sand! There are actually tons of great beaches within easy reach of the centre of Bilbao.
Visiting the beaches in summer is one of the most popular things to do in Bilbao for tourists and locals alike. And best of all, most of them can be reached on public transport.
In this article we'll run through the best beaches in and around Bilbao that you can escape to.
The best beaches near Bilbao
We'll start with our list with some of the easiest beaches to reach from the city centre before moving onto some other options that are a little further out.
1. Las Arenas Beach
Las Arenas beach is the closest beach, just 8 miles from the centre of Bilbao. Set in the town of Getxo, it's a good place to stop if you're looking to visit the World Heritage site of Vizcaya Bridge as it's just a 5 minute walk away.
The beach itself is fairly small, just 240 metres wide. In all honesty it's not the best option if you're wanting to spend all day at the beach. It's more of a great spot for a quick relaxing break.
Having said that, you can practise watersports such as windsurfing, canoeing and sailing. Just a short walk from the beach there are also plenty of cafes, restaurants and bars.
2. Ereaga Beach
📌 Lugar Muelle Ereaga, 3002, 48992 Getxo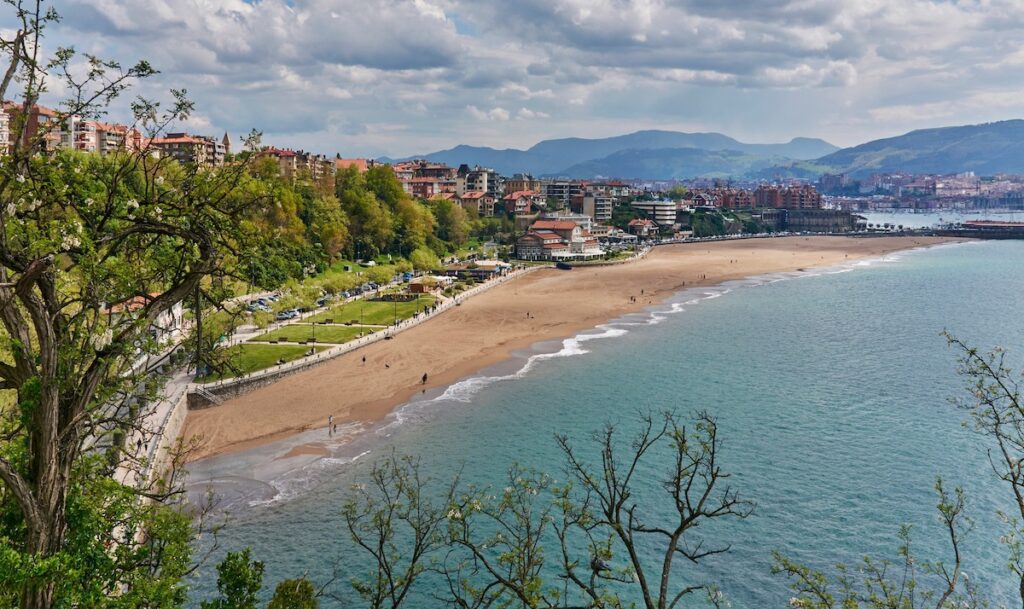 Heading further down the Ría de Bilbao (Bilbao Estuary), you'll arrive at Ereaga beach.
It's still technically located in the Getxo and is just 8.5 miles or 20 minutes (next to the Neguri metro stop) from the centre of Bilbao.
This beach is much bigger, stretching over 800m. It's also surrounded by impressive mansions and palaces to the rear and mountains to the west, providing stunning backdrops and interesting walks (if you're not the sun bathing type).
Located on a pleasant boulevard, there are a couple of restaurants with terraces nearby if you fancy a bite to eat.
3. Arrigunaga beach
Moving further down the Ría de Bilbao, we reach another beach in Getxo, Arrigunaga beach.
Sitting closer to the mouth of the estuary, it's a little more exposed to the force of the Bay of Biscay, making it a good beach for surfing, canoeing or kite-flying.
It's not quite as big as Ereaga Beach at 628 metres wide, but it's equally as beautiful. Surrounded by cliffs to the rear, they offer a stunning backdrop and provide panoramic views over El Abra and the Aixerrota windmill.
The Bidezabal metro stop is nearby, or you can easily reach the beach by bus too.
4. Gorrondatxe-Aizkorri Beach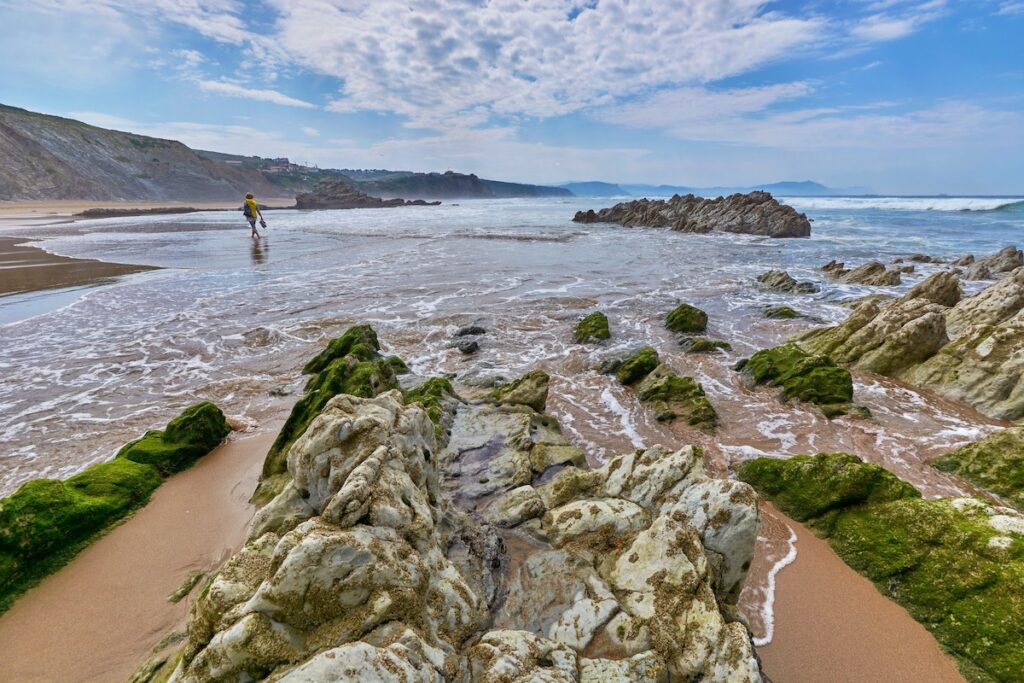 Gorrondatxe-Aizkorri Beach is the final beach in Getxo located a little further out from Arrigunaga close to Berango.
It shared similar characteristics to Arrigunaga beach, with steep cliffs and sand dunes bordering to the rear and an exposed, choppy sea providing good surfing conditions.
The beach itself is a little more raw. Stones and pebbles tend to get washed up on the beach, whilst rocks expose themselves from beneath the sand. But with nearly 850 metres of beach, there's enough space for everyone.
Whilst you can't reach Gorrondatxe-Aizkorri by metro, it is easily accessible by bus.
5. Barinatxe-La Salvaje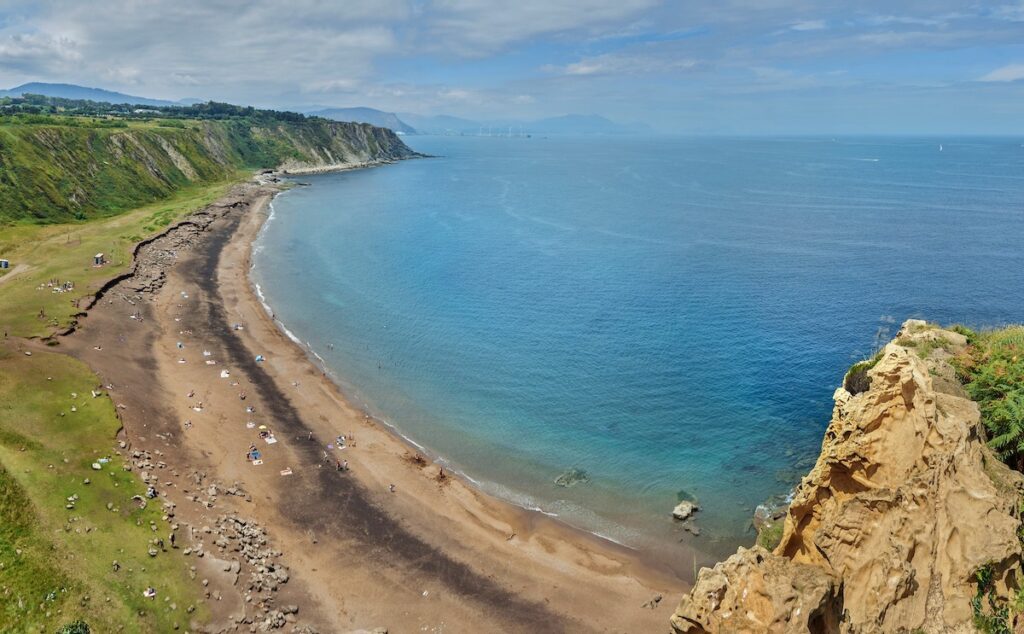 Easily reachable by metro (Larrabasterra station) and bus, Barinatxe-La Salvaje (also known as Sopelana beach) is one of three beaches located in the surfing town of Sopelana.
Barinatxe-La Salvaje beach is located on the western side. Over 750 metres wide and surrounded by beautiful cliffs, La Salvaje beach is the quieter of the options in the area.
Aside from relaxing, you can take in the views from the cliff tops, or above them from one of the paragliding centres! The beach is also popular with surfers, and nudists (nudism is permitted here).
6. Arrietara-Atxabiribil beach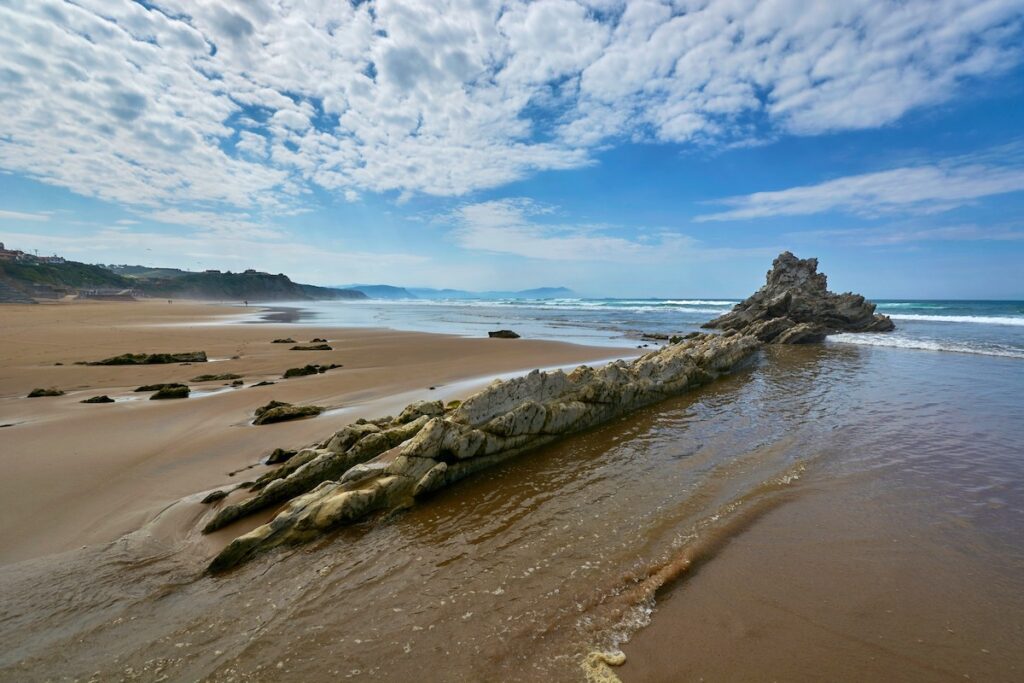 On the other side of the small headland and viewpoint at the eastern side of La Salvaje beach, you'll find Arrietara-Atxabiribil beach.
This beach is a little more open to the full force of the Bay of Biscay, making it the more popular choice for surfers in Sopelana. Depending on the weather, it can be a nice relaxing beach or one that's troubled by the tides.
Reachable by the same metro stop (Larrabasterra station) and bus stops as Barinatxe-La Salvaje beach, you decide which beach you prefer on the day.
7. La Arena beach
Heading over to the other side of Bilbao, La Arena beach is one of the most popular spots located 21km from Bilbao centre, between the towns of Muskiz and Zierbena.
Not to be mistaken with Las Arenas beach, La Arena beach is substantially bigger than most beaches in the area, stretching over a mile long.
It's a favourite amongst families and surfers, thanks to its idyllic setting and good surfing conditions. Around the beach there are plenty of other things to explore too with mountains, natural dunes, picnic areas in nearby wooded areas, restaurants and even a skatepark!
The beach isn't reachable by metro, but can be easily accessed by car and bus.
8. Plentzia beach
Moving back a little further out from Bilbao, eastwards up the coast, we arrive at a number of other beaches.
The first of these is Plentzia beach, set in the beautiful bay in the town of Plentzia.
If you're looking for a more peaceful spot, then this is the place for you. A little more protected than the beaches near Sopelana thanks to the headland to the west, it's known as being a sandy, tranquil beach with a beautiful promenade.
The beach is easily reachable by metro (Plentzia station) and by bus. There are also some nice places for lunch in the nearby town centre.
9. Gorliz beach
📌 Gorlizko Badia Ibiltokia, 3, 48630 Gorliz, Bizkaia
Our final beach recommendation near Bilbao, Gorliz is technically a separate beach to Plentzia, but it's pretty much a continuation, separated by just a small river estuary.
It's a similar peaceful beach with golden sand, bordered by the same promenade that makes for a pleasant walk.
Reaching nearly 850 metres long, between the two beaches there's plenty of room on what are two of the most popular beaches in Bizkaia.