Whilst it's a fairly compact city (you can get around on foot to most places), it's worth doing a bit of research on the best area to stay in Bilbao to make your trip unforgettable.
The city offers a wide range of accommodation options to suit every traveller's preferences. And whether you're looking for a bustling urban experience or a peaceful retreat, each of the city's diverse neighbourhoods have something to offer.
To help you figure out which is best for you, we've pulled together this guide on the best places to stay in Bilbao.
Where to stay – the best areas in Bilbao
Whether you're a couple on a weekend visit to Bilbao for the first time, or a family with children staying for a week, we've handpicked the best areas that will suit any group.
1. Abando – best for first-time visitors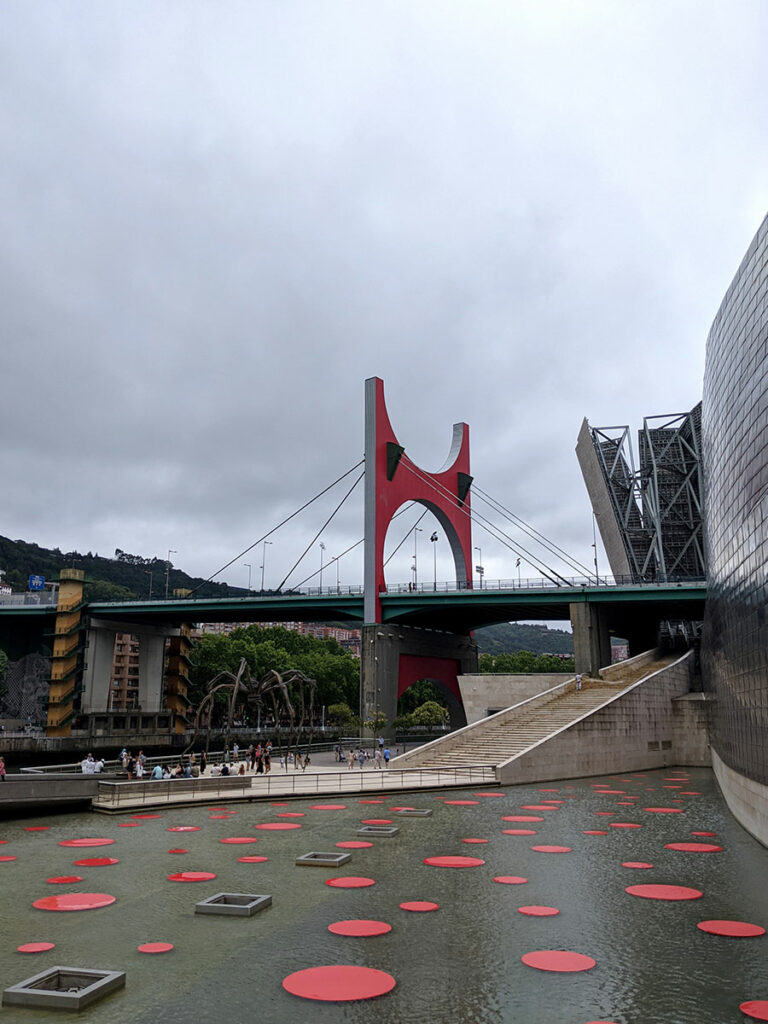 Abando is at the heart of Bilbao. It actually encompasses the three smaller neighbourhoods of Abando, Indautxu, and Abandoibarra.
If you find the district on our map of Bilbao, you'll see that most of the city's main attractions are located in Abando. 
That makes it a perfect choice for first-time visitors, particularly those who are only in the city for a couple of days, as you'll never have to walk too far or rely on public transport.
Aside from the Guggenheim and cultural and historical landmarks, ​​Abando is a gastronomic hub, with loads of restaurants to choose from serving both Basque and international cuisine.
Best of all, the district is also home to some of the city's most luxurious hotels. So if you're looking for an upgraded stay where you can enjoy top-notch amenities and stunning city views, look no further!
2. Casco Viejo – best for foodie lovers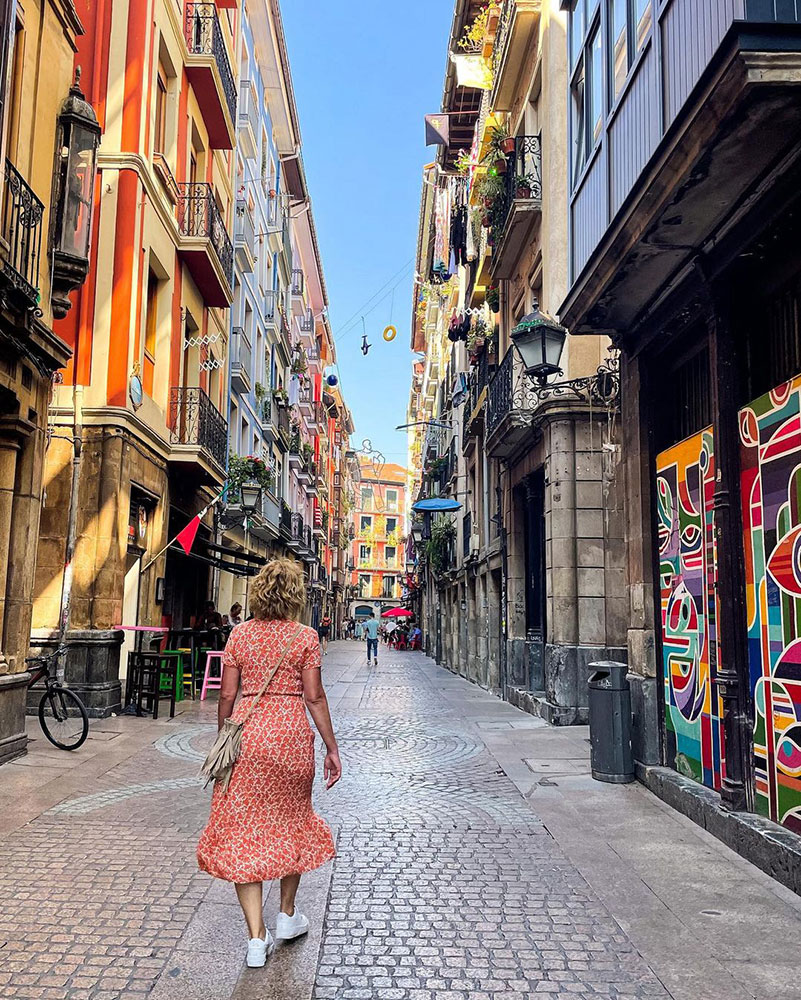 If you're looking for a lively and charming neighbourhood with plenty of character, Casco Viejo is the place to be. 
This historic district, also known as the Old Quarter, boasts an abundance of restaurants, cafes, and bars. It's a food lover's paradise!
For that reason alone it should be on everyone's itinerary on a trip to Bilbao (whether you book your hotel there or not).
From traditional Basque pintxos bars to trendy cafes, you'll find some of the best food that Bilbao has to offer in the Seven Streets.
And once the sun sets, Casco Viejo comes alive with a vibrant nightlife. On a weekend, the streets are bustling with nightlife as people hop from one bar to another, enjoying drinks and music.
The noise may not be for everyone. But if it is for you, there are an array of accommodation choices, from budget-friendly hostels to stylish boutique hotels and cosy rentals.
3. Deusto – best for those travelling on a budget
For budget-conscious travellers, Deusto is the ideal neighbourhood.
Situated across the river from Abando, it's a little further out from the centre, but it still has easy access to the city's attractions.
Whether you use Bilbao's efficient public transport system or don't mind walking a little bit further, the slight distance from the city centre is hardly an issue.
And it'll be worth it as the area offers excellent value for money. It's a smart choice for travellers looking to explore Bilbao on a tighter budget.
4. Santutxu – best for families and experiencing Bilbao like a local
If you want to experience Bilbao like a local, Santutxu is a fantastic option.
This neighbourhood, located to the south of the city, offers an authentic taste of Bilbao life.
The district is abundant with green spaces and parks. And the pace of life in this resentail area is a little slower here than the centre of Bilbao, making it a great place for families or those looking for a quieter area.
Complete with its own bars and restaurants, you won't have to travel too far to get a taste of some local Basque food either.
5. Bilbao la Vieja – best for an alternative Bilbao experience
Nestled on the opposite side of the river from the bustling Casco Viejo, Bilbao la Vieja, affectionately known as "Bilbi," is an emerging district with a unique, hipster charm.
This up-and-coming neighbourhood is ideal for those seeking an off-the-beaten-path experience and a relaxed, trendy atmosphere.
The area is compact and exudes a cool, artsy atmosphere that's just starting to gain attention, making it perfect for travellers who want to stay in a less touristy area.
The culinary scene here is a reflection of the neighbourhood's artistic and experimental spirit where you'll discover restaurante that blend traditional Basque flavours with creative twists.
It's also famous for its cocktail bars which are individually known for their unique concoctions and laid-back atmosphere.
It's the perfect place to unwind, explore, and connect with the local creative scene while enjoying a chilled-out vibe.
Final Thoughts
So there you have it. Hopefully this guide helps in deciding where to stay on a visit to Bilbao.
No matter your travel style or budget, Bilbao's neighbourhoods offer a wide range of accommodation options. It's worth bearing in mind that you can make your way around the city pretty easily on foot.
Below is a summary of the areas we'd recommend for the different types of travellers.
Best for first-time visitors – Abando
Best for foodie lovers – Casco Viejo
Best for those travelling on a budget – Deusto
Best for families and experiencing Bilbao like a local – Santutxu
Best for an alternative Bilbao experience – Bilbao la Vieja