Whether you're visiting Bilbao whilst staying in San Sebastian or planning a day trip to San Sebastian when staying in Bilbao, there are plenty of public transport options to make visiting each city easy.
And it's worth it! Bilbao and San Sebastian are two of the main cities in the Basque Country but offer a completely different experience. We'll run through the different options to travel between each city.
If you're looking to travel from Bilbao airport to San Sebastian, check out our dedicated post on this.
Bilbao to San Sebastian by bus
The quickest, easiest and cheapest way to get from Bilbao to San Sebastian is by bus.
There are two main companies (ALSA and PESA) that offer the route with slightly different timetables, so there's bound to be a time that works for you. PESA has a more frequent timetable with buses running every half an hour (sometimes more than one at once), whereas ALSA offers a handful of buses per day. If flexibility is key for you, then you're probably best sticking to the PESA buses which costs just over €12 one way.
Both companies follow a similar route and the journey takes from 1 hour 10 minutes (direct bus with a stop in Zarautz) to 1 hour 25 minutes (with multiple stops in each city).
You can check out both their timetables and routes here:
Both bus stations are in the centre of the cities making it easy to access. The bus station in San Sebastian is right in the heart of the city, underneath the train station next to the river, whilst the bus station in Bilbao is located near the San Mames Stadium.
You can book tickets online via. the Pesa website or you can get them from the Pesa ticket office in the bus station in San Sebastian.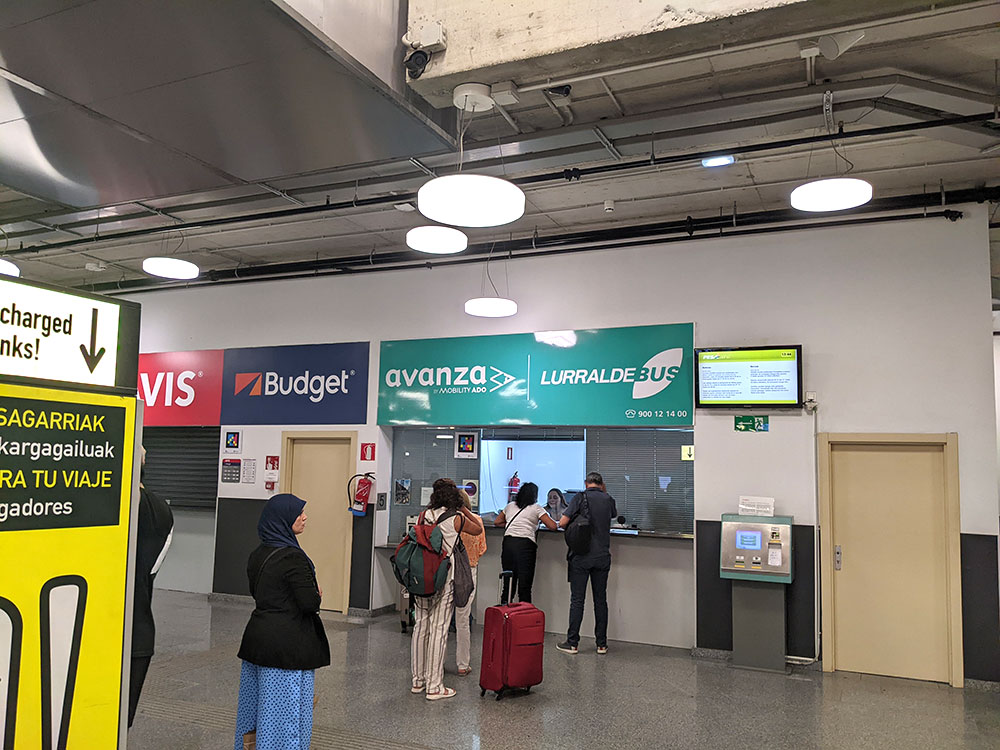 Bilbao to San Sebastian by train
There's no main RENFE train line connecting San Sebastian and Bilbao which is why we recommend the bus as your first option.
Whilst there's no direct line on the main Spanish national railway, it is possible to travel between the cities by train on the Euskotren. However the journey is long and takes 2 hrs 30 mins in total from station to station as the train has over 40 different stops on the way.
It's only recommended to travel on the Euskotren if you're looking to get off at one of the stops in between Bilbao and San Sebastian. Otherwise, stick to the buses.
Bilbao to San Sebastian by car
If you have a car whilst in the Basque Country, then travelling between Bilbao and San Sebastian by car is another option. The journey is the same as the bus route so should take you around 1 hr 10 mins in total.
The autopista (motorway) winds through the mountains between the two cities with plenty of tunnels and bridges too. As a result, you do get some pretty nice views on the way, but given the high cost to build the motorway it does mean that it is a toll road!
It's quite an expensive one at that, and will cost around €11 to travel one way. There is a longer route that is free of toll roads, but this will take nearly 2 hrs in total. You can find this by changing your settings in Google Maps to avoid tolls.
Both cities have ample parking options, but again these are not free!
You'll likely pay anything between €5-€10 for a few hours parking in either city, so again bear this in mind before jumping straight into the car.
Bilbao to San Sebastian by taxi
If you're not worried about cost, Bilbao to San Sebastian by taxi is probably the most comfortable option.
A private taxi for 4 people will cost anything from €120-€180 – it's over an hour's trip with tolls after all.
Again, even if you split the costs between 4 people, the bus is less than half the price and will only take a little bit longer (and run frequently), so it's worth weighing up whether it's really worth the extra cash.